I've had a few people following my GT5 diary chronicling my first tentative foray into the world of GT5, but I've just done one race that I think deserves my first standalone race report for the GT5 forums. So without further ado, let me introduce you to my comeback to the top echelons of GT5 racing...
'Back In The Saddle'
Part 1 - World Circuit Tour: Laguna Seca
Thanks to AMG once again for his track maps
Seasonal Event. 5 Laps, 11.2 Miles
12 Cars, 702-734PP Average, 750PP Maximum.
Having taken C-ZETA's wise advice to get my B-Spec driver Phil Sykes into a Mazda Eunos and racing the NR-A Roadster Cup, I was rewarded for his burdgeoning prowess with a car rated at 655PP, a car that could legitimately take on the very fastest cars GT5 has to offer and win given half a chance. It's been a very long time since I've raced a prototype-spec racecar in anger in any game, and of course I haven't even sat down behind the steering wheel in one at all in GT5. Until now
Having taken it out for a few test laps, I felt ready to give it a crack head-to-head in a race, and decided to go straight in against the very best GT5 has to offer in a World Circuit Tour race at the legendary Laguna Seca. On paper the odds aren't stacked in my favour - I'm down nearly 400+hp and up to 80PP on around half the field, if not more
But paper can be misleading on it's own, and after attempting this race once and finishing a distant 3rd to the 2 leaders, I felt more than confident that this sleek machine could be taken to victory lane here. It would all depend on me, and my ability to slice through a crowded 12-car field from the back to give myself a shot at the win. So, naturally, no pressure or anything, just pass 2-3 cars PER LAP and we'll be just fine ...
I'm well aware I've not mentioned what this mystery fast-but-underpowered car is...time to reveal it. It's sleek, it's flowing, and in the right hands it's a race winner. It's a 2008 Mazda Furai Concept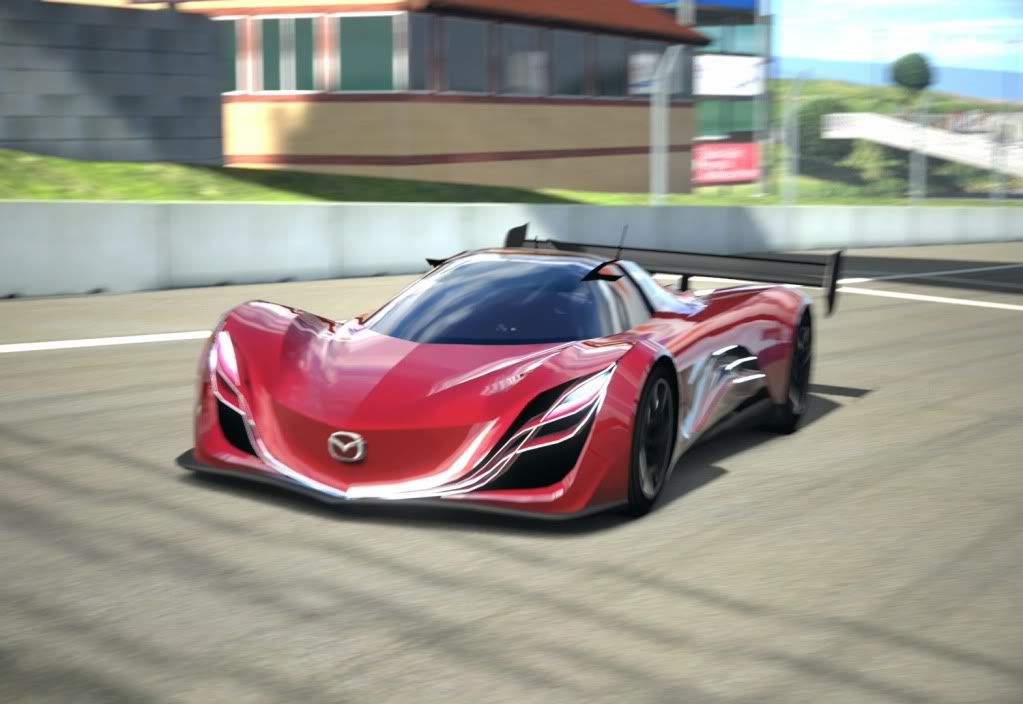 2008 Mazda Furai Concept
Drivetrain: MR
Power: 489hp
Torque: 289.20lb/ft
Weight: 675kg
Performance Points: 668PP
Tyres: Racing Soft

I kept the same racing soft tyres I used for my first attempt, as having finished 3rd on them, I feared that downgrading any more would make things too difficult. Still learning as I go here, folks
Anyway, with that being the only tweak done to the stock Furai, I hit the track with the following starting grid rolling off in front of me:
1. 1989 Minolta Toyota 88-CV Race Car
2. 2005 Pescarolo C60 Hybride-Judd Race Car
3. 1988 Jaguar XJR-9 Race Car
4. 1991 Mazda 787B Race Car
5. 2001 Audi R8 Race Car
6. 1999 Toyota GT-One (TS020) Race Car
7. 1998 Nissan R390GT1 Race Car
8. 1997 BMW Mclaren F1 GTR Race Car
9. Pagani Zonda LM Race Car
10. GT by Citroen Race Car
11. 1963 Chevrolet Corvette Z06 (C2) Race Car
Around the top 5 will be the strongest opponents against me, whereas the rest look like cannon fodder that I'll have to dispatch literally as quickly as possible to have a shot at the leaders. In my first attempt, the Toyota and Pescarolo ran off into the sunset, and were 9s clear at the start of lap 5 once I'd cleared the 3rd place 787B. To have any chance to even close up to them, let alone pass them, I'd have to literally TEAR through the field. And we've yet to mention my Mazda's snap oversteer when powering out of corners...with all these ingredients in the melting pot, excitement is guarenteed
So on an absolutely beautiful day in Monteray, California, the rolling start commences, the green flag drops and the snake of high-performance race cars mash pedal to the metal - we're racing!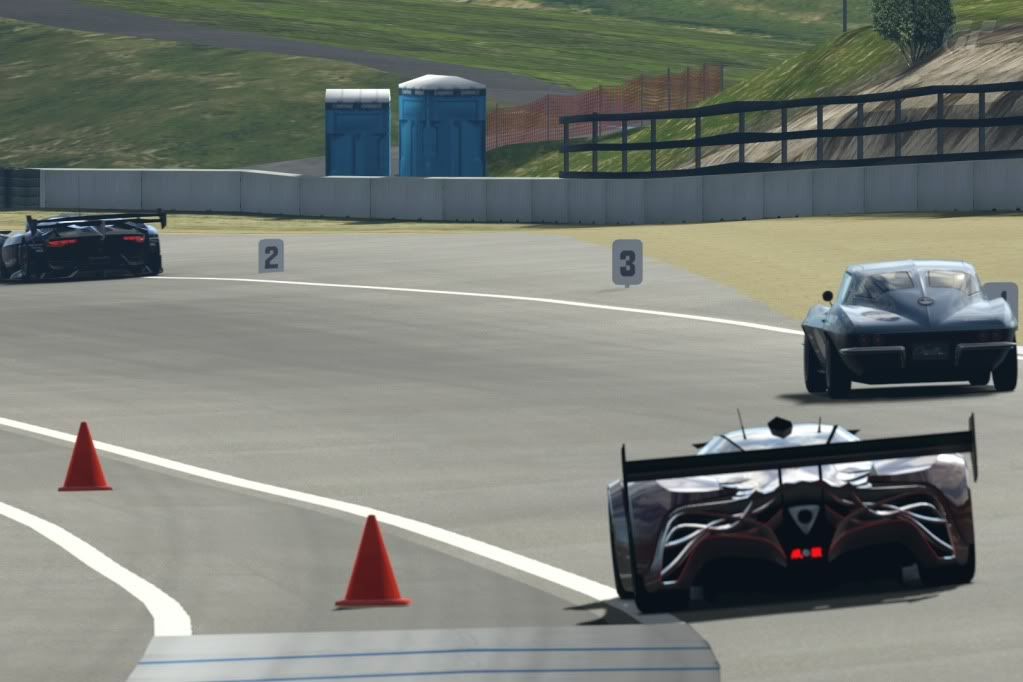 Laps 1-5
Much as I love my classic American cars, I've got no time to be sentimental, so immediately I lunge on the brakes on cold tyres alongside the Corvette, clearing him by mid-corner at Andretti Hairpin.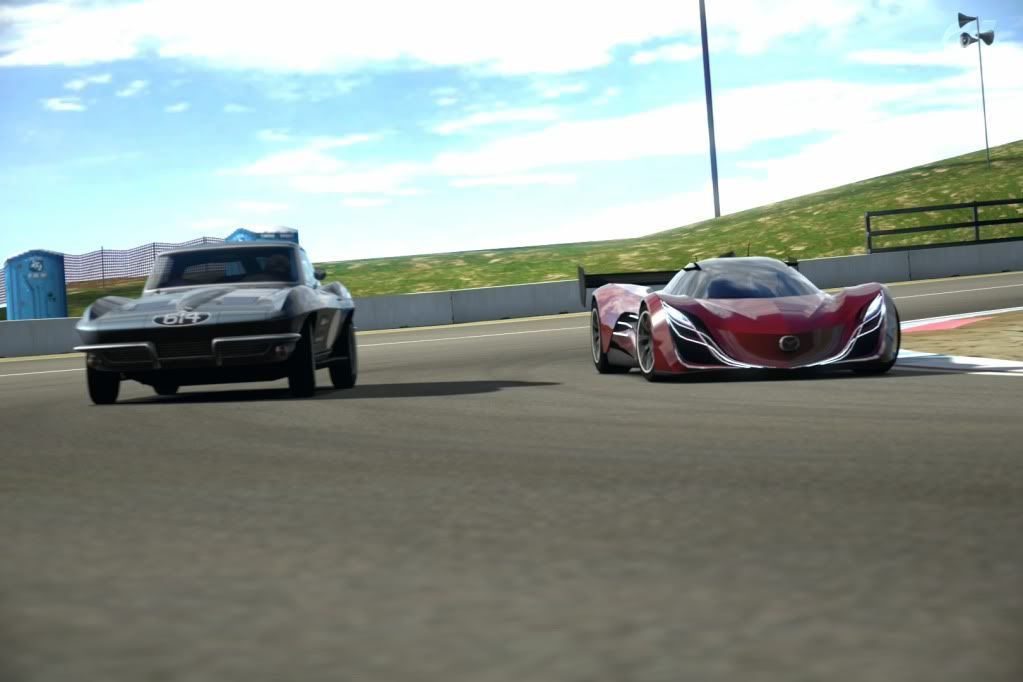 The GT by Citroen (no, not just a Citroen GT, a GT...by CITROEN!!
) falls exactly one corner later, as I get a good blast off the next corner.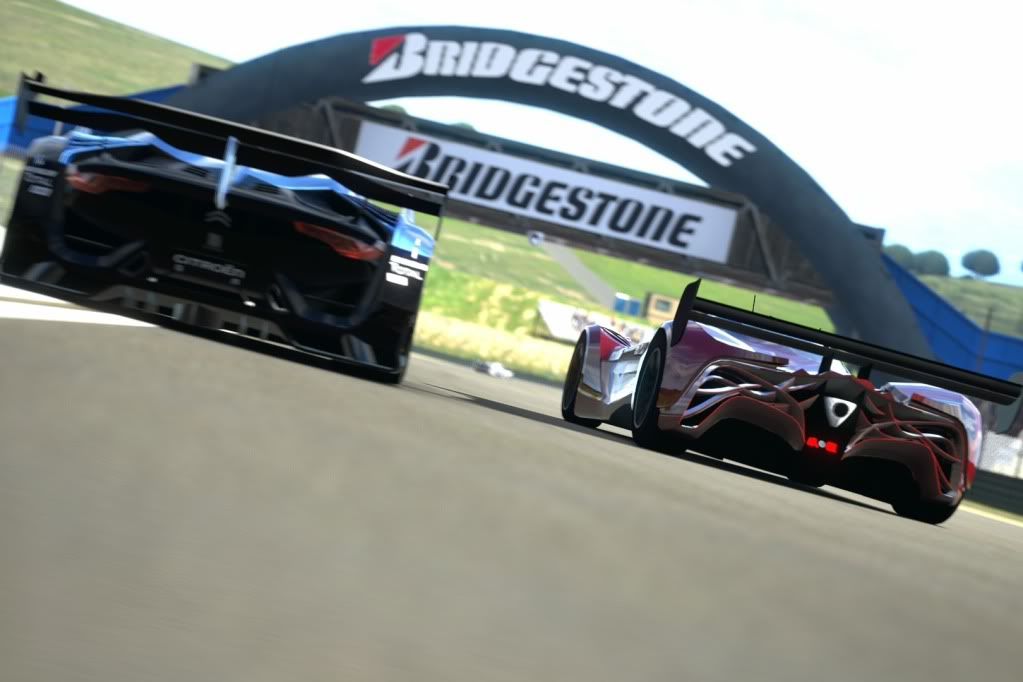 This seems to be where my Furai's strength lies - if I get my throttle control right and ensure the rear end doesn't slew around under acceleration, the Furai is a rocketship off the corners. I set off after the Zonda, and catch him by surprise with a divebomb under braking for T5 (the left-hander onto the backstraight), as he goes to turn in for the apex to find me already alongside him! You snooze you loose!
Through the corkscrew for the first time is as thrilling as it always is, especially in my nimble Furai! I emerge on the other side to see the BMW Mclaren up ahead, and before I can react he jumps hard on the brakes for the next left at T8 (Rainey Curve) and I brake hard but cannot avoid nerfing the back end of the Mclaren
As he squirrels under acceleration, I zip to his left, the outside for the next corner, and he aggressively comes across and squeezes me towards the edge of the track, but I still sneak by before turn-in for T9. I guess he took my nudge as delibrate, but it wasn't intentional. Still, doesn't matter what he thinks, I'm ahead of him now
To complete a wholly satisfying first lap, I pull up right behind the R390 at T10, the final sharp left, and out-drag him off the corner to pull into 8th position by the end of lap 1. My 'pass 2-3 cars a lap' goal is working so far - that was 5 in one lap
I set my sights on the GT-One in 6th, but perhaps I'm being overconfident by dismissing all but the top 5, as the R390 attempts a revenge divebomb at Andretti Hairpin, but I nail the apex perfectly to keep him at bay, and pull away from him through the next few corners. A valiant effort, sir
The GT-One is gradually coming into view, and I get guilty of concentrating too hard on him, as I miss my braking mark for T4, the uphill left
However, I run wide, keep it on the track, recover and floor the throttle - and end up in front of the Toyota?! How'd that happen?!? Passed on the outside by a guy who screwed up the corner...that's slightly embaressing for the GT-One driver
As I thought, the top 5 have already pulled out quite a gap, with the top 2 leading by 11s from me at this stage, and 3rd through 5th a little further back. I chase them down pretty quickly, and look to attack the Audi R8 under braking for T9, swarming his back bumper through the apex, but in the excitement I gas it way too early and drift out onto the gravel! Hair-raising moment!
Somehow I not only save the rallying Furai, but get it back on the track in time for braking for T10 - and
in front
of the Audi! So I'm alive, and I gained a position - that situation could've been worse
I swarm the 787B through the final turn, but he and the Jaguar's superior power pulls them away down the front stretch. This race is swiftly beginning to remind me of those 3-lap battle series races from GT4, with a field evenly spread out and you charging from back to front with the laps, clock and track position all against you. It's still as adreneline-pumping as ever, I can tell ya!
With the gap to the leaders still around the 10s mark, I'm determined not to get caught behind other cars and let that lead extend any further, so I try a divebomb on the 787B at Andretti Hairpin, and just sneak the nose in alongside! Before he can react, I see a glint of light at the 2nd of the double-apex in this corner on the inside of the Jag, and go for it - and just get there too! I emerge somehow unscatched on the other side in 3rd place, with two utterly bemused Group C racers behind me!
My Furai is driving like a slither of mercury right now, slipping and sliding through gaps.
I've helped my cause enourmously by giving myself nearly three full laps to chase down the leaders, and I'm going to need them. Set all phasers to stun - Furai, what've you got? The answer is a helluva lot of speed still to come, and with a new fastest lap of the race, a 1:19.771, and I end lap 3 having almost
halved
the gap from me to the leaders - down from 10.2s to just 5.7s. So long as I keep this pace going (no easy feat believe me), I'm gonna have the final lap open to have a shot at passing them both for the win. I nail another stirling lap, this time a 1:19.714, and this sets us up for a last-lap showdown, as I trail the Toyota by just 1.3s. I'm ready to rock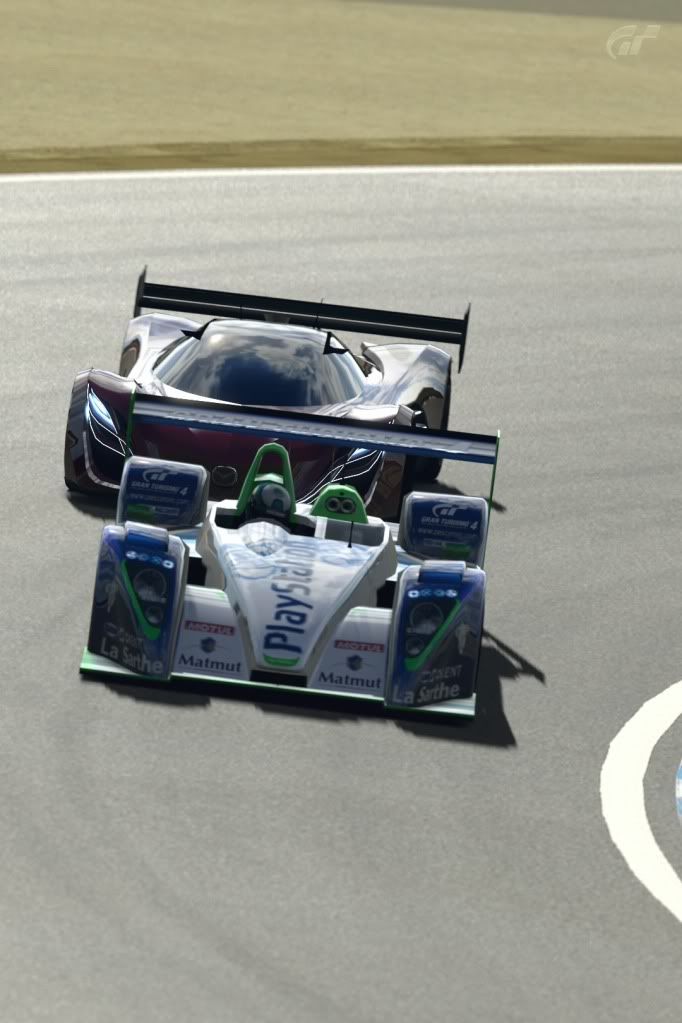 I pull right up behind the Pescarolo under braking for Andretti Hairpin, and literally swarm all over his rear wing through the corner, before darting to his right and slipping up the inside under braking for T2. One down, one to go!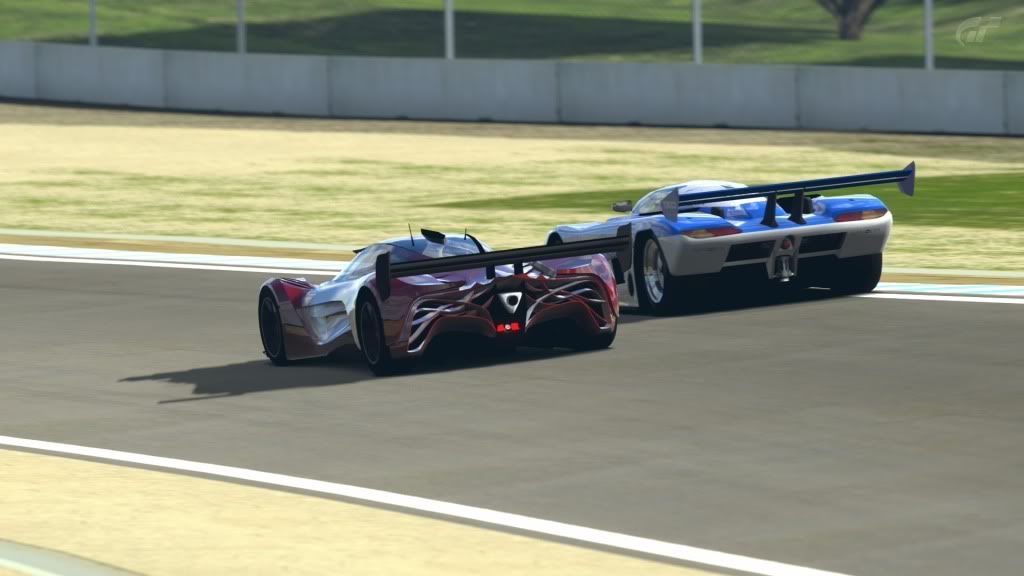 Coming up towards T4, I brake and look to line up a move on the Toyota at perhaps T5 or the corkscrew, but as we round the corner, he mysteriously slows - what happened there?! I can only assume he wheelspun, or lost the rear end, or just plain gave up?!
I'm so amazed I nearly miss T5 completely, but I hang in there, and realise - I've got the lead with half a lap to go!
No mistakes now, although not that it matters, as it seems the Toyota has definitely thrown in the towel now. 1s lead by Rainey Curve becomes 4s by the finish line, but no matter, I've done it - I'm got my first win in top-level GT5 racing!
Final Results
1. 2008 Mazda Furai Concept
2. 1989 Minolta Toyota 88-CV Race Car +4.067s
3. 2005 Pescarolo C60 Hybride-Judd Race Car +5.566s
4. 1991 Mazda 787B Race Car +16s
5. 2001 Audi R8 Race Car +17s
6. 1988 Jaguar XJR-9 Race Car +18.5s
7. 1999 Toyota GT-One (TS020) Race Car +20.2s
8. 1998 Nissan R390GT1 Race Car +21.9s
9. 1997 BMW Mclaren F1 GTR Race Car +24s
10. Pagani Zonda LM Race Car +27.5s
11. GT by Citroen Race Car +37s
12. 1963 Chevrolet Corvette Z06 (C2) Race Car +56.5s
So, a healthy wad of cash under my arm and a new hero in my red Furai, a truly wonderful car to drive fast, going as fast and as sleekly as it looks. In hindsight, perhaps Soft tyres were a little overkill, but this is research in the bank for me. In this thread I'll be reporting on the remaining World Circuit Tours races with me and my Furai, and in those I'll likely test out Hard/Medium tyres and so on. But until then, time to relax and enjoy my best victory in GT5 so far
Thanks for reading, until next time!