Gamers, start your engines – we're just a week away from the next edition of GT Academy.
Unbelieveably now in its sixth year, GT Academy has taken gamers from their sofa and put them in some of the highest level races in the world, from Super GT to Formula 3, from FIA GT to GP3 and with repeated successes at some of the toughest endurance races on Earth – Spa 24 Hours, Nürburgring 24 Hours and, of course, Le Mans.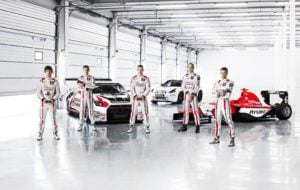 Starting April 21st is your opportunity to join them. More countries than ever before are included in the expanding program (sorry, Canada) and this year will see four new champions crowned and pushed through the gruelling Nissan Driver Development Program. GT Academy USA and GT Academy Germany remain as standalone competitions, while GT Academy Europe now consists of Belgium, France, Czech Republic, Italy, Luxembourg, Netherlands, Poland, Portugal, Russia, Spain, Sweden and the UK.
A new "GT Academy International" competition includes Australia, India, Mexico and Thailand along with a Middle East (UAE, Qatar, Oman, Bahrain, Saudi Arabia, Lebanon and Kuwait) region.
All you need to qualify is a PlayStation 3, PSN account and Gran Turismo 6. Online qualifying begins on 21st April. As usual, see our GT Academy forums for more information and discussion.
See more articles on GT Academy 2014.