Welcome to Wednesday Want. Each week, our team will pluck a car from our thousands-strong Car Suggestions forum and give it some time in the spotlight. From the weird to the wonderful, we'll be covering the full automotive spectrum. You can check out past Wednesday Want entries right here.
Europeans define Ford by its hot hatchbacks. Every one of Ford's smaller models has to have a quick version, or it's just not a Ford.
The Fiesta, Escort, Focus and even the larger Sierra and Mondeo have all had their engines, suspension and bodywork tweaked for a spicier model. First there were the XR models and then more recently the ST cars, turning mum or dad's grocery-getter into a country road champion. But it all started in 1980, with a really very humble car indeed.
Of course Ford Europe had been making rapid cars for some time before then. The company was successful on the rally stages with limited RS editions of its Mk1 and Mk2 Escort saloons. However, the introduction of the Volkswagen Golf GTI in 1976 changed just about everything.
Ford had just introduced its own new small car in 1976. The Fiesta (not to be confused with the Festiva, which was a rebadged Kia Pride for North America) was the definition of a supermini. 11 and a half feet long, Ford built the Fiesta to be small, cheap and easy to service. Rear drum brakes, a solid rear axle and a series of straight-four engines that were already in their third decade completed the picture.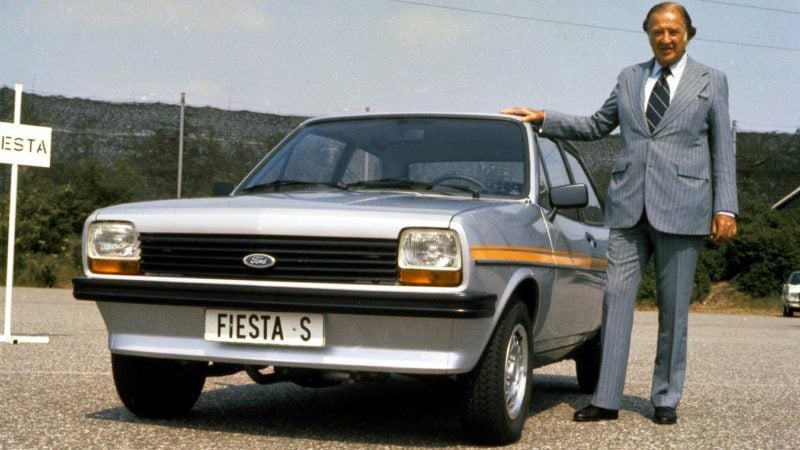 But the Fiesta was light and rather good fun to drive, and that got Ford thinking. Volkswagen had shown with the slightly larger and heavier Golf that there was an appetite for a quicker car. Ford itself knew that sporting accessories, related to its rally and RS program, were popular too. So began the experiment.
Ford took regular 1300 (1.3-liter) Sport models and began a makeover. Surprisingly the engine remained untouched, with just 65hp. Ford beefed up the suspension and added an anti-roll bar, along with adding servo assistance for the brakes, but otherwise there was little mechanical difference. It even retained its four-speed manual gearbox.
Instead the company took its Series-X accessories catalog and applied everything. The car acquired 13-inch alloys and low profile tires, halogen driving lights, wheelarch extensions, special front seats with gaudy trim, a four-spoke steering wheel and sports gearknob, a rev counter, special side decals – basically this was off-the-shelf Fast and Furious, but in 1980. And in Dagenham.
Ford called the resulting car the Supersport, and limited it to just 3,000 examples — all in the UK. With 65hp it wasn't exactly sporting, but it was still fun to drive and an 11 second 0-60mph sprint wasn't dreadful for the time.
It proved to be a roaring success. The following year Ford went all-out with the 83hp XR2, starting a hot hatch dynasty that persists to this day. The Supersport started it all, and is one of the most collectable Ford models today as a result.
More Posts On...