Presents the Alpine A220 racing car, this car entered the 24 Hours of Le Mans but it was unfortunately underpowered and unreliable.
The last A220 produced, was driven by Jean Pierre Jabouille and Patrick Depailler in the 1969 24 Hours of Le Mans race. In the 18th hour an engine failure forced the drivers to abandon the race.
With financial backing from Renault, Alpine prototype racers recorded many class victories in the 24 Hours of Le Mans in the mid 1960s. These nimble racers were the result of the collaboration of Jean Redele's Alpine and Aimedee Gordini, who was responsible for the engines. They were especially successful in the Index of Performance, in which the most efficient racers fight for top honors.
A dramatic rule change at the end of the 1967 season brought Alpine closer to building a contender for the overall victory. From 1968 onwards, prototype racers' displacement was limited to three litres, which left the Ferraris and Fords obsolete. Gordini's largest engine used in the Le Mans racers was a 1.5 litre 'four'. By mounting two of those four cylinder blocks on a single crankcase, Gordini created a V8 engine displacing just under 3 litres.
The end result was a very conventional V8, with four chain driven overhead camshafts. The fuel / air mixture was initially fed through four Weber Carburetors, but later on a Fuel Injection system was also tested. Power for the 'carb' engine was quoted at 310 bhp and the Fuel Injection model with a higher compression was said to be good for around 350 bhp. The five speed gearbox was sourced from the German ZF company.
Alpine constructed a tubular spaceframe chassis for the V8 to be mounted in. Suspension was by wishbones all-round, with coil springs over dampers. Dubbed A220, the new car shared its body design with the smaller A210 model. The complete package was as good looking as the previous racers, but with the team Venturing into a new class, would it be as successful?
The first A220 made its debut early in the 1968 season, but proved underpowered and unreliable. Four cars were entered at Le Mans, but only one managed to finish the race in eight position in front of three A210s. None of the three cars entered in the 1969 race made it to the finish. The few A220 victories were scored in a number of minor races in France. Alpine had to wait another 10 years for the well deserved overall victory.
Specifications
Country of origin: France
Produced in: 1968
Numbers built: 8

Engine
Configuration: Renault Gordini T62 90º V8
Location: Mid, longitudinally mounted
Construction: Cast-iron block, alloy head
Displacement: 2.996 liter / 182.8 cu in
Bore / Stroke: 85.0 mm (3.3 in) / 66.0 mm (2.6 in)
Compression: 10.5:1
Valvetrain: 2 valves / cylinder, DOHC
Fuel feed: 4 Weber Carburettors
Aspiration: Naturally Aspirated
Power: 310 bhp / 231 KW @ 8000 rpm
BHP/Liter: 103 bhp / liter

Drivetrain
Chassis: Body on tubular spaceframe
Suspension (fr/r): Wishbones, coil springs over dampers
Steering: Rack-and-pinion
Brakes: Ventilated discs, all-round
Gearbox: ZF 5DS25 5 speed Manual
Drive: Rear wheel drive

Dimensions
Weight: 680 kilo / 1499.1 lbs
Length: 4640 mm (182.7 in)
Width: 1690 mm (66.5 in)
Height: 1030 mm (40.6 in)
Wheelbase: 2300 mm (90.6 in)
Track (fr/r): 1344 mm (52.9 in) / 1344 mm (52.9 in)

Performance
Power to weight: 0.46 bhp / kg
Top Speed: 330 km/h (205 mph)
HERE ARE THE OTHER RACING CARS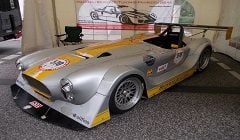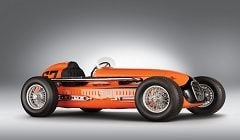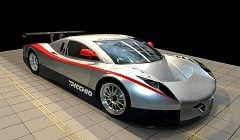 Last edited: