Darracq 200 HP Sprint Special 1905
SPECIFICATIONS
OVERVIEW
• Manufacturer: Darracq
• Country: France
• Year: 1905
• Type: Race
• Division: Gr.X
ENGINE
• Engine: 90° V8
• Power: 200 HP / --- rpm
• Torque: --- Nm
• Engine Locatiom: Front
• Displacement: 25422 cc
• Valvetrain: 2 valves / cylinder, OHV
• Fuel feed: Carburettor
• Aspiration: Naturally Aspirated
PERFORMANCE
• 0-100 km/h (0-62 mph) Time: Unknown
• Top Speed: 196 km/h (122 mph)
• Power-to-weight ratio: <0.22 hp/kg
DRIVETRAIN
• Chassis: Steel ladder frame
• Drive: Rear wheel drive
• Gearbox: 2 speed manual
SUSPENSION
• Front suspension: Live axle, semi-elliptic leaf springs, friction dampers
• Rear suspension: Live axle, semi-elliptic leaf springs
BRAKES
• Brakes: Drums, rear
DIMENSIONS & WEIGHT
• Lenght: --- mm
• Width: --- mm
• Height: --- mm
• Weight: Approximately 900 kg
The world land speed record breaking 1905 Darracq that boasts a fearsome 25.4-litre engine and is thought to be the oldest surviving V8 car in existence will be sold in Bonhams' traditional Olympia sale on 4 December.
The 200hp Darracq was designed as a sprint special and was completed on 28 December 1905. Just two days later it set the first of a remarkable string of records undertaken on both sides of the Atlantic. On 30 December 1905, untried and untested, the car reached the speed of 109.65mph, breaking the world land speed record.
Remarkably, this historic French racing car has had only two owners from new - Sir Algernon Lee Guinness, from the famous brewing family, who bought the car from Darracq in 1906, and the present owner who purchased it from the family after Guinness died in 1954.
The motor car is totally unique. It is the only vehicle that Darracq manufactured and designed to break records. It was transported to the US in 1906 and became the first petrol car to cover two miles in under a minute. After breaking further records, the car returned to Europe and was bought the same year by Sir Algernon Lee Guinness. Over the next three years, British, European and World records were set in France and England, and at Saltburn Sands, in Yorkshire, on 28 June 1908, Sir Algernon Lee Guinness achieved the fastest time of the day (breaking British and European records for a flying kilometre), setting the car's highest recorded speed of 121.57mph.
Rumour has it that several years later, Guinness' mother insisted he cleared out his junk, and the car was scrapped. Regretting this hasty decision, he subsequently retrieved the engine from a local dealer, but only after the front and rear axles had been cut off the chassis, leaving the central braced engine section. It remained in this state in Guinness' garage until his death in 1954.
The present owner, a Darracq enthusiast and collector, bought the car from Sir Algernon's widow in 1956 and committed himself to restoring it to its former glory - a task that has taken 50 years using authentic period chassis components wherever possible. The unique two-speed transaxle had to be entirely recreated from a drawing in a 1906 book. When the engine was dismantled by the vendor, bore measurements taken revealed the true capacity of 25.4-litres, rather than the historically quoted 22.5-litres.
In the past 12 months, the Darracq has been exhibited at various events, including the Goodwood Festival of Speed, the Brooklands Society Reunion and Retromobile in Paris. It was finally fired up for the first time in 97 years on 1 April 2006 and made its first demonstration run three months later.
Links:
http://theoldmotor.com/?p=134988
https://www.ultimatecarpage.com/car/2918/Darracq-200hp-Sprint-Special.html
Other awesome cars are here!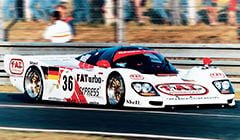 Last edited: