Honda Fuya-Jo Concept '99
​
SPECIFICATIONS
OVERVIEW
• Manufacturer: Honda
• Country: Japan
• Year: 1999
• Type: Street
• Division: Gr.X
ENGINE
• Engine: ---
• Power: --- HP / --- rpm
• Torque: --- Nm
• Engine location: ---
• Displacement: --- cc
PERFORMANCE
• 0-100 km/h (0-62 mph) Time: Unknown
• Top Speed: Unknown
• Power-to-weight ratio: --- hp/kg
DRIVETRAIN
• Drive: ---
• Gearbox: ---
DIMENSIONS & WEIGHT
• Lenght: 3050 mm
• Width: 1650 mm
• Height: 1995 mm
• Wheelbase: 2200 mm
• Weight: --- kg
A new generation vehicle that runs through the city with a light-skinned feel like skateboarding
I would like to enjoy running in a more playful style, rather than giving myself a deep seat. Just like riding on a skateboard and breaking the wind, like running through the city with inline skates, there are cars that let through the city with a light feeling. It is the "night castle" that was born from that idea. A skateboard form hight & short 4-seater that makes full use of the vertical space. A semi-standing sheet that overturns the conventional wisdom of "deep in bed" is a style suitable for enjoying the city rhythmically. A light sensitivity that divides functions completely. It is a proposal of "Fun & Future" for the new generation of urban running on the street, playing in the city.

Semi-standing seat, club-like interior. The fun of playing in the city to the future.

A new sense of room where you can enjoy the city rhythmically
• A semi standing seat like a ride on a skateboard. -Ultra-high packaging that has the expansion of the indoor space to the vertical.
• High viewpoint for easy driving, low flat floor for easy getting on and off, indoors where you can stand and move. Enjoy the city, New Human Package.
• We adopt 4-point seat built-in belt to all the seats.
New style side door
• Newly opened side door. Getting on and off is also easy.
Equipped with a dedicated board rack
• Open the rear hatch, there is a dedicated board rack. I enjoy the skateboard soon.
Cockpit in the image of the club
• Steering, operation panel, speakers ... The cockpit is full of club feeling.
Unique steering
• The steering is designed in the image of the turntable of the DJ booth.
Control panel
that can be
used happily
•
Control panel
which got hint to DJ mixer. Control air conditioning and audio with this panel.
Audio system that enlivens the fun
• Large diameter speakers installed on the door surface. Powerfully boosts Fun in the room.
A nightless castle is a word that indicates "a bright and lively place" in Japanese, even at night or daytime.
Links
https://www.honda.co.jp/factbook/motorshow/1999/auto_j/0063.html
https://newatlas.com/go/3950/
Other awesome cars are here!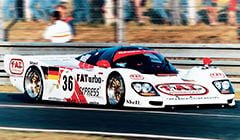 Last edited: