​

Another extravagant car, one with six wheels and only two produced from Starlight Garage, enjoy and vote please!

Idea for this car given by Outeke
The Panther 6 was an extravagant six-wheel convertible powered by a mid-mounted 8.2 L (500 in Cadillac V8 engine with twin turbochargers. It was produced by Panther in 1977.
Only two cars were ever made (one white, one black), both of which still exist. One is in the Middle East, and the other was shown at the 2008 NEC Classic Car Show by the Panther Car Club.
The six wheel configuration was inspired by the Tyrrell P34. The layout was one pair of rear wheels with 265/50 VR16 tyres and two pairs of steerable front wheels with 205/40 VR13 tyres.
The specification included a detachable hard top and convertible soft top, electronic instruments, air conditioning, an automatic fire extinguisher, electric seats and windows, a telephone and a television set.
Claims for the top speed of this vehicle suggested it was capable of over 200 mph (322 km/h); however, these claims are so far unsubstantiated.
Overview
Manufacturer: Panther Westwinds Ltd
Production: 1977 - 1978 / only 2 produced
Assembly: Weybridge, England
Designer: Robert Jankel

Body and chassis
Body style: 2-door convertible
Layout: RMR layout

Powertrain
Engine: 8.2L Cadillac V8
Transmission: 3-speed automatic

Dimensions
Wheelbase: 105.0 in (2,667 mm)
Length: 192.0 in (4,877 mm)
Width: 80.0 in (2,032 mm)
Height: 48.0 in (1,219 mm)
Curb weight: 2,870 lb (1,302 kg)
OTHER CLASSIC CARS ARE HERE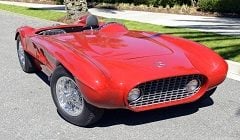 Last edited: