Voice of Gran Turismo
Premium
6,390
Kent
tombrookscomms
For as long as I can remember I've wanted to own a Honda S2000, but for reasons I'm not quite sure about I've never gotten around to it. However, when a friend of mine was selling his, it was something that I couldn't say no to and today I picked it up: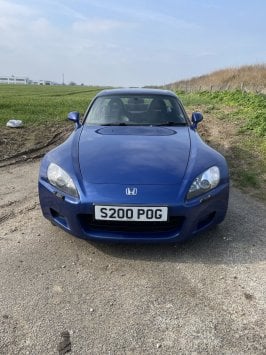 It's a
2002 AP1
with 118k on the clock. The car is completely standard, but for the hard top and the aftermarket wheels (though I do have the originals also). I drove it 160 miles back home and it was fantastic - the engine and chassis are superb, coupled with a new set of Toyo tyres on it, which really helped it corner nicely.
Inevitably I am already thinking about what I'd like to do to the car. I've got absolutely no idea how long I'm going to keep it, although I can see it as something that worms its way under my skin, and to that end I'm keen to think about modifying it. Obviously the safe money would be to keep it as standard as possible to maintain a high re-sale value, but I would quite like to put my own stamp on it should I decide to hang onto it for long enough.
Last edited: