Winter has returned to give a fresh coating of snow to the UK for another week in Forza Horizon 4. Players are still continuing their quests to claim all the latest rewards before Series 37 winds down.
This season has another opportunity for grabbing a pair of rugged offroaders and a vintage Mercedes race car, as well as more prizes for completing 50% and 80% of the latest season.
Fast and Large
Seasonal prizes this week have an offroading flavor, kicking off with the Range Rover Velar.
Sitting below the Range Rover Sport, the fourth Range Rover model offers a more compact blend of tarmac focus and offroad ability. Thanks to sharing mechanicals with the Jaguar F-Pace, there's also some sporting pedigree to the Velar. Under the hood sits a 3.0-liter supercharged V6 making a healthy 375hp, allowing you to tear down dirt trails quickly and in Range Rover luxury.
Joining it is the much tougher Jeep Gladiator. The Gladiator brings a pickup truck back into the Jeep range for the first time in almost 30 years, yet the addition of the truck bed fails to compromise its offroading credentials. Based on the Wrangler, the Gladiator features a 3.6-liter Pentastar V6 making 285hp. Coupled to the old-school offroad focused nature of the Rubicon trim level, this Jeep is enough to give many Land Rovers a scare.
Winter's newest Photo Challenge takes you all the way down to Bamburgh in a small car. #MiniCarMassiveCastle wants you to snap a picture of any Mini over at the towering Bamburgh Castle. Prizes for the latest seasonal championships include the Hennessey VelociRaptor and the 2019 Porsche GT3 RS.
The main course this week is the 1955 Mercedes 300 SLR. This machine has become an extremely valuable automotive treasure following its racing career. Its most famous moment came during the 1955 Mille Miglia. Driven by the late Stirling Moss, the 300 SLR achieved a time of 10 hours, 7 minutes and 48 seconds, a record that remains unbeaten to this very day. Powering the Merc is a 3.0-liter straight-eight making 310hp, giving huge performance during the 1950s.
To get the Merc, you'll have to win the "Dirt Cheap" championship.
If you're in the mood for another Showcase Remix, then a returning fan favorite should satisfy you. "Assault on the Control Room" puts you in the power armour of Halo's Master Chief, as you race the iconic Warthog against a Pelican dropship.
Those keen for Super7 will find a fresh set of cards to tackle this week. Complete all seven challenges and you'll win a 1985 Mazda RX-7.
The events and prize list for the Winter events is below;
The Truck Stops Here
Series: Dirt Racing Series
Cars: Trucks
Restrictions: B Class, 700 PI
Prizes: 15,000 CR, 25,000 CR, Mercedes-Benz Tankpool24 Racing Truck
Potent Porsches
Series: Street Scene
Cars: Porsche
Restrictions: S2 Class, 998 PI
Prizes: 15,000 CR, 25,000 CR, 2019 Porsche 911 GT3 RS
Dirt Cheap
Series: Dirt Racing Series
Cars: Reasonably Priced Cars
Restrictions: C Class, 600 PI
Prizes: 15,000 CR, 25,000 CR, Mercedes-Benz 300 SLR
The Trial: Back In Time (Co-Op Championship)
Series: Dirt Racing Series
Cars: Porsche, 1950s-1980s
Restrictions: A Class, 800 PI
Prizes: Porsche 718 RS 60
Winter Games – Series 37
Series: Playground Games
Cars: Offroad
Restrictions: A Class, 800 PI
Prizes: Hennessey VelociRaptor 6×6
Super7 – Winter
Completion Prize: 1985 Mazda RX-7
The Roman Mile Speed Trap
Season Objective: 235 mph
Reservoir Ridge Danger Sign
Season Objective: 656.2 ft
Johnston Terrace Speed Zone
Season Objective: 145 mph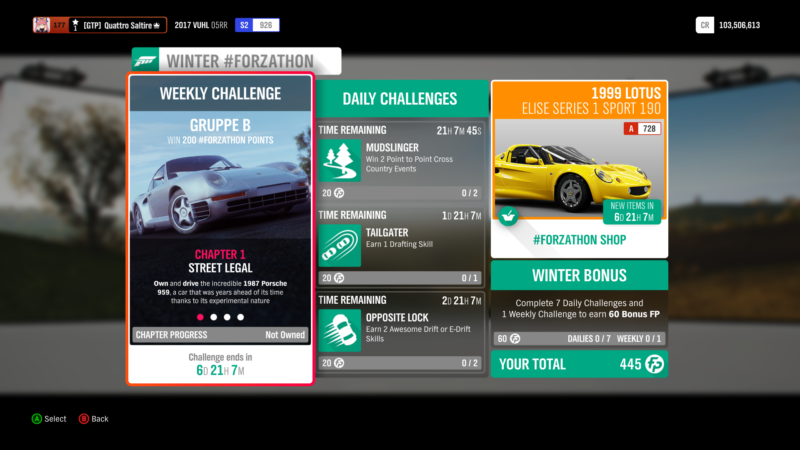 Forzathon Events
Forzathon takes a look at one of the most advanced cars ever to come out of the 1980s: the Porsche 959. Climb into this German slice of techno-wizardry to get started.
Next, show off the 959's surprising rally ability by taking victory in 3 Dirt Racing Series events. Following the races, prove the 959 is just as dominant on the road by winning 2 Street Scene events.
Finally, wrap up this week by testing your bravery in order to earn a total of 10 Ultimate Near Miss Skills.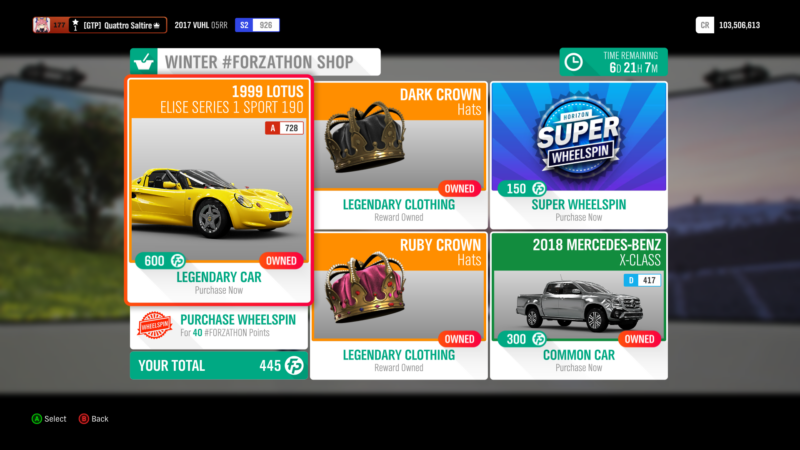 Forzathon Shop
Little and large make up the shop lineup for Winter, lead by the 1999 Lotus Elise Sport 190.
Taking the already featherweight Elise and making it more hardcore is no easy task, but the Sport 190 is the result of such a makeover. With the Elise's biggest strength being shown in handling, the suspension and brakes have been given major upgrades for further enjoyment on twisty roads. A modified version of the 1.8-liter Rover K-series engine means 190hp in a car that weighs just under 1,500lb.
To experience this raw British sports car, you'll need to pay up 600 Forzathon Points. Go for one of these and you'll be left wondering why you would need any more power
If you want more of a workhorse, there's the 2018 Mercedes X-Class.
Don't be fooled by the Mercedes badges and plush interior, as underneath, this shares mechanicals with the more humdrum Nissan Navara. Despite modifications to the suspension and chassis, the X-Class retains much of the off-roading characteristics as the Navara. Under the hood sits a 2.3-liter twin turbocharged diesel engine making 188hp, which isn't much in a truck weighing nearly 4,800lb.
With the X-Class sitting at 300FP, it may be considered a bargain, but we advise looking elsewhere for more capable, and faster trucks.
Clothing items up for grabs include the Dark and Ruby Crowns.
Featured image courtesy of Rage Racer
See more articles on Forza Horizon 4 Season Change.