We're here, heading in to the final chicane leading onto the main straight — I'm referring to E3 of course. It all begins next week Monday if you weren't aware and there's so much I'm looking forward to, so much I'm looking to get a better hold of, and even a bit more clarity should it be provided.
There's going to be so much to cover that I may actually be coerced into sitting in front of my TV with a notepad, simply so I can jot down the key points in each of the presentations and everything else that piqued my interest during the festivities. There's the Playstation 4 reveal which is undoubtedly going to be covered in it's own post here, Gran Turismo 6, Forza Motorsport 5, the Xbox One, and the expected titles Nintendo are going to announce during their direct conferences (Bayonetta 2, anyone?). It's going to be one really hectic week and I can hardly contain myself. How busy will I be in the midst of all of this? Well, that remains to be seen.
What am I looking forward to the most? In the midst of everything that's bound to bombard the expo, I can't answer that question one way or the other. All I can say is I'm looking forward to everything the expo has to offer, same as every year. When it's all said and done I'm more than positive I'll be pre-ordering both the Xbox One, the PS4, and picking up a Wii U — yes, I'm addicted to games, but aren't we all?
Switching gears a bit, can you believe that I still haven't seen Star Trek: Into Darkness? I have no idea what it is that I'm waiting for and by now the premise of even putting together an answer is lost on me because I really have no legitimate reason for not having seen it yet; I also want to see Iron Man 3 again but the only thing that's going to do is drive me home and make me watch The Avengers for the one-millionth time, thus starting a vicious cycle involving comic books and comic book-related movies that won't end for the foreseeable future. I have enough on my plate at the moment as it is so I'll pass on that. For now.
What a coincidence, I mention comic book-related movies and as Horrible Bosses came to an end on HBO, a commercial for the premiere of The Dark Knight Rises on June 16th was shown. How much more action-packed is next week going to become? Granted, I've already seen TDKR and thought highly of it but at the same time it left me wanting more, but we'll discuss that later on. For now, let's get the Rewind underway and feed into the E3 Desire!
GTPlanet Picture of the Week
This week's image is all about the clever usage of bokeh, something we've seen a couple of times in this space. I won't go into too much detail of what bokeh is, all that really needs to be known is it's the way the camera lens renders out-of-focus points of light.
This week's image, courtesy of NBDESIGNZ, is definitely on the side of "good" bokeh, with all of your attention being drawn toward the crisp details of the Mine's R34 GT-R and it's BBS wheels.
Have a suggestion for next week's featured image? Drop me a private message, entitle it "GTPlanet Picture of the Week" and fill it out with your two choices and they'll be featured in upcoming Rewinds. NOTE: You cannot elect your own work.
Racing Games: A Sound Study
The delivery of sound in racing games is one of the things I've placed greater importance on throughout the years, and as a result there have been some real gems throughout the years and it's only getting better, but the question now is does the community realize how large of a role sound recreation has in racing games? Often you'll find players praising the physics engine as the "bread and butter" of racing games, and while that alone has its merits of having a greater emphasis as it's coming across as the core functionality of the game, what good is a top-shelf physics engine if the sound recreation isn't delivering the necessary details at all times?
Track Time Audio conducted a study sometime ago pinpointing how crucial a role sound plays in filling the communicative void that bridges the gap between the real world and the virtual one; sound plays a larger role in your favorite racing games then you might even be aware of.
The study is broken down into several demographics: tire squeal, surface materials, acceleration and deceleration, camera perspectives, and a couple of others. The point that's being driven here is that sound very much drives the experience as much as the rest of the game's set of functions. It's a very interesting read and I'd recommend it to anyone that's looking for a detailed approach at understanding the many factors sound has a helping hand in.
GTPlanet Weekly Race Series (WRS) Online Events: 2013 WRS GT3 Championship

It's time to strap yourself in and prepare for a championship challenge that's going to span over the next 4 (5) months, the WRS GT3 Championship allows you to get behind the wheel of any FIA GT3-compliant road car in GT5 and run amok on the four real world locations available to tour.
The first challenge that awaits you lies at home to the 24 Hours of Le Mans – Circuit de la Sarthe. With your choice of the Mercedes SLS, the Ford GT, Ferrari 458 and the McLaren MP4-12C, the field is sure to be varied and brimming with excitement.
For more on the upcoming series let's turn to the comments of the Stewards:
Welcome to the inaugural WRS GT3 World Championship season: a four race series based loosely upon the Blancpain Endurance Series. The series follows the calendar dates for the real life events using circuits available in GT5 with a North American stop at Mazda Raceway Laguna Seca added as a bonus.

There are cars from four different manufacturers to choose from: Ford GT '06 | Mercedes-Benz SLS AMG '10 | Ferrari 458 Italia '09 | McLaren MP4-12C '10. The cars have been homologized so test them all and find the one that suits your driving style best. Pick wisely as once you qualify in a car you are committed for the season.
Time change will be enabled for several tracks on the calendar to get the best out of GT5's dynamic lighting so wear your sunglasses and try not to focus too much on the sunrise. Leave your rain tires and night vision goggles in the paddock because full dark driving and weather will not be included.
Individual driver and manufacturer team champions will be crowned after the season ending race at the Nürburgring 24h course.
Stop by the official thread here and remember that you NEED to be registered before officially participating in the WRS, and that can only be done by submitting a time for the official GTP Registry Qualifier.
GTPlanet Member of the Week
It's that time again and this week we're back into the normal swing of things with a senior member of the forum getting their time in the spotlight, and this week's entrant is an interesting one for a particular reason that can easily be spelled out as "Mini Cooper". Of course, the Mini isn't with him anymore but why am I telling you this when you can get to know the entrant better yourself; welcome Joey D to the Member of the Week hall of fame!
As mentioned earlier, Joey is another one of the senior members of GTPlanet that have proven his worth over the course of his membership here, and much like a previous inductee he's rather opinionated. If you've been following the inductees up until this point then you'll know that you won't want to miss this interview. For the full interview be sure to stop by the Member of the Week thread and get to know Joey better, or maybe even ask him who's responsible for getting him addicted to time pieces. He is, after all, the ninth member to be recognized among his peers. Who's next?
Anyone you'd like to see recognized as the Member of the Week? Drop me a private message, entitle it "GTPlanet Member of the Week" and fill it out with your choices and they'll be featured in upcoming Rewinds. NOTE: You cannot nominate yourself.
GTPlanet Vehicle of the Week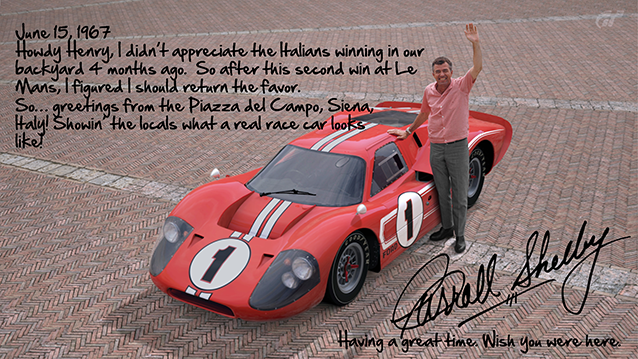 It's amazing how time flies, I completely forgot about the special edition Carroll Shelby Rewind tribute I was supposed to have done back in May. We'll worry about compensating for that in a couple of weeks, but for now let's kick start the tribute with this week's featured vehicle, the 1967 Ford GT40 Mark IV.
With Ford achieving top honors for their progress in international endurance racing, development of the GT40 was continued for 1967 season despite growing costs, the campaign itself was already the largest and most expensive effort for an American team in a predominant European series.
In light of the success of the Mark II GT40's in 1966 their hefty weight inspired Ford senior designer, Roy Lunn to seek out new and drastic design changes. Two examples already existed, with the X1 prototype that was developed by McLaren Racing Limited that featured an aluminum version of the GT40's tubular frame, and the second project, the J car, appealed to Lunn and would see him convincing Ford to move ahead with the prototype.
The Mark IV J-4 made it's debut at Sebring and was an instant success leading the entire race ahead of a Chaparral 2F, taking the victory with Bruce McLaren and Mario Andretti behind the wheel; this victory would coerce Ford to prepare more Mark IV's for Le Mans. Despite three retirements at the 24 Hour event it would be the Shelby American Mark IV driven by Dan Gurney and A.J. Foyt that would eventually cross the finish line, leading into the second consecutive victory for Ford at Le Mans in which they beat out Ferrari – exactly the story Ford wanted.
GTPlanet Tune of the Week
When the tuner's notes for a vehicle is "I like cake" you just know it's going to be good, it just goes without saying! Recommended to us by DigitalBaka and courtesy of krenkme, this tune was featured in the recent FITT Tuner Car Shootout.
Mine's R34 GT-R (funny how it's been featured twice at this point) is already a beast of a car in it's factory layout, but with a custom suspension it becomes a daring 575PP track-eating monstrosity. You can find it in the NCD, assuming you aren't already in possession of one, and be prepared to start raking in victory after victory because you'll be taking no prisoners as you attack corners and unleash the power on on the straights with it's 545 horsepower on-tap. If you want to take on the tune, with the apt name of "Not Yours" then there's no doubt you'll want to stop by and see the tune for yourself.
Exactly like the Picture and Vehicle of the Week features, if you have any suggestions for the upcoming Rewinds be sure to drop me a private message, entitle it "GTPlanet Tune of the Week" and let me know. NOTE: You cannot elect your own work.
drive: Formula Ford EcoBoost – Street Legal Racer
It's a street legal Formula Ford, do I really need to say anything else? Once again I'll let the video do all of the talking.
GTPlanet Photomode Competitions
In Week 132 of the Standard and Advanced competitions you are to put your best foot forth and show the community just how seriously you take your in-game photography. All you need to know is as follows:
Week 132, Standard: Hostile vs. Docile – Simple theme this week, just go out there and snap a shot of your car exhibiting either one of these behaviors. Oh, what's that, it's a bit confusing you say? Well, hostile is pretty self-explanatory, if you're snapping that perfect shot of your car attacking another for the next highest position that would fall under "hostile" – think aggression and it'll make more sense.
As for docile, just think calm, cool and collected; parked under an overpass or just driving about in peaceful serenity.
Week 132, Advanced 2.0: Elementalist – Interesting theme and since it's been on Taiga's mind for a while I'll just let him handle the explanation: This has been in my head for quite some time now and I've finally got the chance to make it a theme. 
Water. Fire. Wind. Earth. Feel the sky burn, the rain cold, the ground-shattering drift or the sweet tandem of 2 cars dancing in the wind. Take a picture and make it feel like an element. It doesn't have to literally be a car on fire. If you're embodying fire, you can take a sunset photo. Likewise if you're embodying water, you can take a rain photo.
The image is left to your interpretation and if the photo tells a good enough story, it'll pass. Possible elements that can be used: Fire, Water/Ice, Earth, Wind, Lightning, Darkness, Light, Nature
For all of the relevant information pertaining to this week's challenges be sure to stop by here and here.
Closing Thoughts
So you may have noticed Forza Motorsport has been absent from the Rewind for the past two weeks and it was done entirely on purpose as up until two days ago there wasn't much to report on, and even then it still wasn't enough for me to make a big deal out of. All of that is poised to change with next week's festivities at E3 and I still have absolutely no idea how I'm going to handle the influx of buzz words, tidbits, news pieces and various images – there are always images. And videos.
Right, so TDKR, it left a lot to be desired in my opinion but then again I was already extrapolating the story arc to points I knew weren't going to be portrayed in the film. I was absolutely giddy when Bane (SPOILER ALERT) broke the Bat's back because that's 100% accurate to the actual events in Batman #497 in the Knightfall story arc. What would I have liked to happen? Simple. They could have introduced Jean-Paul Valley, he'd take up the cowl with Bruce in a wheelchair, almost get wrecked by Bane, realizes his weakness and dons the mechanical Batsuit and almost kills Bane with ease.
Go out and read the entire Knightfall story arc, it's one of the best Batman stories out there. If I talk about this any longer this is going to become "GTPlanet Weekly Rewind: Batman, More Batman, and Even More Batman." I have Bats on the brain now so anything I say from hereon out isn't going to be inspired in the least, so I'm going to copy-and-paste plug my Twitter now!
Once again I forgot to mention that I'm on Twitter now. What was once going to be a bit of parody account (because I don't use Facebook or Twitter for any reason whatsoever) has quickly turned into me using Twitter rather effectively. So, follow me and suggest all things Rewind-worthy from the comfort of your tablets, phones, or Skynet-linked computers. Remember, when the machines finally rise you'll need someone to write pieces regarding the matter littered with Armageddon-y undertones and I can be just that guy! What were we talking about? Right, Twitter, so if you'll follow me here the Rewind can be delivered to you in a timely fashion not seen since snail mail. Wait, that's not the right thing to say!
You will be showered in Rewind, Seasonal Event and future article goodness courtesy of yours truly though so there's that worth looking forward to – once I've bothered to get the thing up and running. It can also be used to suggest things for upcoming Rewinds, so that's now two ways you all can keep me on my toes.
With all of that said, E3 is next week and there's going to be plenty to cover so batten down the hatches and stockpile on whatever it is you enjoy drinking because it's going to be absolute madness! Until next week keep racing! Batman!
GT5 Photomode images by eugene2023, Metalsun, and BayuYellow46.
More Posts On...
The original comments for this post are no longer available.