Gran Turismo 4: Prologue
Overview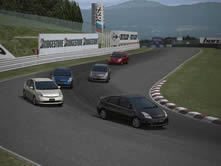 GT4: Prologue was a preview of Gran Turismo 4 released in December 4, 2003 in Japan and in Europe on May 26, 2004 (it was never released in North America).
It featured 50 different cars and 6 circuits, including an early version of the "New York" circuit that would eventually appear in the full version of the game.
It has sold over 1.4 million copies worldwide.
Links
Track List
Tsukuba Circuit
Fuji Speedway
New York
Citta di Aria
Hong Kong
Grand Canyon
Car List
BMW
McLaren F1 GTR FINA (Long Version) '97
Daihatsu
Copen Active Top (J) '02
Mira TR-XX AVANZATO R (J) '97
Dodge
Ford
Focus Rally Car '99
Ford GT Concept '02
Honda
BEAT Midship Amusement (J) '91
CIVIC Type R (EK, J) '98
HSC (37th Tokyo Motor Show Concept Car) '03
INTEGRA Type R 98 Spec (J)
JAZZ '01
NSX Type S Zero (J) '97
ODYSSEY L Type (J) '03
S2000 '03
Spoon Sports S2000 Race Car '00
Spoon Sports CIVIC Type R '03
Spoon Sports Fit Race Car '03
TAKATA DOME NSX (JGTC#18) '03
Lancia
Delta HF Intergrale Rally Car '92
Lotus
Mazda
KUSABI '03
Mazda 2 '03
MX-5 '89
RX-7 Spirit R Type A (FD) '02
RX-8 Type S '03
Mercedes-Benz
Mitsubishi
COLT Sport-X Version '02
i '03
LANCER Evolution IV Rally Car '97
LANCER Evolution V '98
LANCER Evolution VIII MR (J) '03
LANCER Evolution VIII GSR (J) '03
Nissan
240Z G '71
350Z Roadster '03
Fairlady Z Nismo Z-tune (Z33, J) '03
MICRA 12c 5door (K12) '03
SILVIA K's AERO (S14) '96
SKYLINE Coupe 350GT (V35, J) '03
SKYLINE GT-R V-Spec II (R32) '94
SKYLINE GT-R V-Spec II Nür (R34) '02
XANAVI NISMO GT-R (JGTC#23) '03
Subaru
CUSCO SUBARU ADVAN IMPREZA (JGTC#77) '03
IMPREZA Sedan WRX STi Version VI (GC, J) '99
IMPREZA WRX STi '02
IMPREZA Rally Car (GC) '99
IMPREZA Rally Car (GD Type-II) '03
LEGACY Sports Touring Wagon 3.0R '03
LEGACY B4 2.0GT SpecB (J) '03
LEGACY Saloon B4 3.0R '03
LEGACY Touring Wagon 2.0GT SpecB (J) '03
Suzuki
ALTO WORKS SUZUKI SPORTS LIMITED (J) '97
Cappuccino '92
CONCEPT-S2 '03
Toyota
bB Z 1.5 X Version 2WD (J) '00
CELICA GT-FOUR Rally Car '95
CELICA SS-II Tuning Car (ZTT231) '03
ist 1.5S 2WD (J) '02
Motor Triathlon Race Car
MR2 GT-S (SW20, J) '97
PRIUS Hatchback Toyota Hybrid Synergy Drive '03
WOODONE TOM'S SUPRA (JGTC#36) '03
YARIS 1.5 16v VVT-i '00
Volkswagen