Please put your flags at half mast, for the reported demise of a fallen engine. According to British publication Autocar, Mercedes-AMG is dropping the characteristic V8 engine from its range, starting with the next version of the mid-size C63 in 2022.
It's not an entirely unexpected move. New emissions regulations are set to kick in across Europe next year requiring a fleet average CO2 emissions figure of 95g/km. For every single gram above that figure, the European Union will levy a €95 fine on the manufacturer. Considering that Mercedes-Benz, across all its brands, averages around 135g/km and sold more than 930,000 vehicles in Europe last year, that would cost the company the equivalent of €3.5bn ($3.9bn).
Unsurprisingly, it's looking to cut the emissions on some of its popular but high emission vehicles, and at 230g/km the AMG C63 is high on that list. It already retired the even less efficient V12 engine, as found in the AMG S65, earlier this year.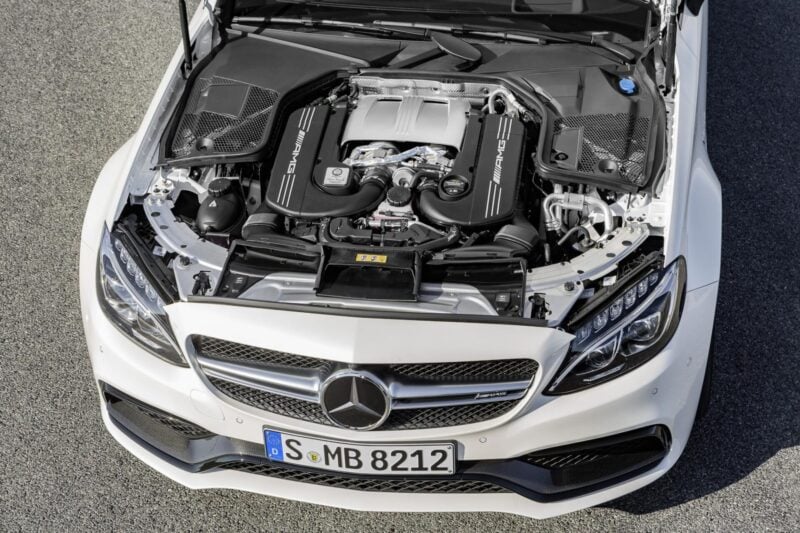 What's replacing it? Mercedes is reportedly testing a four-cylinder engine, with a hybrid. It's not just any four-pot though, rather one Mercedes-AMG already uses: the M139 you'll find in the new A45.
This two-liter engine produces some 416hp and 369lbft in its most potent guise. That's a little way down on the current C63's peak figures, but AMG has plans to add a mild hybrid boost system similar to that found in the current CLS53 model.
There, a 48V starter motor boost system provides an extra 22hp and 184lbft, courtesy of a 0.9kWh lithium ion battery. For the C63, AMG plans to increase the power offered in order to match the current car's 503hp. In addition the engine will provide more torque and still weigh less than the outgoing V8. It's likely that the car will also use some of the energy recovery technology from the Mercedes-AMG ONE hypercar too.
Of course the C63 will only be the first of the AMGs to lose its V8, with '63' models across the range. Enjoy it while you can, and keep an eye on the used prices…
See more articles on Mercedes-AMG.