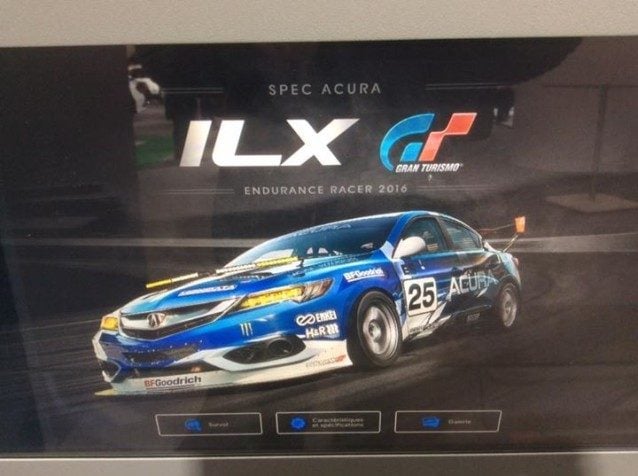 As Gran Turismo fans clamour for the latest bits of news on 2016's Gran Turismo Sport, the drag nets are cast ever wider, and the search can yield some unexpected results. Case in point: a mysterious Gran Turismo connection to an Acura ILX race car was found at last month's Montreal Auto Salon, thanks to forum member @Zlork (Edit: the original image was posted by @Zalex on Facebook).
Two factory-backed ILX racers took part in the 25 Hours of Thunderhill last December, with the #28 car finishing 10th in class against purpose-built machinery such as the winning Flying Lizard R8 LMS. This car eschewed the Acura windshield banner of its sister car however, instead running with Gran Turismo scrawled across its top.
Windshield banners bearing the name of Polyphony's series are hardly new, of course. In 2015 alone, one could spot it on competitors at the Pikes Peak International Hillclimb and the VLN Endurance series, among others. The banner, on its own, is not necessarily representative of a car or track's inclusion in the series. Pikes Peak in particular has a long, unusual history with Gran Turismo, be it the track itself or certain record-setting cars. To wit, the ILX – in the same spec as the Thunderhill cars – was part of Acura's 13-car assault on the hill last summer.
What marks the ILX endurance racer as unusual is an information screen presented alongside the #28 car. Front and centre is the GT logo, with "Spec Acura" and "Endurance Racer 2016" framing it.
Could this be part of a dedicated series in GT Sport? Or perhaps a new real-world spec series featuring the car, with Gran Turismo sponsorship? We've reached out to Honda for more information on the car, and the GT connection. Stay tuned for more details.
The original comments for this post are no longer available.