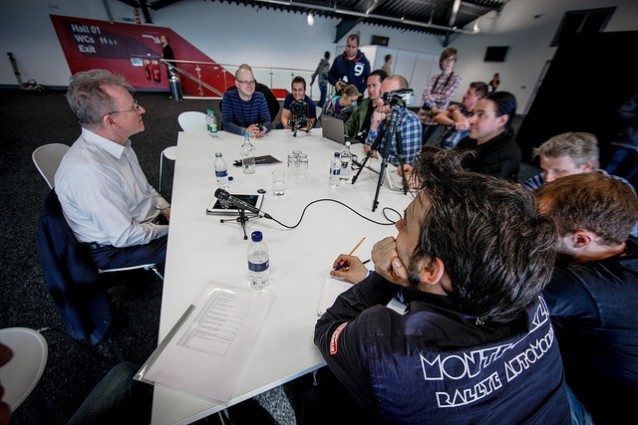 GTPlanet recently had the opportunity to sit down with Sony Computer Entertainment Europe's President and CEO, Jim Ryan, for a round-table discussion on the business end of the Gran Turismo franchise.
Regarding the DLC, it's obviously going to be a big feature of GT6. How do you see it progressing and growing in the future beyond what it already is in GT5?
"I think that we very much cut our teeth on DLC with GT5, and I think there's a real desire to make a quantum leap with GT6. Plans are not yet disclosed so I can't talk in detail about what they are but there is a real desire to make a step change and take it to a whole different level.
"And, you know, other games in different genre have demonstrated what's possible in terms of providing a much longer and deeper consumer engagement and monetization, so our ambitions are to make a big jump."
Are you concerned with the excitement around Gran Turismo 6 competing with the PlayStation 4?
"No, I think they are complementary. Obviously, it makes the job of marketing more difficult, because it needs to be carefully done, but I think the two can co-exist perfectly well. In fact, there's a lot of evidence when you have a lot of noise in the gaming category, everybody benefits, even across platforms.
"While we recognize the issue and it's definitely one that needs to be looked at carefully, we're not concerned about it."
Was there any particular reason GT6 was chosen not to be launched on the PS4?
"It goes back to a point I made earlier – there is definitely a lot of unfinished business on the PS3, and I urge you take a look back at the iterations of GT and GT2 side-by-side; the difference is amazing. You'll see a similar step change between GT5 and GT6.
"Another difference is the 70 million install base on PS3 – it's very attractive for a developer to target a game on that platform."
Since there is such a large PS3 install base, will we be seeing any new accessories or steering wheels for the console?
"It's an area that's been looked at very carefully. It's a very good question and one I'm not able to talk about in too much detail right now but its an area where we've been very active, certainly in the North American market and we're going to look at the European market more. I really can't say more than that!"
So steering wheel accessory sales are generally much higher in Europe?
"Yes, in absolute terms, software sales are higher in Europe, but the sales of peripherals are generally higher in North America."
How do you look at the Middle Eastern market?
"We put a lot of time into the area, and we now have a significant management team there. In the old days we had no marketing budgets there, but now we have proper marketing budgets. I'm there at least two or three times a year, and it's becoming more important as time passes, especially as economies grow and disposable incomes increase."
The racing game market in general is becoming much more competitive. What do you think the Gran Turismo brand needs to do to keep its dominant position in the market?
"I think you're right, like many genres it does become more difficult and competitive. We have certain aspects, like the realism of the game, that's something unique to Gran Turismo and the quality of the gameplay; I think that sets us apart form everyone else. We have to build on those things and make sure we stay ahead of the pack.
"Where we really want to improve is the area of the online experience and make it more interactive and engage with communities around Gran Turismo, because we think the genre lends itself really well to that."
How much does the release of additional content change the revenue model for the game?
"It's probably an area where I can't say too much, I'll just say its a good question. We're looking at all sorts of areas for downstream gamer engagement and not just dlc.
"It's really as much about providing a sustained engagement for the consumer as it is about making money. Obviously, the company enjoys making money, but you can engage the consumer for months or even years and that is our ultimate aspiration."
Will there be efforts to monetize the new Gran Turismo mobile apps?
"I don't think any decisions have been made about monetization of these apps. This is generally an area where we're getting much more active."
"Those of you who saw the PS4 announcement or heard about the PS4 apps – i'm not talking about Gran Turismo, but the PS4 app – there will be a PS4 app. Breaking down the old silos and barriers is something that we're on record as needing to pursue.
"Having these sorts of companion apps which allow people to continue their engagement with the franchise when they're not at home or with their console is definitely the way forward."
The PlayStation Vita is the only Sony platform without a Gran Turismo game – is there any interest in this area?
"There is nothing to report just yet, but we look at all our platforms and love all our children equally, ha!"
Was it a conscious decision to announce GT6 only a few months before its release, unlike GT5? It seemed as if GT5 was announced years and years before it was released, this feels more like 'we've announced it and it's coming soon.'
"It will be before Christmas [2013], definitely.
"I think as time passes all developers and publishers get better at these things and learn from past experiences. Announcing a date and having it slip is definitely not something that we want to happen, either on the developer's side, the publisher's side, or the consumer's side.
"We gave a lot of thought into what the right strategy should be and we're firmly committed to the GT6 Christmas release date, and we wanted to get it out there well ahead of time so that we can provide a steady stream of marketing updates and get pre-orders started."
How important is the Gran Turismo franchise to the PlayStation brand?
"It's very important. The 70 million figure quoted on stage, almost half of those have been sold in Europe, Australia, and New Zealand.
"We sell a lot of Gran Turismo and we spend a lot of time on the franchise, and for us it is critical to our business and we take it very very seriously."
See more articles on Interviews, Jim Ryan, PlayStation 4, PlayStation Vita, SCEE, and Steering Wheels.