SPD Writes Car Of The Week: Week 86 - Barbie Movie Cars


Car 1: Chevrolet 'Barbie Movie' Corvette EV
And you thought I was original with pink Corvettes? Nah, though it's a complete coincidence that I even thought of a pink C8.
Week 86 sounds to me as the perfect time to nominate the Toyota 86. But looks to me we ain't doing that. I remember this time of year for something else, and you all know I'm very bad at hinting things that I've done, and things I don't want to happen (in this case it's nominating the SRT Viper GTS on GT7's COTW). But let's get to the car first before I erupt.
Umm.. releasing in the 21st of July, the Barbie movie stars prime white skinned blondes Barbie and Ken as they exit the comforts of their self named utopian Barbie world and into the real world, where, du-duhh, real world tropes and logic apply. With Mattel also responsible for a good chunk of this game's content (see COTW nominees in Bad To The Blade, the 2 Bone Shakers and Deora II), I find no shock to see more of their stuff around, only that it's a different franchise that's seen as the polar opposite to HotWheels. And I'm SPD with the D strongly leaning to Dude.
But I gotta delve deep on what's up with Barbie having a car like this. Well, from what I see, Barbie and cars are actually a combination that seems to have materialized for as long as she's existed in the late 50s. The first of this bunch would be an Austin Healey 3000. Now, the Barbie Corvette would soon follow that, and eventually across 4 generations of Corvettes. There are other cars like the 328 GTS that's in Gran Turismo 7 (should we DO need a Barbie week perhaps).
A whole list of cars Barbie has taken over come to mostly roadsters, like the Z8, the revived 2005 Mustang, the convertible Lexus SC430, and a few Ferraris of the mid 2000s. But let's not stray away too far. The Barbie Corvette I would like to say is based off the C1 Corvette that we've reviewed ages back, but it's a model that's entirely new to the game, being the one in between the 60's facelift and the 53 original. And the reason why it's electrical? Well, following movie logic, the car's entirely autonomous, meaning it's supposedly have no working parts.
Also the other thing.. muscle cars are known for its size. This one's a teeny tiny one. If I knew better, Margot Robbie isn't exactly a big frame lady (I googled and she's 5 foot 6). You can see her sticking out of the car she drives it in certain promotion shots. It's ridiculous. Also you can see this car has the audacity to stuff in rear seats that will never fit anyone but your mom on opposite day. This interior too I will get into more detail later on.
The last thing I want to mention is the engine. You think it's going to have its long running V8, but the Barbie Corvette is an EV, meaning 1 gear, instant power, and get this: the game suggests its rear engined, meaning the battery is placed at the rear. Having past an episode of me raging about this, I took the sensible route and had a look underneath, and look: there's a flat layer of batteries down there alright, should it even be modeled (it's blacked out). It's not one can say is at the back.
Forzavista's also a bust, with the car not letting you check its trunk or 'engine bay'. Perhaps it's welded shut like a HotWheels car. Interestingly, you can find its charging port on the left side by the front wheel.
With its 302 horsepower power source, the Barbie Corvette sits with 658 PI. Within Rods and Customs, you're not going to find any nearby rivals for the tiny Vette to deal with. As a Hard-To-Find, you're not going to get a second Barbie Corvette aside this free one.. unless you're me and checked the Auction House, where you're able to find them buying out for 144,000 credits for both common and cheapest.
------------------------------------------------------------------------------------------------------​
To bring out the pink Californian in us, we go to the furthest edge of Mexico from it that comes from..
..my first nominated Horizon Apex event that is Gran Pantano Sprint. That's fishy.
I'm a MINI man!
In a MINI Mexico!
Gulps an old brew..
..fresh
HOW DARE YOU!!
"A steady downhill route that takes you on a tour of the jungle and past the ruins of Ek Balam and Tulum, before emerging by the swamp and finishing at the beautiful Playa Azul."
Well, we're not bringing the Lexus RC F around this time, but what Gran Pantano Sprint offers really is swooping turn after swooping turn after swooping turn. It's a speedy sprint that accentuates the need of turning just as good to get the best of it. I mentioned the Sesto Elemento FE as the car to bring, but 80+ weeks of me hanging around this miniature nation shows that one car isn't always the answer. Perhaps a run with a well tuned Bad To The Blade can satisfy the inner slot car racer in us.
I've been a Corvette lover since I was a kid, so I'm really going to try my hardest to find the best out of this.. undisputed most fake, feminine variant of the thing.
- Like I said, kids are.. well, the Barbie Corvette is cartoonishly downscaled, to the fact the
interior view
makes you feel like you're trying to see the insides as someone in Mario Kart. If you need to use the speedometer:
BAM
, here it is, and if you think about it, you're essentially leaning forwards to have this view, like you're having a serious gamer moment or something.
- For a RWD car, launching it isn't an issue when you use the Launch Control. This is actually pretty nasty when you don't use it, so please use it. And since it's electric, there isn't a guide for shift points because this isn't the Taycan.
- We're obviously in the wrong place to test out braking for the car, because as it turns out the car not only tops out at 129, it handles big long turns quite nicely, though turning too much in is going to lose you some speed. Be wary of that. Out of the sprint and into messing about Playa Azul, the brakes are quite lacking, mimicking that of a classic muscle car, only that this car weight just above a ton.
- While it can turn really nicely over long curves, you're going to need to be a little more careful when in lower speeds. Going too far is losing you pace in high speeds, but it's losing the car's control for lower speeds. Then again, this is where I find out the car can make for an okay-ish drifter, just don't expect to outsmoke the Mustang Mach E 1400.
- Bleh, this is where I'm supposed to mention gearing. It's an electric, so I'll just mention that while it's capped at 129, you are welcome to extend this for the occasion as it's customizable from the get go.
- Now we head into traction, and this is notably poor when you are racing around places like Guanajuato, or even the Horizon Circuit. You probably see why if you're RWD and electric, these things have to be built to have grip there. It's why I like the Spark ODYSSEY. But general rule of thumb with racing this car is that if you manage to get the car's rear wheels not smoking, you're doing fine.
- On to the track, and the one tip I do have for those wanting to get around Gran Pantano with this car is that you don't go off the road, and be your inner slot car. Right inputs at the right places, really. Speaking of which: this car can make a fine off-road car for B, because you can't do conversion with it.
- I'm not sure what to say about the car to top this off. Sounds to me it's proof that once again, Forza's never really capable of balancing electric cars properly. Unless it's the new Ford Lightning. You're probably going to need to play to its strengths, and that's coming from its acceleration, traction in the right places, and surprising handling.
It's not a disaster I thought it'd be, but there's no way I'm doing this run more than twice. So it's still sort of a disaster.
So when I become the SomePlayaBarbie I'm never sure I want to be, that guy can get around Gran Pantano with best efforts of
3:05.114
.
There's a good chunk of electric cars in this game, and PG can never get these right for performance, unless you're again the Ford Lightning of the Spark ODYSSEY. There's another one? Maybe..
OHH MYY, after this it's laps around Goodwood to cheer me up.
------------------------------------------------------------------------------------------------------​
Car 2: GMC 'Barbie Movie' Hummer EV Pickup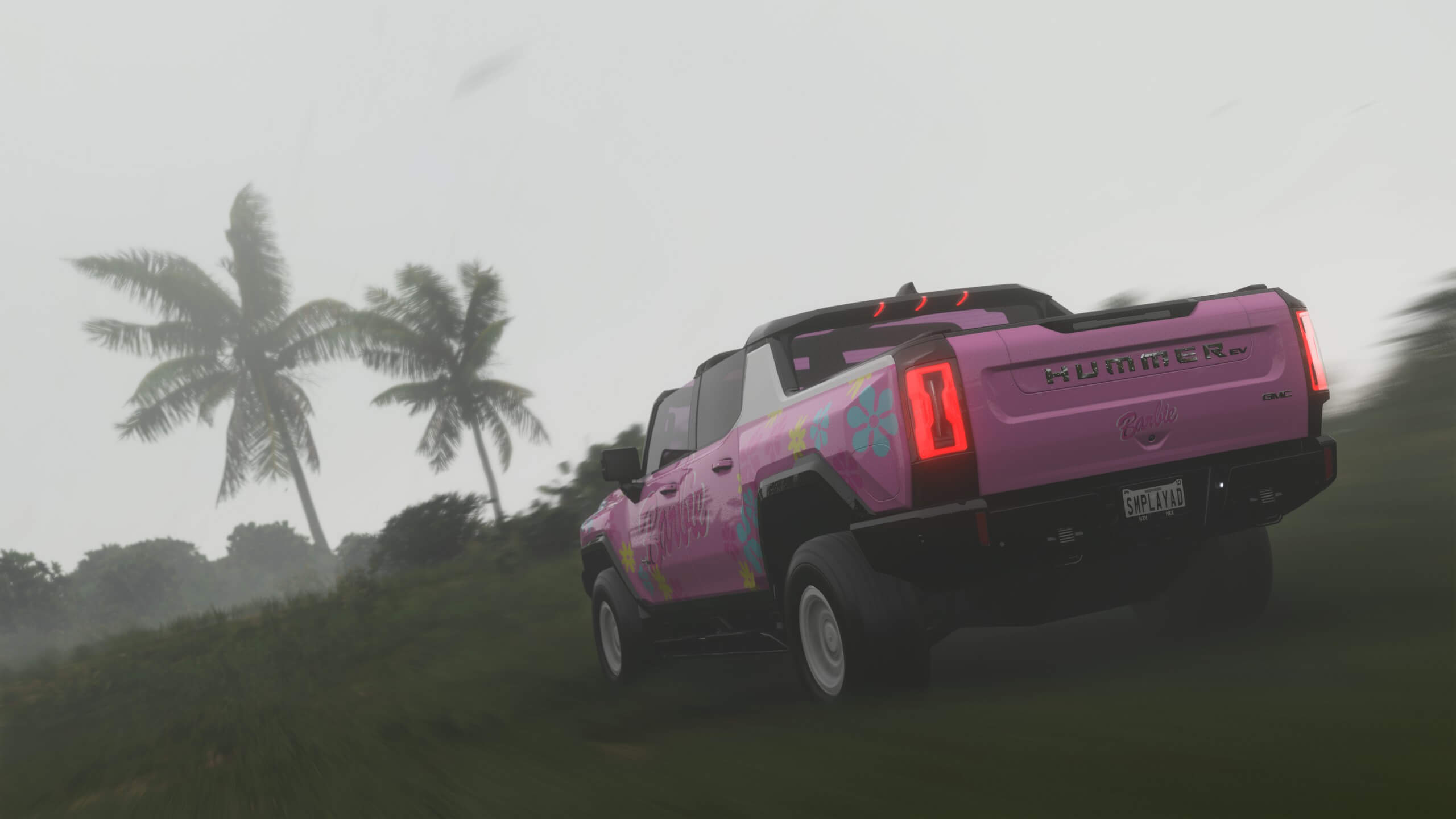 I'm actually quite a fan of these new gigantic EVs. The technology behind actually producing these behemoths really astounds me.
So, why the heck is there another variant of the Hummer EV we got last season? This new Hummer is actually a car I love to own like the Rivian or the Ford Lightning, but.. I didn't bother to get it in game because let's say this game does a terrible job at hooking me back in.
Right now, I'm not really bothered to do the quick historical factoids of this new Hummer named GMC electric titan. Mainly because what took me fancy was the fact it's named as Ken's car. Ken, the male romance figure I'm sure people nowadays understand when seeing Toy Story 3.
I suppose this is where the jokes would come in. Emm..
Considering Hummer's status as the SUV of Californian moms that would define its feminine nature, would Ken one can say be the ultimate form of a power fantasy considering Barbie is not exactly such the case for men? Perhaps Barbie needs a purpose fulfilling man figure?
Let's swap Kens around, eh?
Would Ken Masters drive one of these things to help Ryu get around the world with them street fighting? Should Kenshiro manage to save Yuria in record speed with one of these instead of him walking the walk? How would you interpret Kenny getting killed by this thing, and who's the bastard to blame?
Yup, you can tell I'm just in it for filler. TIME TO ANALYZE!
If you've missed out on the Hummer EV like I have, Ken's Hummer serves a similar purpose with similar numbers. Both cars settle in early A class with their rated 718 PI, also being the top of its Pick-up & 4X4's class when it comes down to the cars as is. Another Hard-To-Find like the Barbie Corvette, the Ken Hummer too isn't for sale, but widely available at the Auction house, with 138,000 as the cheapest, and 176,000 as the most common. For a comparison, the regular Hummer EV goes around here at 15 million credits.. which is dumb, really. I expect a massive devalue.
------------------------------------------------------------------------------------------------------​
This second rate giant gets to get around Ek' Balam Cross Country to see if it can just zing me or shock me altogether.
Ahh yes,
HOW DARE YOU
the track. That's even more fishy.
I think what this movie's trying to tell me is that Hummers and Corvettes are girly cars. I can definitely say that for the Corvette and the older H2 onwards Hummers, but this one I don't trust anyone's girlfriend with.. the MINI, on the other hand..
"A compact Cross Country Circuit set among the ruins of Ek' Balam, crossing over the boardwalks and splashing through passages beneath the ancient acropolis."
Aside from being a very interesting Cross Country venture, this is the place where I actually felt elated with the big blue MINI that stars every week from week 10 onwards, and declared it a top Sleeper. Strange, ain't it. Not to mention it having a considerable strong showing in any Throwback it got it's silly backside involved in.
So, this is a closed Cross Country circuit that I find myself enjoying because despite its cramped looks, it's more open than you think. But then again, the car we ran last time here is an excellent lightweight SUV. We have a thousand horsepower, but it might not be just as fun if it's possibly a thousand times more grueling.
This is Ken's car, but let's be honest: Ken is plain ass plain. What kind of style does he have.. I have a bad feeling should I Google this..
- Familiar with
the insides
of this huge Hummer (because I'm sort of passionate about these huge EV off-roaders), it looks to me there's quite an oddity in Ken's preferences to having this kind of steering wheel cover. I think I've already exhausted my bovine related jokes with certain Lamborghinis. I wonder if Rambo Lambo has such a joke?
- Again with the Barbie Corvette, the Ken Hummer doesn't have a strategy for launch and shifting, especially since its AWD. Like really, I should omit this part for this car.
- Quick brake check says it's fine, but you might find it to be slightly lacking because it's trying to stop a 4.1 ton beast. They work, at least, and for the off-roader in me, I can't find any notable faults with it.
- Handling the car off the road is.. interesting. You definitely feel that 4 ton load going around, which you can't translate to the Unimog we had that one time because this Hummer has power. It feels like it belongs on the road, but I can't even confidently say that. At stock, the handling for off-road warrants you to prepare yourself for the shift in weight. And it does so at a snail's pace, meaning it wants to keep you on your toes on a road like this. Considering what Grandma Racing noted, this is a terrible competitive car. Playground, stop shafting your EVs. You're promoting them but can't make them semi decent?
- Gearing? Umm, this car has a lower top speed than the Barbie Corvette, at around the 109 mark. Accurate to the source material, sure, but if we head down the Volcano, this is a disaster waiting to happen. Lucky though at stock you can raise this, and with 82 PI to play with, it might not be an issue for your tuned Hummer.
- While Ek Balam isn't super bumpy, the Hummer is capable of taking these quite well in stock form. Should you need to go wild and wide, hopefully you're not faced with a primitive form of Barry R, else you and your 4.1 ton shield should be fine. That lone water puddle isn't going to slow you down terribly, because.. well it shouldn't.
- For something that carries so much power, it doesn't feel like it has even 400 horsepower. But I can't complain.. it's capable of great off-roading. Unless Ek Balam has a giant straight, there's nothing to complain about in terms of power. Lucky enough, traction is not going to be an issue unless you keep on the power during turning, which is like an elephant trying out its luck stopping as it stampedes.
- So, you probably noticed while the Barbie Corvette is TINY, the Ken Hummer is huge, meaning, yes, you can get cheeky with checkpoint registration with its huge size. That also means you can take great advantage of the venue's larger width.
- To master the Hummer, just don't bring it with a competitive mindset. This recipe to bring it around the track, wherever you go, isn't going to work out. Think of it as a mountain climber rather than a speed runner. It was introduced in an update where discovery is the name of the game. Come to think of it, this is why novelty cars do exist in these games to begin with anyways.
Do you want a certified HOW DARE YOU moment?
I know you do.
Because the Hummer EV Pickup earned itself the 22nd
Mark of Zen
. Perhaps it's that this big lug can still be enjoyed in a tight but consistent patch of raceable grass? Or that it's got more depth than you think? It's a big machine, but unlike some other bigger machines, it resonated well enough with Ek Balam for me to have a 35 minute stint. Though, you bring this to a speedier Cross Country adventure, and there ain't a chance this is getting awarded then.
It's not a master of the fist, but the Hummer EV can fight through the temple's denizes with a quickest of
1:08.665
.
This might be weird to say, but this is a gradual growth of how much I enjoy the car. You're not going to get it unless you somehow were chasing a flagged 1:08 and couldn't stop when you should've done so 10 minutes ago. That's what happened.
------------------------------------------------------------------------------------------------------​
Okay, I need to get back into making my own self named utopia. SPDplanet. I mean.. verdict. Forget the SPDplanet idea. It doesn't exist.. I mean, until recently.
So..
What is the Chevrolet 'Barbie Movie' Corvette EV? It is..
Pink.
If anything, I understand where they were going, but I am not a fan of taking out a soapbox with batteries. It's quirky, but considering how I didn't enjoy what it did best in, that's just a plain
Beater
for me.
What is the GMC 'Barbie Movie' Hummer EV Pickup? It is..
A generator with wheels.
I'm genuinely surprised by what it offers, but thanks to how the game treats it, it's delegated to
Neutral
as is. Could be more interesting if we can swap it with some big engines, even though it shouldn't even be possible.
The Barbie Corvette is too small.
The Ken Hummer is too big.
Week 13's C1 Corvette? Just right.