SPD Writes Car Of The Week: Week 24 - TVR Griffith
Enter killer British car company's newest take under new management.
That thread title says Week 23? I nearly forgot about Week 24 now that we're approaching week..
tuhwenty fayhvee..
With a strong showing of whatever cars they have, TVR launches itself into this week's spotlight with the 2nd generation Griffith. A car that, with the high scoring looks and the low price, unfortunately hasn't been even sold proper yet. Meaning it's unlikely your average muggle in real life could have a test drive.
Yup, it's about as bare as it goes for descriptions. Still, if we look at some facts, there are hints of something special that has been made. A RWD sports car with 480 horses coming from a Cosworth modified Coyote V8. I love me a good Coyote, and this car has been heralded as one of the cars with the best sounds in Horizon 5. Not to mention it's also just as well designed: a balanced 50-50 distribution from 1.2 tons, with the legendary Gordon Murray behind the overall design.
That latter bit I recall making a status about as a TIL. I mean, it's definitely a find, right? This nearly piece of vaporware would be his most recent work before we get to the T.50. Who's it gonna be to claim dibs for it's first major game appearance?
Speaking of games, the Griffith only appeared in one other game from my end, and it's The Crew 2. Nothing too notable on that regard, really. This is just one obscure car with it's representation just being in games. Sort of like the Franchi SPAS-12, only that it's not an auto shotgun.
The second Griffith is placed down in early S1, with a PI of 825. And when it comes to notable rivals, it's only the 992 911 Carrera S being available a few PI down. Everything in its class of Modern Sports Cars are really too weak to keep up with a Coyote powered beaut like this. Not to mention it's one of the best sounding V8s in the game.. to be fair, there are a lot of good sounding V8s in this game.
Now to the economy! As the final DLC car in Horizon 4's Car Pass before the infamous Barrett-Jackson car pack, there's not much to say about the Griffith when it comes to the quid. But here with the Mexican peso, you can buy it off the Autoshow for 105,000 credits, which is chump change, of course. Any luck in the Auction House, and you can get it as low as 59,000 credits there. You can see the difference, so yay for the Auction House to be the place for a fresh one. It hasn't been the case the past few weeks. In the garage with my name on it, I have 1 tuned to the top of S1, so I'll fetch another real quick.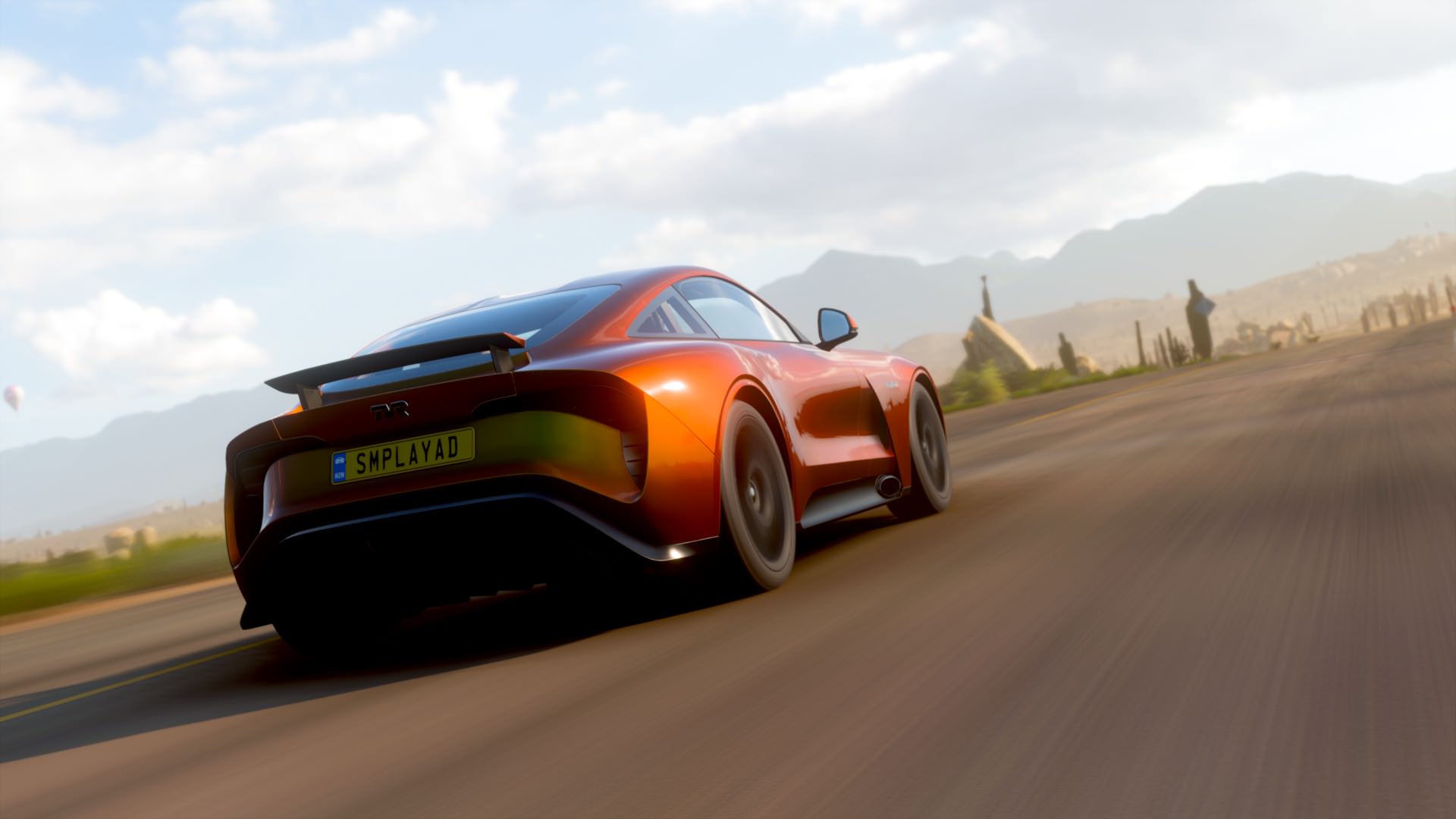 Unusually, the 2nd gen Griffith comes in only OOPS it's not Ferrari's Bright Red, so let's take it back to the time where the words Chameleon is the coolest thing on your car paint job.
------------------------------------------------------------------------------------------------------​
To prepare a flight test for this prospective engineering marvel, the Griffith has us head to another Street Scene scramble in Carretera Chase.
This German powerhouse special just got outmatched by an Italian Job! What? What do you mean the MINI isn't Italian?
"After skirting around the ancient city of Teotihuacan, this route joins the highway for a high-speed battle to the finish next to the Horizon Street Scene outpost."
In more than one way, I guess any event located around Teotihuacan has me interested. With the exception of the drag race, of course.
The track has you go around the roads north of the pyramids in speedy fashion, then to the highway in even more speedy fashion, reaching the Street Scene outpost to top it all off.
And I'm actually quite a fan of this track. It emphasizes the speed in Street Scene events. It's a powerbuild's best friend, especially where the notable highway portion allows them to smoke anything that isn't them.
A most unusual history: the Griffith is named after a man who wanted to dethrone the AC Cobra to become the super sports track car of the 60s. Has that translated to the modern one well?
- I guess it's obvious we begin being inside. I'm a big fan of what's being offered here, especially those big, lighted up, imposing buttons off the side of the main screen. It has a kill switch! Of course I'll mention my favorite button: the vanity flipper, something I like to abuse in the NA MX-5, though it's more for the headlamps for that car while it's the rear spoiler in this. And unlike most modern sports cars, the Griffith has a manual gearbox rather than a sequential one.
- Let's head out to the launch. I'm expecting with a Coyote to be something rather loose. And for this game, it's not loose at all. Push it all the way down, and don't forget to shift at 50 MPH! My often point for this is at 8100 RPMs.
- It doesn't take a few turns to say that Gordon Murray body gives the car the sort of handling I see in the Viper months back. But in this car, there's hardly any sense that the Coyote is in something that would normally carry a Coyote. More like a.. uhh.. is there a lightweight sports car with another animal as an engine?
- But it's not a car that wants to kill you, even though a TVR is most definitely that kind of car. No jittery movement, no severe reactions to uneven terrain, not even terrible cases of oversteer in tight turns. It's quite refined. But still watch your throttle in lower speeds. The traction overall is pretty nice.
- A track like this has me note the car's high speed performance. Even though it's got that nice rear wing to help, the car likes to go wide. So proper braking and disciplined turn manners will help. Misusing the brakes give a lock up to the rear, but I haven't experienced anything notably bad about it.
- As a car without aspiration, the top end isn't too good. The similarities with the VX Viper come out once again, even though we're more a Mustang anyways. On the flipside, the car's lower acceleration is both excellent and stable.
- When it comes to the track, you have no Barry R to protect you and there are ample places to throw the car off the road. The Griffith however should try to stay on the road, and while it can turn, it's not usually grippy if you're sweating away in higher paces.
- Then we go to the obstacles. The only threat is the metal road barriers. So, stay away from them. They're notable on the road by the pyramid, and of course the highway portion.
- Speaking of that highway portion, in comes a dilemma of asking yourself when to swap lanes. Do it as early as possible, best case being before that aforementioned barrier.
- The whole gimmick on the track car combo comes in what gear you want it to go through this portion of the track. Yes, it's another week where I go and promote the use of the manual gearbox. You stick at these speeds not turning so well, or lower it down a bit and get that turn taken good. I find the latter my often course of action, even at the final turns by the outpost so that I don't brake. This car works with you being nice and gentle with it, and it doesn't mind you pushing it at all.
The car is fun and fine. The track is fun and fine. The issue is, while it's all fun, it's just fine.. Nothing really to motivate me to push since it's not too difficult. Let's reword this: it's fun, but it's just fine. Actually double thinking it for that one award, but nah. It's close though. This is a well done combo, regardless.
How fine is the best run of my own? Well..
That Griffith's best flight under SPD cruise control looks like a solid
2:26.670
.
The entire premise has me achieve a flagged time, like with the Skyline R31, and I tell myself: SPD, you're the sort that can unflag that with the snap of your finger. So I went and I did. It's a good car, though I'll come clean: I don't quite know how to snap my fingers.
------------------------------------------------------------------------------------------------------​
Considering the conundrum I'm in with my life, Gran Turismo 7, and the vague but interesting nature of this TVR, I don't think I'll be hosting anything big this week.
Instead, let's have a ride with the green, S1 road ready one to the specified EventLab. The name's Run, Griffin's Run, and let's take the code out for reference, like last week:
237 802 198
Griffin's Run is definitely not Griffin's Griffin, so already it's a better name than last week. But what it offers perhaps would be a different beast altogether. My only major gripe is the lack of Barry R once again. It's a recurring thing in Horizon it seems.
But what's with the S1 Griffith? Just a general amp up, I say. With 75 PI to fill in, there's new tires, additions of significant power and weight upgrades, and a more focused race transmission. However, all this stuff makes the car way more unwieldy in general: maybe an intentional thing to say it's tributing the TVRs of old.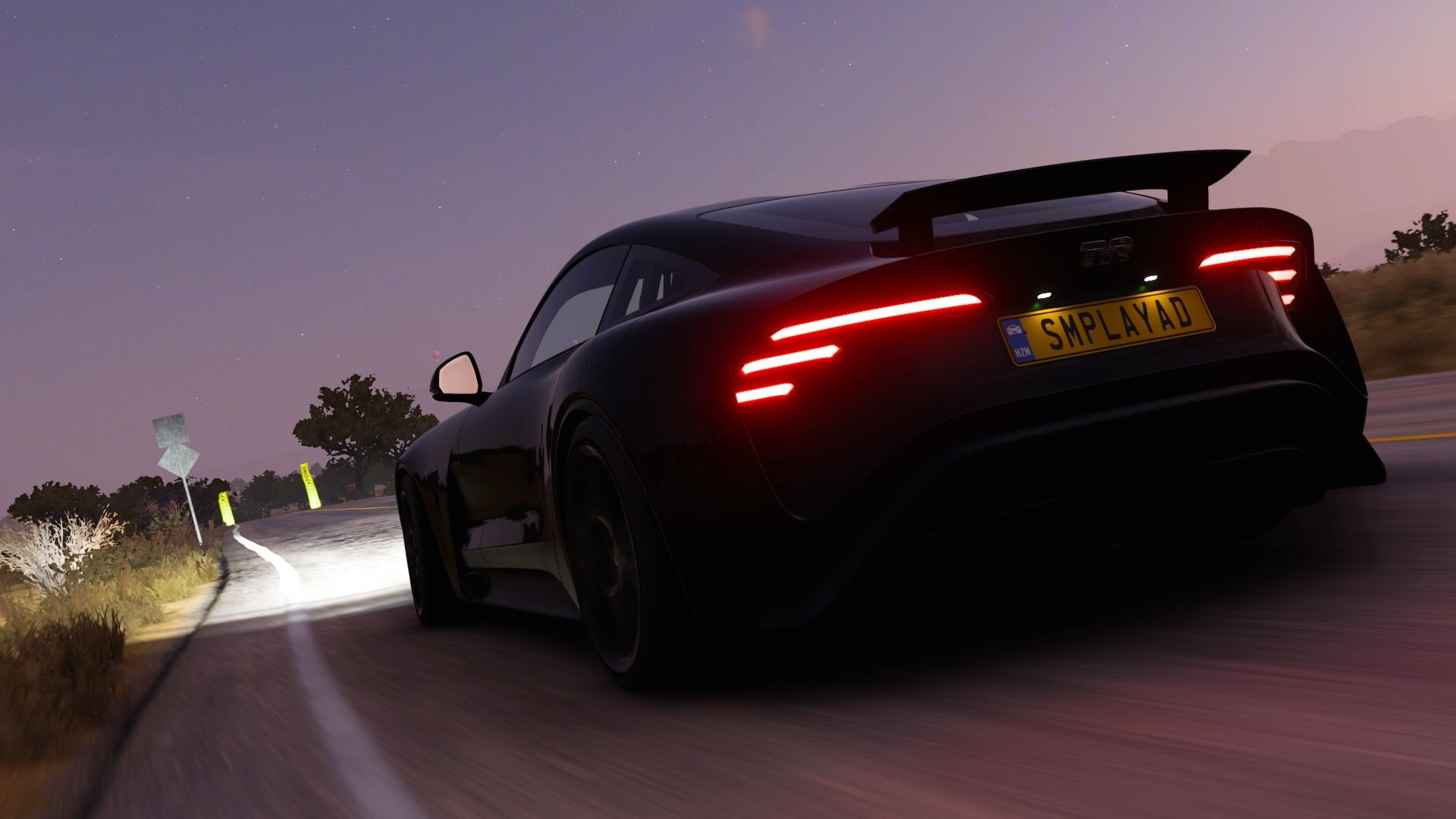 The Griffith may only come in Russian Red, but I do believe inside is a more civilized British Green. The only red I want is them TRON lines out back, wow.
This leveled up TVR landed a time of
2:17.855
.
And with such a difficult but rewarding drive done, let's fini-
Oh for crying out loud.
yes i edited it and made it red
There has been mention of a very notable name all over writeup. No, it's not Rambo Lambo..
AHAH!
I'm laughing at myself again. It's a joy for me, though I can guess it's a bit sad for you all.
For real, that name is Gordon Murray. So, let's welcome an iconic car who needs no welcome.
McLaren F1
I've made it my mission so that Halling It/Ass plays in your head with the car around.
The original hypercar of legend, the McLaren F1 made headlines as a car that's a few generations ahead in terms of time. In terms of the COTW, I've only mentioned it when comparing it with the Cosworth powered Supervan 3.
Now, all the McLaren has to do is see how close can it get to that 2:17 mark. And surprise again: this is going to weigh in the Griffith's final verdict. Since this is one of my most driven cars in top S1, I am familiar with the car's ins and outs, thus have the sort of perfect tune for my tastes.
Even though this is the Griffith's proving grounds, the McLaren hauled away a time of
2:16.897
.
So, what does this 1 second ahead time mean for the Griffith? Well, it's not a bad thing. Let's see how I'll discuss this in the verdict.
Though, the McLaren F1 would earn the kind of praises from me akin to an open top car should I do an interior review. Bah gawd, God as my witness.. what a sight.
------------------------------------------------------------------------------------------------------​
So..
What is the TVR Griffith? It is..
The preservation of the special Coyote powered soul in form of a purist's British sports car
Hmm, there's a bit of thought in this, but I'll stick with Neutral.
I had a lot of fun in this challenging, purist sports car. What kept it away from Sleeper is that I've made comparisons. That being with the VX Viper in terms of performance, and the McLaren F1 in terms of namesake.
For the former, I find it that for a sports car with a nice beefy engine, the Viper sets that bar quite high, and the Griffith missed it by a bit. Same case with the McLaren: it's a classic supercar with perfection in mind, and the TVR.. you guessed it, sort of garnered a miss for that.
But to say it's a bad car is just not very SPD. To be honest, it is a car with nearly as the prefix in nearly all ways. Nearly into production. Nearly earned the Mark of Zen. Nearly paced with a piece of perfection. Nearly a Sleeper.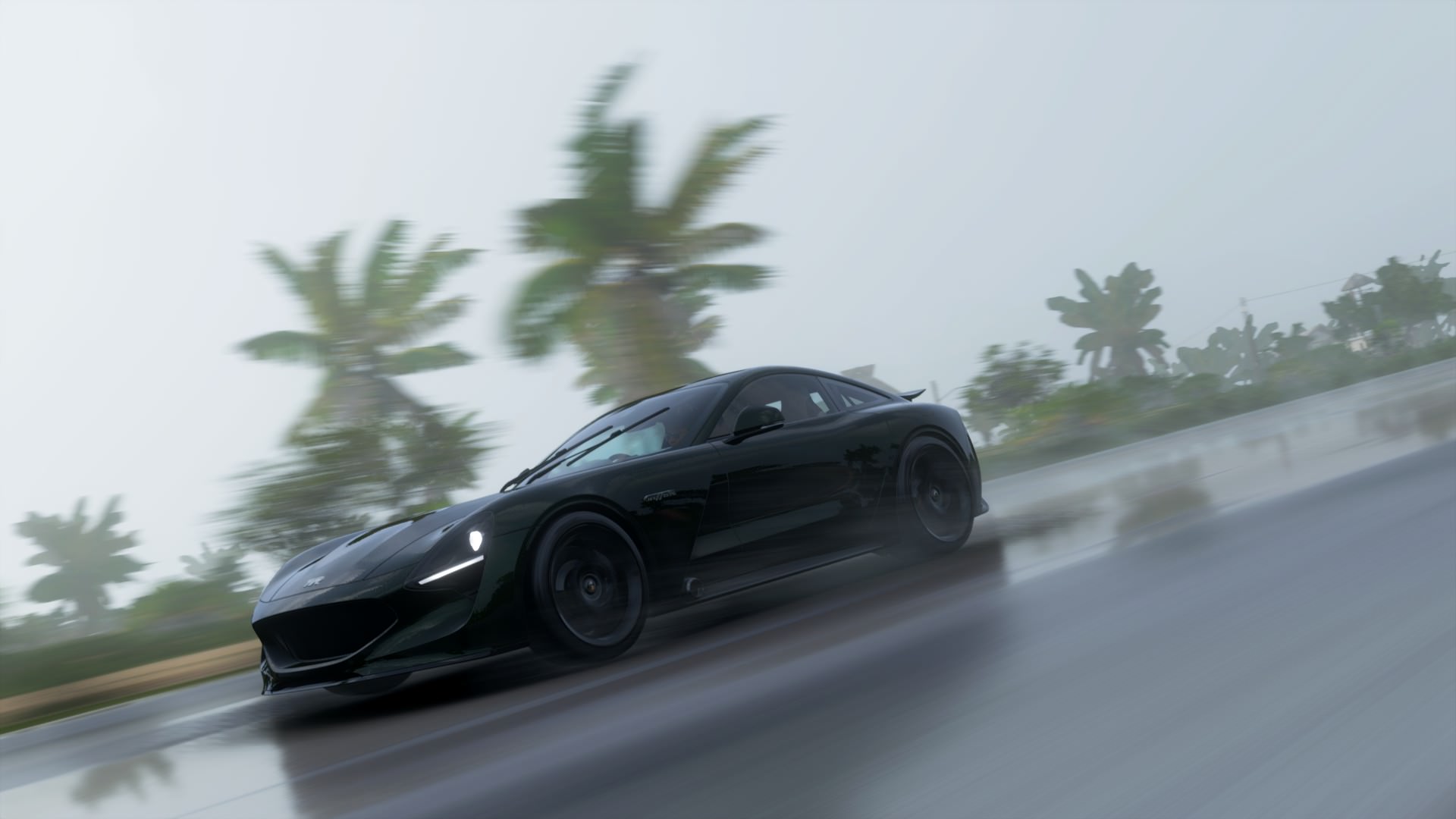 One of my most frequent type of photos in Media with the McLaren F1 include the rain and walking on thin ice driving such a car in those conditions. The Griffith is definitely cut from that cloth, but how about me?