SPD Writes Car Of The Week: Week 20 - Nissan Skyline (R31) GTS-R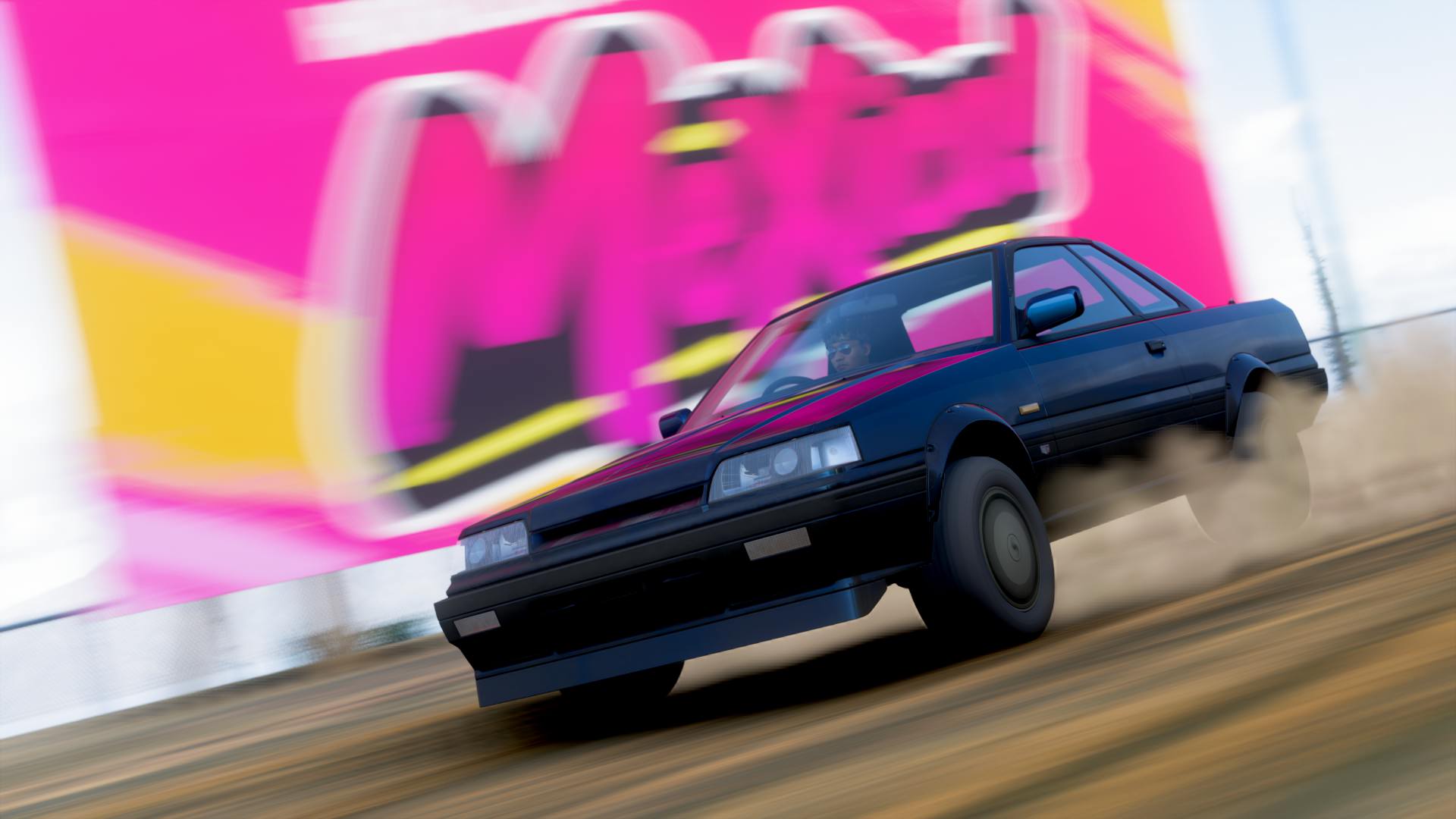 Anyone bummed that this is not the kind of Skyline that impacted car culture in a big way? Well, keep reading, and maybe I'll, umm.. unbum you, if that's even a statement.
This week, we head into another Nissan. And lo and behold, it's the long standing brand's flagship: the GT-R, or used to be the Skyline GT-R. More specifically, it's the R31: probably the least popular of the bunch. If anything, there are sure a LOT of these Skylines/GT-R cars in the game. I'm not having an issue with things like 3 R35s, but it shows the magnitude of how popular they are.
For this car, I'm not sure how to look back. It's not the same model that bases the Group 5 Super Silhouette bosozoku looking thing. But maybe in a personal note it's the Skyline I had felt its presence firsthand, due to a neighbor owning one. It's not the homologation GTS-R that's on the stage, but I say any R31's quite a car.
When it comes with what it has, this is a sports car with racing flair: coming in with 206 horses bringing 1.3 tons. It's also the last of its kind to carry a RWD drivetrain; a trait that will help define the Silvia better.
Also: this Skyline comes with the first variant of the incredibly popular RB engine, on which the car will carry one branded as the RB20. The mainstream RB26 comes in years later with the R32. Interestingly, this is the engine that allowed the R31 to, as my research says, keep up in track racing. The car's been taken to touring car races, with rivals in the form of the Ford Sierra RS500 and Holden Commodore Group A: two cars also in Horizon.. though not the latter for now, I hope.
And now to the PI: oh how do you do, fine sir? Another entry to the COTW's packed middle C-class contenders, at 543 PI. I'm going to have a field day with this. Hmm, that felt odd. Anyhow, it's interesting to see its many race rivals position higher on the PI scale, with the Sierra at bottom of B. When it comes to other COTW nominees, the R31 compares closely to the likes of the facelifted C1 that I've been enamored by the beauty of. Other nearby members include the Starion/NC MX-5/Alpine trio not far ahead, and for the other side: the Corrado VR6. We can probably include that recurring MINI Countryman at stock.
Considering the kind of car, the price isn't dirt cheap. This is kind of like the limited final car for the generation. The Autoshow has it for 100,000 credits. But, if you've been doing your accolades, the car's a reward for finishing Road to Stardom. This is achieved by winning a race set on Horizon Apex final boss: The Colossus. But if you're the kind that wants to check out the Auction House instead, I've checked for you and prices for a stock one range at the 13,000 credits mark. So wherever you get it from, it's not one that's hard to get. I myself have 3 to play with. One's souped up.. for B-class dirt. But I don't ever recall ever driving it at all. Even though I have a Sierra for the exact same purpose, I got no Showcase later. But all this packed class does mean something else is in.
So, to play with my habits these past weeks, I've painted this one green, in a tone that's both disgusting and intentional.
------------------------------------------------------------------------------------------------------​
And this week's track of choice has cars round around a road next to the Teotihuacan Pyramid.. it's Teotihuacan Scramble!
So jumps are the main feature of the trail? The MINI's main feature is to just give me a better idea on how to win. And that's by learning and making the best of the trail's bits and bobs.
"Looping around the mighty Pyramid of the Sun, this route follows a bumpy dirt trail through the ancient city of Teotihuacan. With enough speed you can catch some big air on the straights!"
I dunno about you, but racing around an ancient monument isn't the right thing to do at all. Fast cars can do some damage to the land around, or God forbid, the priceless monument itself?
But if we ignore that fluff, the track itself is kind of similar to those rally trails of a past time, where jumps are a thing. The track's not bad. The challenge comes in the speedy corners, just like in Reservorio. Also, the tarmac amount isn't much, and the use of it is rather relevant. It's the place to gain some speed and test your brakes.
If we think about it within the game meta, Teotihuacan has been getting an abundance of activity. There's a couple of Cross Country events, a drag race, a street race, and this. That said, we do need more events, even if the map might look crowded eventually. I wonder when we'll get our first repeat.
Being a homologation model means you gotta back those figures, right? I believe it can, but let's see how the notes add up.
- And once again we find ourselves in the same position the Mitsubishi GTO had a couple of weeks ago. But we have a different mindset: is it out of place, or is this what its destined to do? In real life, that's a resounding no, but here, we might do more than just go up and down (heh, more innuendo.)
- The interior comes in next, and oooh look, everything is so square and edgy: a very 80's style for sure. Exceptions include one steering wheel and the speedo + tachometers. The view outside is a bit tight, but I don't see anything wrong elsewhere. This isn't a luxury sports car after all. Though to be fair, this segment mainly is here to praise eye candy, or open top machines: now an in game meme that's developed quite a chunk this week.
- As is the past few weeks with dirt and tarmac, I get to test out the car in both terrain in this week's Horizon Wilds action. I dunno, could it be all the weeks? So we head out to the launch: it's solid, which is quite good for a lower classed car. Any worse, and it's probably too much spin, or the engine feels terribly bogged down. No strategy other than put your foot down, from what I see. My shift's at a high 8100 RPM, but it gets lower by.. about 150 after each gear.
- It appears the car has 4 wheel steering. This is the sort of thing I would see in things like dedicated off-roaders and monster trucks, so I guess it has to be noted, especially coming from an RWD powerplant. I don't quite notice the presence of it, but I can say one thing: the handling on this thing in general is quite nice and responsive.
- Unfortunately, not all is good: the suspension in general is too hard for this dirt. Bringing out the rear doesn't usually come, meaning I can get understeer when it's definitely not wanted. And when it does go out, it can go fine, or go too far and I lose speed. More on this suspension: landing post jump just hurts my bones, even when it's not me driving. It's not exactly a big issue, since this is quite a low class, the car settles back quick, and we're not doing cross country.
- For the majority of this scramble, one technique I like to do is just not brake, but let go of the gas and slide across a turn, then reapply the power. This is prominent in the double left handers before the 2 jumps (and the one after), and the set of corners that follow the second road portion, and also the final turn. This car does this excellently. Which is sort of surprising. The issue is: sometimes it does it too well and goes too wide, losing grip. That brings me to..
- Another issue: of course, being RWD means grip has to be an issue. There are a lot of cases where I veer the car's backside to good old Barry R, and the rest is history. So the right way to put this car around a corner is to not pull it way too far. Gentle entry, and gentle exit. There, not so hard. This also means that technique I used with the Corrado (shift down and handbrake at the same time) will not work with this car.
- With the car's nature of having not much power and sorta tall gears, the brakes don't play much a role for this analysis. They're fine, and I haven't found out what happens if you engine brake. Maybe it locks behind.
- A bit of a track guide since I frequent here: the left hander during the 2nd road portion usually has me go wide on exit. This is fine if I'm driving something heavy. This car isn't. So don't do it. This focus allowed me to have a quick look at turn traction. It's really good.
- How about a first: Barry R actually is positioned in good places, and protects the track very well. For those who haven't any idea: I usually bash on Barry and its bad placement on most tracks. Of course, the checkpoint insides used as corner apexes, and the general cut happy of Horizon Wilds events can't be helped.
- So the issue portion of the track is, surprise surprise: the first corner. It's not only banked to reduce oversteer and mess with the hard suspension, but it's also got Barry R working hard to punish that. It's one of the few places I have to take differently than the rest of the track.
- On the whole, the entire premise comes down to the smoothness of the general ride. Get the line down, then learn how to turn with the car. Then when you get the feeling of smooth sailing down, you're pretty much wanting to stay in that dream world for the rest of the run.
Looking at it, the drive to get a time is all kinds of fuzzy. The car is nice and the track is great. But putting them both together kind of messes that up. It's a sports car driving on dirt. I didn't have fun in some cases, such as using Rewinds to master taking the first turn with this car.
And it also took Rewinds to practice and practice.. until I get a few clean laps down. This isn't so bad as week 6, but not having joy out of it in my end.. it's still kind of bad.
The best time of these clean runs is set to
1:31.894
.
The whole dynamic of this is that I managed to beat 1:32 just with a flag on due to a touch. So I just did the grind and ta-daa. I do frequent this track, so I wonder why I'm having some trouble with it in general, hmm..
------------------------------------------------------------------------------------------------------​
It's not a showcase, but I think I'll call it a.. throwback? Thinking that sounds right. Okay, throwback it is!
Throwbacks are another of my extra segments, kind of like a showcase, just that the roster includes exclusively past COTW members, stock within PI range duking it out on the provided venue. The format's been done before with the Alpine on week 11, and the entire idea of it might be sourced from week 8's MX-5. Yes, this is how I'm going to retcon this.
With that said, nothing will be tabled, and I don't have to describe the car's traits again. Just that it will battle the best time I've achieved with this week's nominee, and a quick observation on what happens. And of course it will have to be settled with a 5 lap Eventlab so that the ghost don't go bye bye. The cars would also have to be suitable, so I don't get situations with the MX-5 on week 10: a verifiable sleeper, but is just horrid on the dirt.
Let's get started with the first car.
Volkswagen Corrado VR6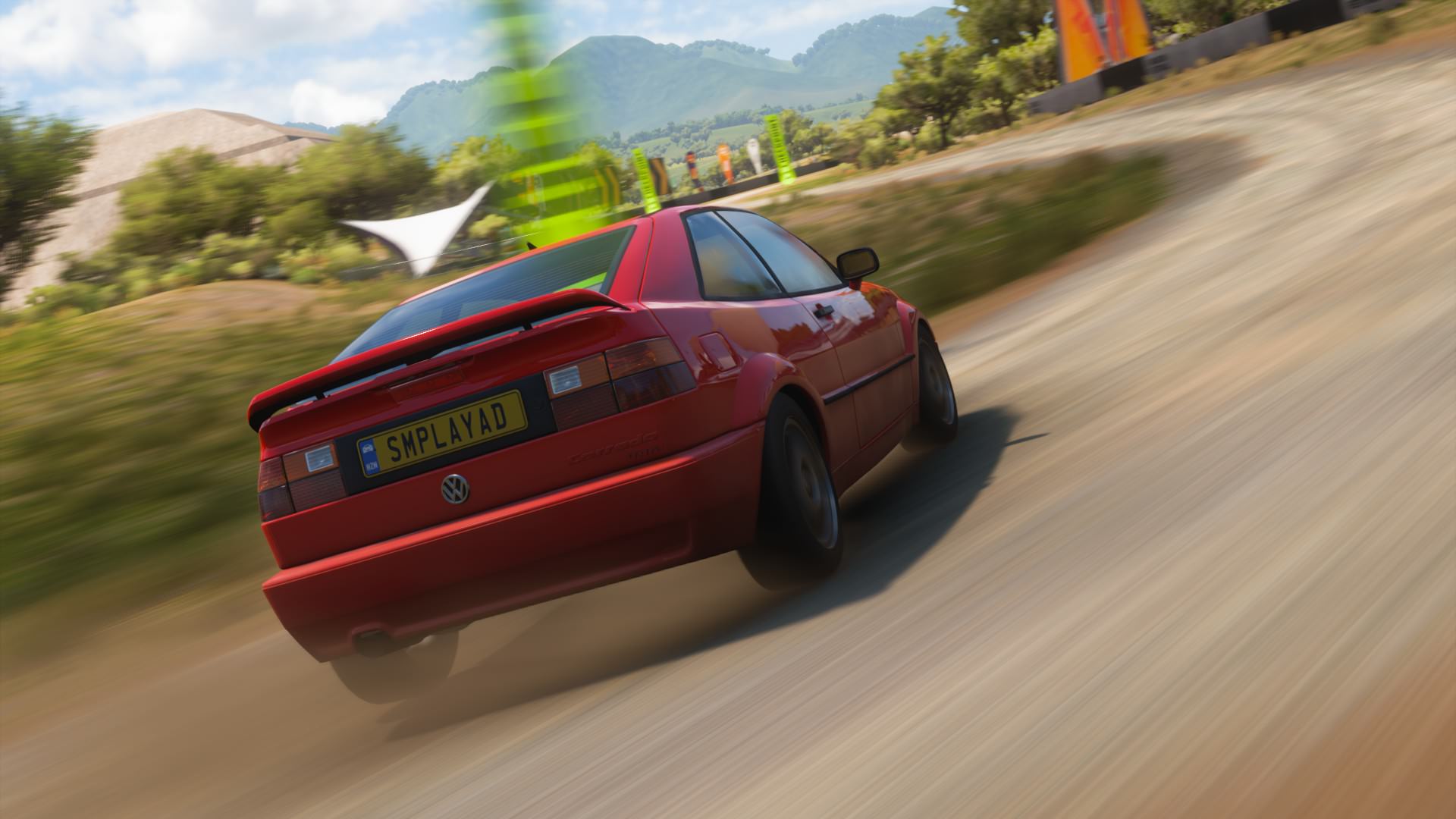 I'm a little Veyron, short and stout.
Stepping up first is the Corrado. After an interesting take on it by sending it to a dirt trail, the Sleeper and Mark of Zen one-two knockout punch gave me the verdict to send it to another.
And this Sleeper would earn a completely sleeper time of
1:31.001
. Nearly a whole second ahead of the nominee.
Back in its week, I praised the handling and how safe it is, while being a completely worthy off-road car. And look how amazing it did, 8 tenths ahead! For a car 10 PI behind. Have my approval at an all time high once again.
But will it be the last time that happens?
Mitsubishi Starion ESI-R
Sunday Sunday Sunday!! It's time for a monster torque rally!!
Next is the Starion: the very car that pretty much gave this throwback idea to fruition. Is the Starion ever going to remain my top Sleeper? That's a statement that's getting harder and harder every week that passes.
The right car for the right track, the Starion makes an impression in the form of a
1:30.930
.
What the car has shown, from its torque and its already suitable handling for rally, is the time that'll be the first to break 1:31. But the Corrado only had a couple of thousandths to just get that. Just to make a point on how the Corrado just decimates the idea of this throwback so far: I tried my darndest just so I can beat that V6 VW with this car.
Alpine A110 1600s
A dirty little champ tries for the 10 count.
A no brainer entry for this rallying throwback is the classic champ: the Alpine A110. This is pretty much a round 2 with the Starion since its week's throwback. How does the track work out for the Alpine this time?
The 5 lap run with this old fashioned rally machine has it run a best of
1:30.811
.
It's a handling machine alright, and this track I definitely see the Starion to be more appealing to drive. However, the handling allows it to exit certain turns better and faster, while factoring the added difficulty of losing momentum, or even possibly spinning out.
So far, this throwback's been such a beautiful sight, cars just barely at the 1:31 range in competitive pace. Speaking of beautiful.
Chevrolet Corvette C1
I might need a new dictionary to find new synonyms for beauty.
The down to earth, muscly pretty boy is back, and let's not beat around the bush: it's about to take on a bumpy, poorly maintained, wild animal infested (okay, probably not) dirty road! And one look at this kind of car means it's definitely not ready! How will it fare?
It fared.. I guess you can say.. okay, it's
1:32.703
.
The muscle traits of this old Vette doesn't translate very well to the dirt. Another issue is the 4 speed gearbox not allowing me to transfer power efficiently. And so, we get this slightly slower time, but it's not all bad.
Of course, we have one more. The last one, but definitely not least..
Drumroll, you know who it is..



It's..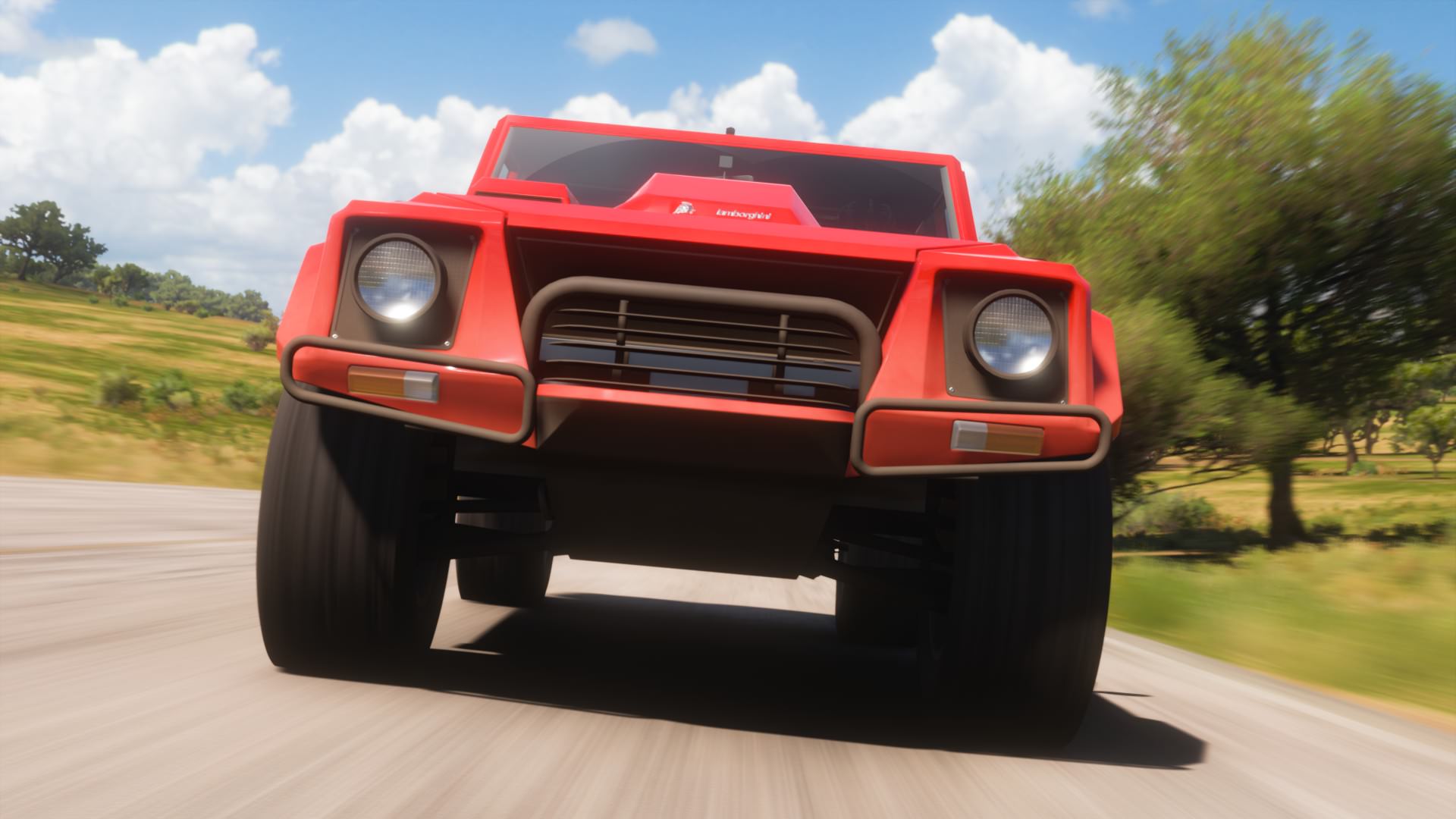 RAMBO LAMBO!!
Lamborghini LM 002
To be fair: Rambo Lambo always finds a way to get a mention just as much as I tease driving a Countryman around, maybe because it's the sole Beater of the current COTW period. It's still an off-roader, coupled with the fact it lost to cars 10 PI behind means that it somehow has to be redeemed, right? Well, it's earned itself a round 2 for this throwback. Let's see if a V12 can be the right choice to terrorize the pyramid's sound threshold.
And for all the bad it's got, it did good, giving a new best overall of
1:29.896
.
The thing about Rambo Lambo this time around is that its very poor start was now irrelevant as this is a circuit, and it has one thing that every other car in the throwback doesn't: all wheel drive. The gears are still long, but as mentioned on its week: the car's understeer issues only exist on the tarmac, and there's not enough of it for the thing to be held back. It is located a few PI ahead, so it should be the fastest.
Well, if you want my advice for an off-roader on this range of C-class, go and get yourself.. Ramb-a Corrado VR6!! It is about 17 PI behind the Starion/Alpine, and look: it's not even 2 tenths of a second behind. Saying it's
THAT
good isn't going to cut it!
And I guess this will settle this week's throwback nice.
------------------------------------------------------------------------------------------------------​
There's not much else to say for this R31. Maybe that AWD conversion its descendants get is kind of beneficial.
So..
What is the Nissan Skyline (R31) GTS-R? It is..
The last, great step in RWD Skyline mainstay before the big 4 wheel leap ahead.
First thoughts go to Neutral due to the provided combo: the car's suspension is made more in line for the streets. So that's what I did: took it to the streets. There, it turned into a nice RWD sports car, that has ample amounts of traction, with a bit of understeer to battle through.
But the thing is: I don't see anything wrong with it. Speed's good, accelerates great. Quite safe too.
Well, alright. It is an RWD Skyline. Even without the Skyline name, Nissan knows how to keep it going with the Silvia. Let's go with
Sleeper
.
The main determining fact is how it might be one car that's definitely ignored over its brethren, past and present. It has the performance too! Get it to overtake someone, and it's going to be a strike! Speaking of strike..
This would also be the last moments we see the Horizon Stadium Stunt Park. I wanted to get a shot of it smashing the pins, but look what bad timing can do.