Bugatti Veyron Sang Noir 2008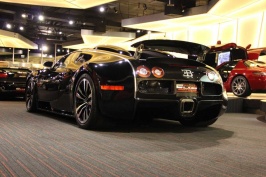 The Bugatti Veyron Sang Noir is a special edition, created for the true automotive connoisseur. While its entirely black exterior may initially appear subdued, upon closer inspection it becomes clear that a select number of visual accents make this special Bugatti Veyron just as vividly colored as its brighter counterparts.
Similar to its thoroughbred predecessor, the Type 57S Atlantic, the Bugatti Veyron Sang Noir exposes a raptor-like DNA that is reflected throughout the entire model history of the marque.
Even the hand-stitched, all-leather interior of the Bugatti Veyron Sang Noir plays on the theme of a 'harmony of extremes'. The light and confident Tangerine is offset by a black-piano lacquer finished center console; both available exclusively to this edition. A dominant black tinted carbon fiber monocoque joins the elegant black body sides, which in turn are complemented by polished details.
The face of the Bugatti Veyron Sang Noir is instantly recognizable due to the iconic horseshoe grill, finished exclusively in chrome.
This striking and unparalleled harmony between luxury and sportiness is complemented by alloy-colored details in the form of the chromed Bugatti grill and door-mirrors, as well as polished wheel surfaces and roof-rails. All-black front lights, air intakes, filler caps and door-handles naturally heighten the stunning effect of the racing-blue brake calipers.
PRODUCTION:
1 of 15
SPECIFICATIONS:
Simular to Standard Model
PERFORMANCE:
0-100 km/h Time = 2.5 secs
Top Speed = 408 km/h
Last edited: