StarLight presents a German sports car, the Fahlke Larea GT1 ... an extraordinary handmade street legal car.
Of course I choose for the most powerful version available, the S10.
The idea for this car was given by CostasDrifter.
​
The Larea GT1 is setting new standards in sports-car construction. It's a true GT, unparalleled on the street. Developed on the racing track to translate its boundless power of up to 1,260 horsepower into pure driving pleasure on the streets. The exorbitant acceleration values, its top speed and the cornering speeds that can be achieved show it to be a super sports car without compromise.
​
Sensational driving values are achieved through the light construction of the Larea GT1. High-quality steels combined with a carbon monocoque mean that a Larea weighs just 982 kg when filled with fuel. This corresponds to a power-to-mass ratio of 0.77 kg per HP.
The road-legal Larea GT1 is manufactured by hand in four series versions: The S7 has 550 HP, the S9 EVO has 720 HP, the S10 has 1,004 HP. However, we also offer racing versions with different engines providing up to 1,400 HP. Naturally, all of the exteriors and interiors are tailored to your individual requirements.
Specifications

Chassis
Carbon monocoque safety passenger cockpit with integrated tubular frame
Roll cage to FIA specification, braced as far as the engine compartment
Single-wheel suspension, adjustable front and rear
Racing shock-absorbers tailored to the driver: Rebound and pressure stage, low and high speed, compression and rebound as well as height adjustable with attached compensating reservoir and temperature compensation
Body
CFK body
Carbon front wing
Carbon headlamp casing
Carbon underbody
Paintwork of choice
Adjustable XL race carbon double wing Carbon rear diffuser
Carbon panels
Boot capacity approx. 50 litres
V8 compressor engine, 7,200 ccm
Max. performance: KW 738 / 1004 HP at 6400 rpm
Max. torque: 1400 NM, 4500 rpm
Fuel management: Fully electronic injection
Ignition system
Ignition system: Electronic
Emission control: Euro 5 catalytic converter
Exhaust system: Stainless Steel
Power transmission
6-gear manual transmission fully synchronised with differential lock and carbon clutch,
or alternatively sequential 6-gear transmission
Brakes
Brembo-racing carbon brake system with 6 piston brake callipers
Dual-circuit brakes with break balance system manually adjustable from cockpit
Steering
Titanium safety rack-and-pinion steering with quick-out and carbon F1 steering wheel

Weight/capacity/seating
Empty weight: 910 kg
Tank: 80 litres
Fuel type: Super Plus 98 RON
Seats: two
Driving performance
Maximum speed: >400 km/h
Acceleration: 0 – 100 km < 2.4 sec and 0 – 200 km in 6.0 sec
Wheels
Front: 10J x 18" forged aluminium wheels
Rear: 13J x 18" forged aluminium wheels
Tyres
Front: 285/30/ZR/18
Rear: 335/30/ZR/18


​
HERE ARE THE OTHER RACING CARS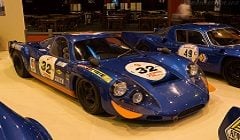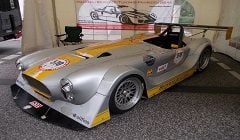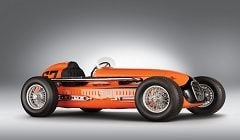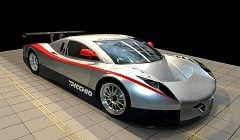 ​
Last edited: