StarLight Garage presents the Italdesign Giugiaro Brivido Race Car Concept, an extremely awesome concept from 2012.
And combined with the Martini Racing livery I want this not only in GT6 but also in the real world, not tomorrow but yesterday.

Enjoy another Christmas suggestion from SLG!
As far as I'm concerned, the Giugiaro Brivido in racing version and Martini Racing livery, is one of the most beautiful cars present at the Geneva Motor Show in 2012.
The Brivido is a four-seater concept developed on mechanical Volkswagen 4,98 meters long whose implementation has been developed around three main materials: carbon fiber, aluminum and glass.
The Brivido uses a hybrid platform consists of a 3.0 V6 petrol 360 bhp and 460 Nm, by a battery pack with automatic transmission with eight reports. The complex has 408 hp and 600 Nm. It 'can accelerate from 0 to 100 km / h in 5.8 seconds and reach a top speed of 275 km/h.
Giorgetto Giugiaro – "I focused my research on cars that offered extremely roomy but compact exterior dimensions, to propose concrete solutions to concrete problems. 2012 will be an important year for us and for the Group, with this car we want to continue to dream and imagine the future."
"It is an exercise for a performance car super - reiterates Giugiaro - but with an eye on the environment, technological content and especially by the great comfort. Today the real luxury is traveling in comfort. "Headlights in innovative LED technology and a huge door opening gullwing which also allows access to the rear seats. "
"The side mirrors have been replaced by two cameras: once started the painting wings that hide rise of 90º and project images on the monitors placed on the steering column. Apparently the idea of mass production of a model based on the Brivido is seriously considered."
Giugiaro Design, the industrial design division of Italdesign Giugiaro, realized the livery of the GT version of the Brivido, in collaboration with Martini Racing.
In this configuration the car proposes thetypical GT racing features: miniskirts, bumpers and bonnet redesigned so to enhance aerodynamics and two big spoilers granting stability.
Martini Racingis the name under which various motor racing teams raced when sponsored by the Martini & Rossi, now part of the Bacardi Group Ltd. Martini's sponsorship program began in 1968. The race cars are marked with the distinctive dark blue, light blue and red stripes on (most often) white or silver cars.
The cooperation between Giugiaro Design and Martini Racing dates back to the 80sand to the projects of graphics for off-shore and racing cars, packaging and accessories.
HERE ARE THE OTHER RACING CARS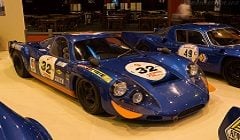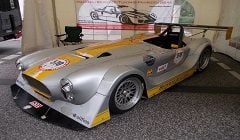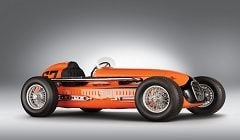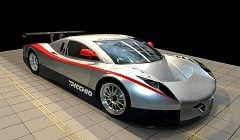 Last edited: