Greetings, from Australia.
This is now in a very early testing phase (having to learn how to mod the game thanks to Nenkai's documentation, however so far been successful with a revised concept of Gran Turismo 2's Sunday Cup.
Backstory:
I have always loved Gran Turismo 2 - I have vivid memories still to this day of coming home from school and spending hours on it, never completing homework. Haha.. Since GT6 mod progression has matured, I am looking to re-create all of GT2's races along with some added features for a little pizzazz.
Planned Features:
Including GT6 Spec II's modifications

An accurate representation of all of Gran Turismo 2's events and championships, wherever possible (Tracks, AI cars, standing starts, power limits)

Larger grid sizes (experimenting on this, looking to be 10 cars on earlier events, and 16 on later)

Full-length endurance races with tyre wear

Standing grid starts for most races

AI starting grid ordered by ascending power / PP figures in certain races
Experimenting with some options / values to make the (leading cars) stay on you at a reasonable pace
Many more One-Make races
Changelog:
03-09-21: Version 0.6
- Moved event into Novice Class > GT2 Revival Icon on right.
- Added Endurance Races Icon on Right
- Fixed some events having incorrect grid or AI car models
28-08-21: Verson 0.4 / 0.5
- Various bug fixes
23-08-21: Version 0.3
- Added all of Gran Turismo 2's Endurance races, updated to be compatible with 'b6' Spec II no cache mod.
22-08-21: Version 0.2
- Added three endurance races from GT2 (Daytona 100 Mile [Replaces Seattle Circuit], Trial Mountain 30 Laps, Rome Millenium 2 Hour) , along with two nations cup qualifiers (US, Japan)
- Endurances have weather however slightly broken at this point in time.
21-08-21: Version 0.1
- 'Line up 1' Special events from Gran Turismo 2 completed
-Sunday Cup, Clubman Cup, FF Challenge, FR Challenge, Midship Challenge, 4WD Challenge
Credits:
- Nenkai - For their amazing work on The Spec II Mod
- TheAdmiester - For their amazing work on The Spec II Mod
- Reko - Daily Bonus Images for day 6-10, and some custom tracks.
- You, for taking the time to download, try out, test, enjoy my mod! a big thankyou ;D
Download: Version 0.3 updated (22-08-21)
WIP Screenshots: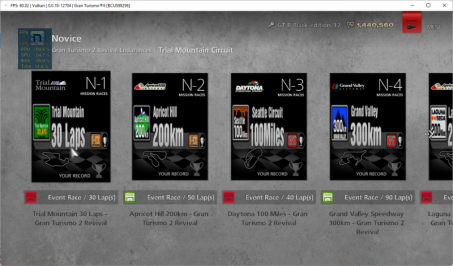 If anybody has suggestions, feature requests etc I am all ears, within my own abilities.
Thanks for taking a look!
Last edited: