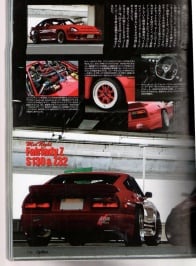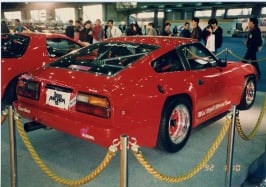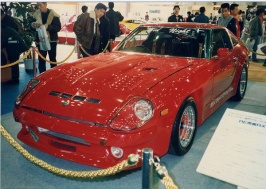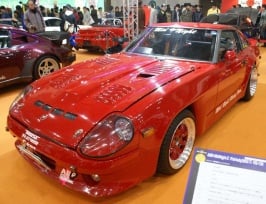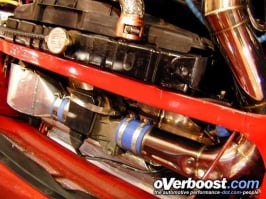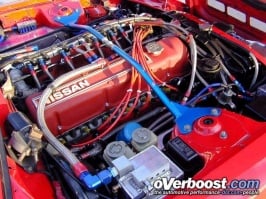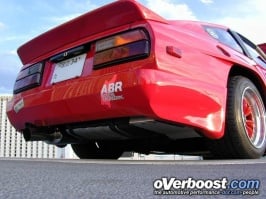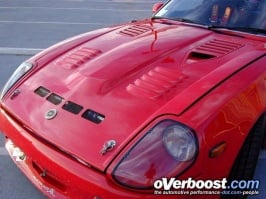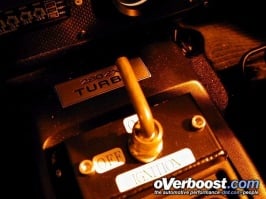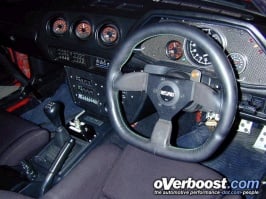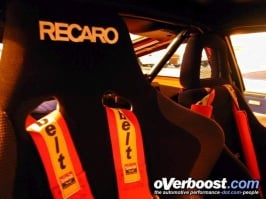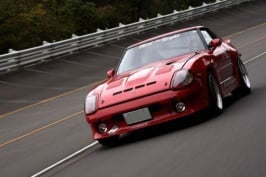 SPECS:
Car Specs
Mid Night Racing Team 1978 280ZX
Engine Type: Nissan L28E
680hp (600whp) 216 mph (350kph+) top speed

Engine Mods: Capacity increased to 3,100cc with forged 89f pistons, ABR original rods, ABR original crankshaft, ABR original 268-degree camshafts with 12.9 mm lift, intake 46.5 mm, exhaust 38.0 mm, twin IHI RHC-6 VX55 compressors and 3P-13 turbines

Engine Management: Nissan genuine 16-bit ECU; GReddy PROFEC and REBIC III; HKS GCC

Drivetrain: Z31 300ZX Turbo 5-speed transmission 0.779 fifth gear ratio; ABR Original special LSD with 3.545 final gear ratio

Suspension: Specially modified Bilstein dampers with TRD springs

Brakes: R32 Nissan Skyline GTR calipers with TRD Supra Race rotors

Wheels: Panasport C5R 16x8 front, 16x9 rear

Tires: Bridgestone RE71 225/50R16 front, 245/45R16 rear

Exterior Mods: ABR Original body kit with front and rear fenders, front spoiler, side skirts, rear valance, rear hatch spoiler, hood

Interior Mods: Autometer tachometer; Blitz EGT; HKS water temperature, oil temperature, oil pressure and boost gauge; ABR Original rollcage; Recaro SPG driver seat, Recaro LS passenger seat; Sabelt four-point harnesses; Nismo D-shape steering wheel

Mobiletronics: N/A


Description:

At first glance, this car looked rather nondescript aside from the wide-body kit. After all, the car is a 1978 model. We found the answer to this Z's unique appeal with a closer look at the specs - 600hp and a top speed of over 300 km/h! That's equivalent to 186 mph for our metrically challenged readers. Further investigation revealed much more about this car and its owner as well.

"The cars at the Tokyo Auto Salon do not impress me," the Z's owner remarked with a nonchalant tone. "No matter how much horsepower they make, these (Auto Salon) cars will never impress me unless they are driven. Cars are meant to be driven." Take a close look at the front end of this Z - it shamelessly wears its battle scars with pride. Not only is this car driven, it is driven mercilessly.

The car is actually owned by a well-mannered gentleman by the name of Toshi from Tokyo, Japan. Toshi politely requested that we withhold his last name and remove his license plate numbers because the Japanese police take a very dim view on the street racing element and he feared retribution as a result of this story. This is also because Toshi belongs to the Mid Night Racing Team - one of the most famous street racing teams in Japan. Mid Night's membership mainly consists of Porsches, Zs, and Skyline GTRs. Mid Night also leaves the 1320 and drift competitions to the kiddies, because their need for speed could only be met through what Toshi calls "maximum velocity." Top Speed has always been a hallowed benchmark and the team's dramatic exploits have been documented in over 200 editorial features in most of the leading Japanese auto magazines and even Turbo, MAX Power U.K., and Denmark's Autoviz magazine.

We still wanted to know how this Z puts out over 600 hp and how Toshi pushed it over the 300 km/h mark (right after that run it was discovered that the Z was running on only five cylinders!). All of the 280's tuning was performed at ABR (Air Breathing Research) Hosoki Engineering. Among other notable accomplishments ABR built the World's fastest Soarer (basically a twin-turbo Lexus SC 300) which recorded a "maximum velocity" of 218 mph. ABR increased the capacity of the L28E powerplant to 3,100cc with its own forged pistons, rods, crankshaft and cams. The 280ZX's very mild single turbo system was tossed in favor of twin IHI RHC-6 VX55 compressors and 3P-13 turbines. Power transfer is handled via a Z31 300ZX Turbo 5-speed transmission with an ABR LSD. Engine management is courtesy of a Nissan genuine 16-bit ECU, GReddy PROFEC and REBIC III and an HKS GCC.

At 186 mph they say you have no friends, you also have no room for error and this is where the aerodynamics and suspension and brakes help control the prodigious amounts of horsepower it takes to bring a car up to this velocity. Toshi chose specially modified Bilstein dampers with TRD springs and 16-inch Panasport wheels wrapped with Bridgestone RE71 tires. Stopping distances are reduced with no less than R32 Skyline GTR calipers utilizing TRD rotors from a Supra racing application. Aero improvements come in the form of an ABR Original body kit with front and rear fenders, front spoiler, side skirts, rear valance, rear hatch spoiler and a vented hood.
In addition to this Z Toshi also owns a 1982 280ZX Turbo (with only slight modifications - just for fun), a 1990 300ZX Turbo (with heavy modifications - recorded a 291km/h top speed) and a non-modified 1999 300ZX Turbo as a daily driver. Obviously Toshi's love for Z's runs deep and when we asked him why he started to modify his Z he calmly replied, "To win against my rivals, that is all." With an arsenal like this at his disposal we would have to say that Toshi probably left more than a few of his rivals in his tremendous wake.
Last edited: