​
StarLight Garage presents the extremely rare Nomad Mk I a British racing car built
with very limited resources but with passion.

Enjoy this beauty Christmas suggestion!​
Bob Curl a former engineer at Lotus set up his own shop during the 1960s, specialising in preparing and repairing Lotus Elites and Elans. Among his customers were Mark and Gabriel Konig, who campaigned an Elan in club events. They would go on to provide the incentive and means for Curl to turn his dream into reality and create a sports car from scratch. Known as the Nomad, three of these mid-engined cars were constructed between 1967 and 1970 in Curl's shed in East Sussex.
Built to Group 6 sports car regulations, the first Nomad featured a straightforward multi-tubular spaceframe chassis. Suspension was by double wishbones and a Lotus 33 derived multi-link layout at the rear. Considering Curl's day job, it was not surprising that the Nomad was powered by the Lotus twin-cam engine also found in the Elan. Mated to a Hewland five-speed gearbox, it was mounted amidships. The rolling chassis was clothed by Williams & Pritchard with an elegant aluminium coupe body with hints of the Ferrari 250 LM previously raced by Mark Konig.
Tested briefly at Goodwood and Brands Hatch, the still unpainted Nomad Mk I made its debut at the 1967 Crystal Palace Anerley Trophy where Konig placed eighth. During the next outing, at Clermond Ferrand, Konig finished seventh overall and first in the 1.6 litre class. Late in 1967, a larger version of the engine was tried. For the 1968 season opening Daytona 24 Hours, the 1.6 litre engine was back and held on long enough for Konig and Tony Lanfranchi to finish 24th overall in the gruelling event.
Although little known today, the diminutive Nomads were remarkably competitive in period, especially considering they were built with very limited resources, literally, in a shed somewhere in the British countryside.
Specifications
Country of origin: Great Britain
Produced in: 1968
Numbers built: 1
Designed by: Bob Curl

Engine
Configuration: Ford / Lotus Straight 4
Location: Mid, longitudinally mounted
Displacement: 1.594 liter / 97.3 cu in
Bore: 83.5 mm (3.3 in)
Stroke: 72.8 mm (2.9 in)
Valvetrain: 2 valves / cylinder, DOHC
Fuel feed: 2 Weber 48 DCO2 Carburettors
Aspiration: Naturally Aspirated
Power: 185 bhp / 138 KW @ 7800 rpm
BHP/Liter: 116 bhp / liter

Drivetrain
Body: Aluminium
Chassis: Steel tubular spaceframe
Front suspension: Double wishbones, coil springs over dampers, anti-roll bar
Rear suspension: Reversed lower wishbones, top links, trailing arms, anti-roll bar, coil springs over dampers
Steering: Rack-and-pinion
Brakes: Discs, all-round
Gearbox: Hewland 5 speed Manual
Drive: Rear wheel drive

Dimensions
Weight: 650 kilo / 1433 lbs
Fuel tank: 90 Litre (23.8 Gallon US / 19.8 Gallon Imperial)

Performance figures
Power to weight: 0.28 bhp / kg
HERE ARE THE OTHER RACING CARS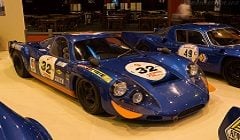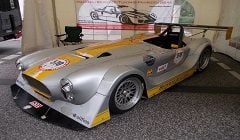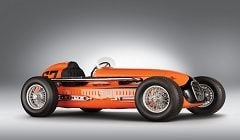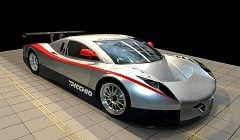 Last edited: