​
StarLight Garage suggests automobile gem to be included in the Gran Turismo Series.
The Italian Picchio D2 Daytona Prototype from 2003 should be one of them.
This suggestion is based on the Daytona with the BMW engine and Red Bull livery.
An awesome looking racing car.
At Daytona Beach (November 7, 2002) Picchio SpA unveiled their D2 Daytona Prototype. G&W Motorsports team managers Price and Carissa Cobb had the honors of pulling the silver cover off the new Picchio to reveal the Daytona Prototype painted in traditional Maserati livery.
It was the first time members of the media and racing community had a chance to see the completed Picchio D2, the only European-manufactured Daytona Prototype. The car carried the Maserati of Orange County logo on the nose and front door panels of the blue, silver and red car, raising many questions as to a possible association between the two.
"This particular car here will run at the Rolex with the BMW engine," explained Motorsports Manager Armando Trentini. "The second car will come with a Maserati engine."
While the BMW and Maserati power plants are currently the only two under development for the Picchio D2, the Italian manufacturer plans to offer several different kits and engine packages.
"If someone comes to us and wants a Nissan engine, we will give them the kit with that engine," said Trentini.
Currently, G&W Motorsports plans to run two Picchio Daytona Prototypes at the 2003 Rolex 24 At Daytona, however Cobb said that the team should have a third car on-hand for any interested parties. Four P2 chassis are being built, with the two additional chassis ready for sale at this time.
"The best part about this car is the serviceability during the long races," Cobb noted. "The ease of maintenance on this car is amazing. A team can work on the car much easier and quicker. The down force and aero packages on these are great."
The new Picchio is tentatively scheduled to run its first test at the end of the month at Virginia International Raceway, home of G&W Motorsports. The Picchio Daytona Prototype will be on display to the public throughout the weekend in the garage area outside the media center at Daytona International Speedway during the Dark Dog Grand American Finale.
Specifications
Country: Italy
Production: 4 units

Engine
Configuration: BMW 90º V8
Location Mid: Longitudinally mounted
Displacement: 4.941 liter / 301.5 cu in
Bore: 94.0 mm (3.7 in)
Stroke: 89.0 mm (3.5 in)
Valvetrain: 4 valves / cylinder, DOHC
Fuel feed: Bosch Fuel Injection
Aspiration: Naturally Aspirated

Drivetrain
Chassis: Aluminium honeycomb panels on tubular chassis, carbon fibre body
Suspension front: Double wishbones, push-rod operated inboard spring
Suspension rear: Damper unit, anti-roll bar
Brakes: Ventilated discs, all-round
Gearbox: Hewland NLT 6 speed Manual
Drive: Rear Wheel Drive

Dimensions
Length: 4480 mm (176.4 in)
Width: 1995 mm (78.5 in)
Height: 1110 mm (43.7 in)
Weight 900 kilo / 1984.2 lbs
HERE ARE THE OTHER RACING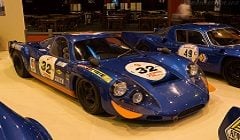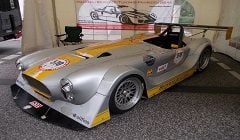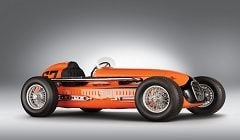 Last edited: