(Searched the last few pages of this music & media forum to see if such a thread already existed. Found nothing. Also, I kind of wished there was a "Gran Turismo Series" forum instead of separate ones for each game so that this topic fits in there better, but this forum will have to do for now, I guess.
EDIT: Okay, did a search on this specific forum and I found a few. No such general thread exists, though. Just people asking questions, so... I hope you don't mind me doing this one, Jordan/Famine.)
---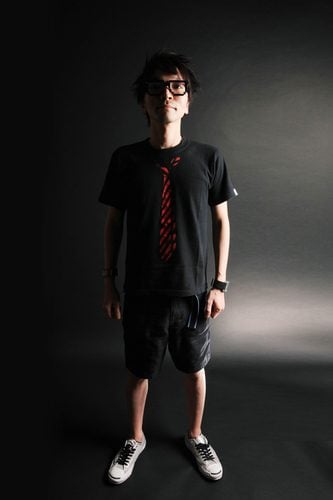 Daiki Kasho, the composer behind some of the Gran Turismo series' most beloved music such as "What To Believe," "All My Life," and his most popular song by far, "5OUL ON D!SPLAY." With Gran Turismo 7 on the horizon, I decided to create a general thread for him here since so many of us here are fans of his music.
According to
his personal page on Kiwi
, Kasho was born on November 2nd, 1976. Besides Gran Turismo, he has worked on numerous other projects including SEGA's F-Zero GX, Kaido Battle, King of Fighters, and others. Beyond that, not much else is known about him aside from
this interview on RocketBaby
and that he was recently married as of last year according to him on his Facebook. He also has a
Twitter account
which he seems to be using more as of late.
Contrary to some people's beliefs, Kasho does not do any vocal work himself, nor is he by himself when composing. He tends to work with other J-Rock bands such as Dakota Star (GT4) and Fade (GT5 and GT6, though Fade band members Rui and Kansei are credited in GT4's "It's All About You.") He was by himself, I believe, for GT3 where he first debuted, sporting an entirely different musical style as well as remixing Lenny Kravitz's "Are You Gonna Go My Way?" for the US intro of GT3.
In 2012, Kasho had a rare live concert at what is arguably PD's first attempt at live esports, the GT Asian Championship. While Fade's vocalist Jon Underdown might've done an awful job at singing live to some (
shrug
), to me, it was awesome, and makes me question why they haven't done such a concert for the current FIAGTC events yet (barring the pandemic, of course).
Which brings us to now. Sometime between GT6 and GT Sport, Kasho has officially joined PD as a sound designer and has had his own studio at PD's HQ since, rather than being freelance as before. Along with likely helping with the car audio, this pretty much means that Gran Turismo 7 will be his biggest contribution yet.
If Sport is anything to go by
, not only he'll do new full songs, but be in the menu music and the after-race jingles as well. Maybe he'll even do his own take on the series' theme, "Moon Over the Castle." (Masahiro Andoh has officially retired this year, btw)
Aaaaaand that's my opening post. I've been a big fan of him since first hearing "5OUL" in 2010 (though earlier, I rocked out to his remix in GT3 every time the US intro played back then) and he pretty much has been on fire ever since, influencing certain fan work of mine as well. I really can't wait to hear what he has in store for GT7.
Love him or dislike him, share your thoughts below.