Here it is. After months of teasing, and years since the Mission E previewed it, the production Porsche Taycan has bowed. The four-door sedan will be the Stuttgart manufacturer's first full EV.
The reveal event spanned the globe, taking place at three different locations simultaneously: Niagara Falls, Canada; Neuhardenberg, Germany; and Pingtan Island, China. With the sheets off, the Taycan stays remarkably true to the original concept, down to its low nose, full-width taillight, and on the top trim, those cool two-tone wheels. It's a slippery shape too, slicing through the air with a drag coefficient of only 0.22Cd in Turbo guise. The Turbo S is more of a blunt object, but only comparatively at a still impressive 0.25Cd.
Yes, Porsche is sticking to its tried-and-true naming convention for its electric model. It already seemed odd on the 911, with every model bar the GT3 technically being a turbo already. The Taycan doesn't even have turbos — though it does produce prodigious power.
With the 2.5-second overboost function active, the Taycan Turbo spits 670hp and 626lbft to both axles. The Turbo S bumps these numbers up to 750hp and 774lbft. Those outputs equate to 0-60mph times of 3.0 and 2.6 seconds, respectively. Helping balance acceleration and high speeds is a two-speed rear transmission. No wonder it's already set a lap record at the Nurburgring:
It may use a combination of steel and aluminium for its construction, but the Taycan still outweighs a Cayenne, tipping the scales at 5060lb. However, the 93.5kWh lithium-ion battery pack does sit low in the chassis, contributing to a center of gravity below that of a 911. That should give it planted handling, especially with the standard air suspension, torque vectoring, electronic damper control. Rear-wheel steering is standard on the Turbo S, and optional on the Turbo.
It wouldn't be a modern sports sedan without different drive modes either. The Taycan will come with four: "Range", "Normal", "Sport" and "Sport Plus". In its most eco-friendly mode, the Taycan will act as a front-wheel drive vehicle, utilizing only the forward motor unless needed. Porsche is quoting a European range of 388–412 kilometers for the Turbo and S respectively. North American figures are not available yet.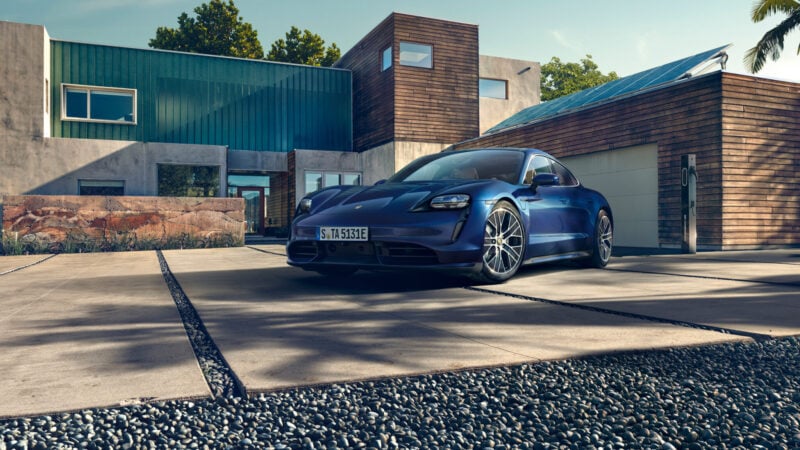 Of course one of the main concerns with an all-electric vehicle is charging time. It's here that Porsche has made big strides. The Taycan is the first production car to use an 800 volt system. This helps shrink juice-up waits: using a high-power charging network, the Taycan can gain a range of 62 miles in only five minutes. A charge to 80% takes 22.5 minutes. Buyers will also be able to charge it with more conventional at-home methods.
Inside the Taycan is loaded with screens. A 16.8-inch customizable instrument binnacle sits ahead of the driver, while a 10.9-inch touchscreen occupies the center console. There's the option for more digital real estate in the form of both a passenger-side screen and a rear-seat one. You'll find plenty of light inside — all Taycans come with glass roofs — but no leather. Instead, Porsche has employed animal-free or recycled materials throughout the interior.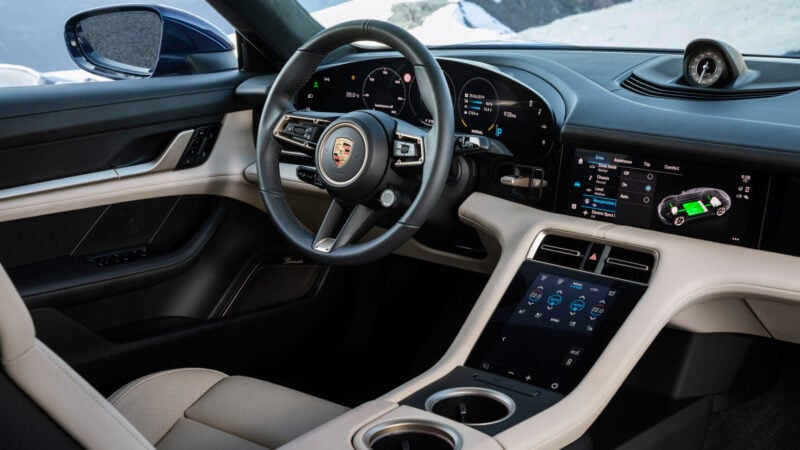 Interested parties are able to reserve the Taycan Turbo and Turbo S now. UK prices start at £115,858 and £138,826, respectively. American buyers will need to cough up $150,900 or $185,000, which will both raise by about $2,500 when the car officially launches. The Taycan lineup will expand with lower-powered models in the future, and Porsche has already confirmed a model based off the Mission E Cross Turismo will arrive within the next year.
See more articles on 2019 Frankfurt Motor Show, Porsche, and Porsche Taycan.