With Frankfurt in full swing, BMW used its local show to unveil this, the Concept 4. It previews the German marque's next midsize coupe, and if that front end is a sign of things to come, the next 4 Series should be all smiles for the camera.
There's no point dancing around it: that is a great big waffle iron of a kidney grille. The latest iteration of the familial front end is taller and narrower than the other big grille in the current lineup, the refreshed 7 Series. Look closer and you'll find the grating in the kidneys, as well as the air intakes flanking them, is made up of tiny little number 4s.
Looking at it head-on with those slim headlights, we can't shake the image of Clint Eastwood squinting, with Steven Tyler's smile.
Moving around the car reveals a traditional coupe shape. The proportions give it a long, low stance, while picking up some of the classier feel of the reborn 8 Series. That's especially evident at the rear, with wide, minimal taillights looking quite a lot like big brother's. The flanks are clean, with only a few contours breaking up the "Forbidden Red" paintwork. A strong set of shoulders gives the Concept 4 more presence than the existing model, and reinforces the rear-drive nature of BMW's midsize coupe.
Word is this closely resembles the upcoming production car. Shrink the wheels, embiggen those side mirrors and add some space to hang the world's license plates, and you should get a good idea of the production 4. Not just the petrol (or diesel) models either: the Concept 4 previews the next model in BMW's i sub-brand, the i4.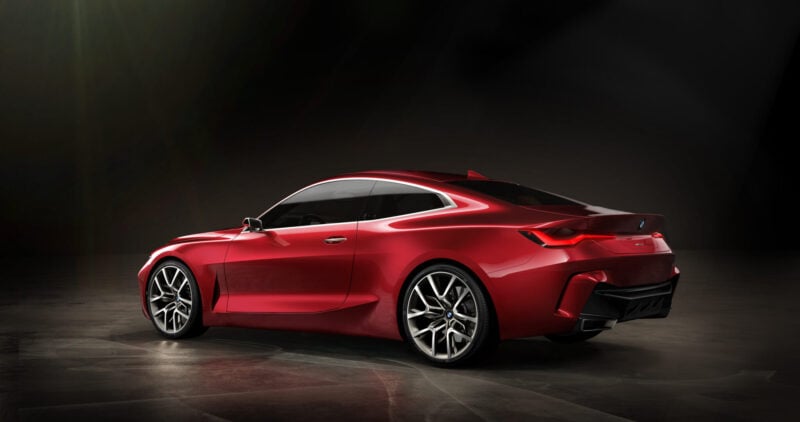 BMW hasn't talked about what might power the Concept 4, but expect the production model to closely mirror the 3 Series lineup. That means a 382hp turbo inline-six in M440i spec, and a version of the S58 that produces up to 503hp in the X3 and X4 M.
See more articles on 2019 Frankfurt Motor Show and BMW.