Renault Trucks has teamed up with renowned trucking simulation Euro Truck Simulator 2 to deliver an interesting competition with a pretty unusual prize, all themed around a brand new lorry.
Earlier this week, ETS2 unveiled the Renault Trucks T Evolution and T-High Evolution. Not just in the game either — this was the first time anyone anywhere had seen the upgraded models of the T long-haul tractor unit, and anyone with a copy of ETS2 can already drive the new trucks. However this first-of-its-kind collaboration between a truck sim and manufacturer isn't quite done there.
To celebrate the event, SCS Software — the Czech developer behind ETS2 — is launching a livery design competition. It's already open and will run through to Sunday April 25, with players invited to create their own livery designs for the T-High Evolution unit. In fact you don't even need to play the game, as the competition is open not just to in-game liveries but those created on image software using templates provided for the competition.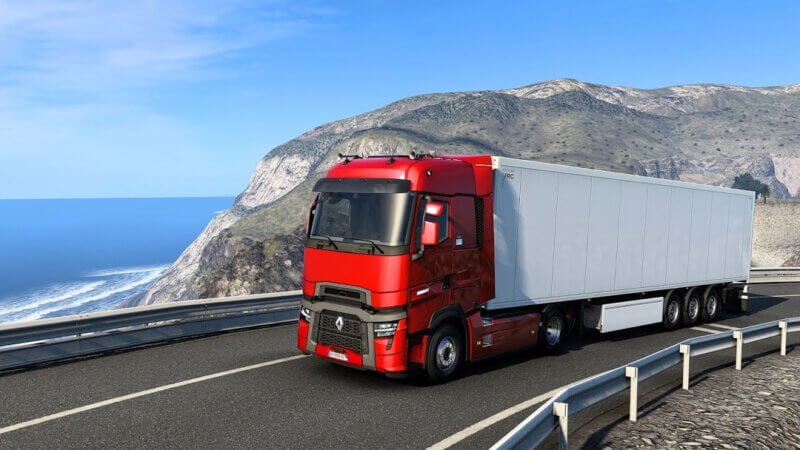 Of course there's more than a few rules to abide by. Entries can't have indecent, defamatory, or political images, and can't use anything for which neither they nor Renault hold intellectual property rights. The design must be original and entries will grant the organizers perpetual, royalty free rights to their design.
Once the competition closes, Renault Trucks and SCS Software will pick their top five entries and put it towards a public vote. All five finalists will win a Thrustmaster T150 steering wheel set, but there can only be one grand prize and it's a real treat for truck fans.
First of all, Renault will wrap a real T-High Evolution with the winning design, and display it outside a Renault Trucks dealership near the brand's headquarters in Lyon, France, as well as recreating the livery in ETS2. Not only that, but the winner will get to actually drive the truck itself, as part of an all-expenses paid trip to the truck's unveiling some time this summer which will also take in the museum in Berliet, the powertrain facility in Venissieux, and the Bourg en Bresse manufacturing plant.
There's a special competition website for entering images of your design and downloading the templates if you wish to create your livery outside the game. Entries close on April 25.
More Posts On...
The original comments for this post are no longer available.