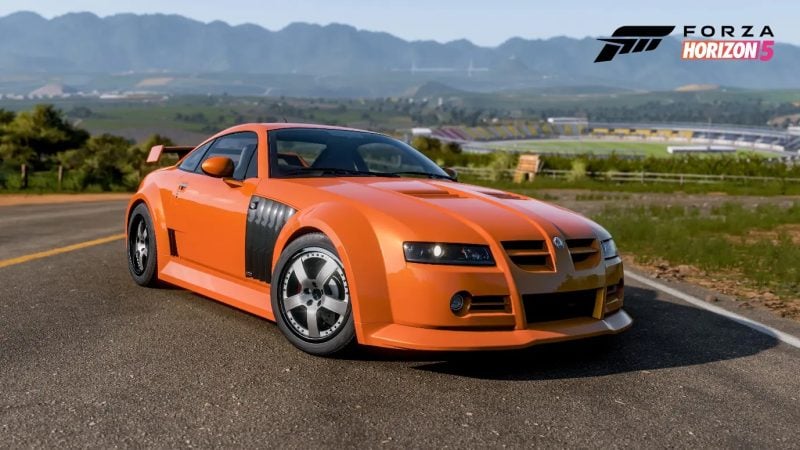 With a special video for the Chinese market, Playground Games has announced — a little ahead of next week's scheduled Forza Monthly stream — the new content and changes coming to Forza Horizon 5 Series 4.
According to Mike Brown, creative director at PG, FH5 has had the most successful launch of any Horizon game in the Chinese market. With Chinese New Year coming up on February 1, PG will for the first time include Chinese language voiceovers for the title, but that's just the start of what Series 4 will bring.
When S4 goes live, on Thursday February 3, players will have eight new cars to look forward to, with four coming through Playlist rewards and another four via the Car Pass. Three of the new vehicles available to all are wholly Chinese market cars, marking the debut of Chinese manufacturers in Forza — Motorsport or Horizon.
Two of the three are relatively humble machines. Although an 82hp MPV might not seem like a particularly thrilling car, the Wuling Hongguang S will be of particular interest to Chinese consumers, as it's one of the best-selling cars ever in the country — and doubtless there'll be plenty of opportunity to make it go really alarmingly fast with performance parts and engine swaps.
The MG3 is perhaps better known outside of China. It's a compact hatchback that's quite popular in the UK, and was originally built there on the MG production line at Longbridge. The second car from the brand since it was taken over by Chinese concern SAIC, it's now made in China, and FH5 players will get the 105hp, 1.5-liter top model. We're anticipating some MG Trophy goodies for the little 3 though.
Probably the most famous globally is the NIO EP9. This all-electric machine once set a blistering 6:45.9 lap time of the Nurburgring Nordschleife, and though it wasn't entirely road legal at the time — due to running slick tires — it remained the electric record until Volkswagen's ID.R race car obliterated it. Still, with 1MW of electric power, it won't hang about on the Mexican roads.
The fourth "Chinese" car is another MG, but it comes from the time before SAIC's ownership. While MG-branded, the X Power SV took a strange path to production. It was originally designed by Marcello Gandini and Maserati's Giordano Casarini as the De Tomaso Bigua concept, before briefly becoming the De Tomaso Mangusta and then the Qvale Mangusta as Kjell Qvale took the project over.
MG Rover in turn took over Qvale, and used the Mangusta's platform and Ford Modular V8 to produce the X Power SV, using a body shaped by McLaren F1 designer Peter Stephens. All great ingredients, and it was the only car on the market with a nitrous system as a factory option.
It should have been a roaring success. Sadly, the UK wasn't ready for an MG-branded performance car, and MG only sold nine before entering administration — probably because it spent so much money on a performance car instead of its old and relatively poor mainstream offerings. The X Power SV will only be available through the playlist.
In addition to these four cars, there's three other machines coming through the Car Pass. That starts on February 3 with the 2019 Volkswagen Golf R, a four-wheel drive hot hatch based on the eighth-generation Golf.
After the X Power lands on February 10, players will get an old-school hot hatch on February 17 when the Mazda 323 GT-R arrives. This served as a homologation model for Mazda's rallying ambitions — as the rally-grade spotlights and vented hood attest.
Finally on February 24th, the 2010 Porsche 911 Sport Classic arrives on Car Pass. This limited-run model was inspired by the famous 1973 Carrera RS 2.7, with all 250 cars coming in Sport Classic Grey — including that homage duck-tail rear wing.
That will pair up nicely with the final car on the Playlist, which is the sister 997-generation 911 GT3 RS 4.0. This features a larger, 493hp, 4.0-liter engine than its regular 3.6- and 3.8-liter predecessors, and fills in the GT3-model gap in the current car list.
There's plenty more to come from the update than just cars though. S4 marks the start of something called the Horizon World Cup, and the official Forza Motorsport China site has a few more details.
This event is seemingly an international head-to-head between cars from France, Germany, Italy, Japan, the UK, and the USA, although it's not a straight fight as there are vehicle restrictions to make things a little more fair.
Players will represent their chosen manufacturers in the Season 4 Playlist, covering the various Weekly Challenges, Seasonal Championship, and Playground Games events. You'll earn points for your manufacturer, although it's not entirely clear what the points go towards.
There'll be special outfits clothing items for players, with racing "uniforms" for the various nations, as well as new car horns. Horizon Exhibition races will also form part of the activities, with Buggy and the Beast, and On A Wing and a Prayer both featuring at opposite ends of the season. We're expecting new Accolades in the Evolving World category too.
According to these early reports, there's also a reworking of the Playlist events, with players receiving cars for their activities one week and using them in the next week's events. We'll have to wait and see what other changes are coming along.
In addition, PG is set to push out a bug fix update which will address some of the issues with the Accolades that cannot be completed — or won't trigger despite meeting completion criteria — which will likely be bundled into the Series 4 update itself.
One final piece of reported information will come as music to the ears of content creators. EventLab and Blueprint events will be receiving a save and edit function, so you no longer have to create everything all at once and can go back to fix things that don't work or you don't like.
The Forza Monthly stream which will reveal all of this information to the rest of the world outside China is likely to come on Monday January 31.
See more articles on Forza Horizon 5 Game Updates.