​
Idea for this car was given by
CostasDrifter
The Austin-Healey Sprite is a small open sports car that was announced to the press in Monte Carlo by the British Motor Corporation (BMC) on 20 May 1958, just before that year's Monaco Grand Prix. It was intended to be a low-cost model that "a chap could keep in his bike shed", yet be the successor to the sporting versions of the pre-war Austin Seven. The Sprite was designed by the Donald Healey Motor Company.
The little Sprite quickly became affectionately known as the Frogeye in the UK and the Bugeye in the US, because its headlights were prominently mounted on top of the bonnet, inboard of the front wings. The car's designers had intended that the headlights could be retracted, with the lenses facing skyward when not in use; a similar arrangement was used many years later on the Porsche 928.
But cost cutting by BMC led to the flip-up mechanism being deleted, therefore the headlights were simply fixed in a permanently upright position, giving the car its most distinctive feature. The body was styled by Gerry Coker, with subsequent alterations by Les Ireland following Coker's emigration to the US in 1957. The car's distinctive frontal styling bore a strong resemblance to the defunct American 1951 Crosley Super Sport.
Engine:
1958–61: 948cc, 43 hp (32 kW) at 5200 rpm and 52 lbf·ft (71 Nm) at 3300 rpm
A car was tested by the British magazine
The Motor
in 1958. It had a top speed of 82.9 mph (133.4 km/h) and could accelerate from 0-60 mph (97 km/h) in 20.5 seconds. Fuel consumption of 43 miles per imperial gallon (6.6 L/100 km; 36 mpg-US) was recorded.
The test car cost £678, including taxes of £223.
The BMC Competition Department entered Austin Healey Sprites in major international races and rallies, their first major success coming when John Sprinzel and Willy Cave won their class on the 1958 Alpine Rally. Private competitors also competed with much success in Sprites.
Because of its affordability and practicality, the Austin Healey Sprite was developed into a formidable competition car, assuming many variants by John Sprinzel,Speedwell and WSM. The Sebring Sprite became the most iconic of the racing breed of Austin Healey Sprites. Many owners use their Austin Healey Sprites in competition today, fifty years after its introduction.
At the Mitty Races
OTHER CLASSIC CARS ARE HERE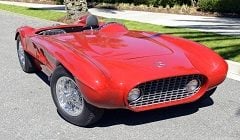 Last edited: