SPD Writes Car Of The Week: Week 33 - Toyota GR Supra (J29), BMW Z4 (G29)
So, it might not be destiny, but have you ever found a person so similar to yourself in many ways? I haven't. If you ask me, it's a creepy thought. I enjoy the idea of being unique.
While we have 2 cars this week, usually they would come in relation with each other. This week's probably the most recent take on this, sort of like how the Jeep Renegade is a Fiat 500L, or how the Alfa MiTO is a Fiat Punto Grande. Hmm, these sure are oddly Fiat related examples. But now we get into the recurring gag of Toyota's revival of their iconic Supra would kind of double as BMW's revival of the Z4 as a soft top.
Let's get into the nitty gritty of this awfully similar duo. So, after a good 16 years without a certain car icon, Toyota, still wiping themselves clean with money from the 86's revival, decides to go with the flow and wants to bring back said icon: the Supra. Okay, sounds like a day in the office. BUT instead of being randomly Asian and innovating a new engine that might not work out, they want to bring back tradition, referencing the old A80 Supra and have it powered by an inline 6. Rather than develop their own, they went to BMW, who have both the know how and the supply of these engines.
Toyota, having already partnered with Subaru to develop the 86/BRZ duo, would naturally strike a deal for yet another industrial collaboration with their name on it. Toyota would provide funding, while BMW would develop both these cars' 3 liter turbocharged inline 6 engines, powertrain and platform.
But that's where the similarities mostly end. While Toyota would base their machine's styling from the FT-1 concept, BMW went to bring back the soft top convertible form that we last saw with the Z8.. which is odd. I like the Z8, and it definitely is not some niche sports roadster thing. Where the heck is it?
And even though the similarities are only inside and with the tires, it's not the case once again here in Forza. You can see it in their PI. While they're.. sort of middling A-class cars, they're quite apart. That's because for some reason, the Supra's inline 6 is detuned to a measly 335 hp while the Z4 gets the full 382 hp package. Unusually, against my findings would be the weight, where the Z4 is supposedly heavier, and pricier, where in Mexico it's not the case.
Let's go touch some numbers: the Supra sits in low A-class at 731 PI, which is 20 PI behind the Z4. We've already mentioned the setbacks, but really: the price is just off. You can get another GR Supra for 55,000 credits, with the Z4 being 20,000 credits behind.. a complete anomaly since many comparisons I find online have the Supra's value at an advantage. Maybe Mexico taxes Toyotas pretty heavily.
When it comes to the economy, anyone who's played the game would have a modified GR Supra in their garage tuned for top of A, but not really for the new Z4. Of course I have mentioned pricing above, but the Auction House can differ if you want a better deal. For the Supra, it's 49,000 credits most commonly, but can go down as low as 20,000. And the Z4 can be commonly found and best valued at 20,000 credits. In my case, I do need another GR Supra, but know that the Auction House is the place for another either of these.
------------------------------------------------------------------------------------------------------​
Maybe as some form to spite the wildly unrepresented upper class, these domestic heroes would duel it out in Emerald Circuit.
Someone's looking to head to the beach for some sand? Let's make you look slow first of all, and I'll make you think twice on what kind of car you want to play on the sand with.
"A challenging, technical circuit passing the Palacio Azul del Oceano hotel. No time to admire the scenery though, as a series of chicanes will test your driving skills."
Now I think about it, this track is just chicanes on a varying degree.
Even through it's nicely designed for just about any sort of road going machine, the issue with Emerald Circuit comes in the form of a couple things: the tiny rocks by the hotel can eff off and die, for starters. Then we have the really strangely designed road, that sometimes I feel driving through a bus stop rather than a chicane. In Horizon, I guess I better learn track design isn't the kind of thing they put a lot of time on.
But what we do get if we ignore all this is the kind of track that is helpful to see if your cars can turn and settle well in lower and higher speeds. It has just about every type of turn for any type of speed, except really darn slow.
I'm not flipping coins, so I'll just let the Supra in general go first.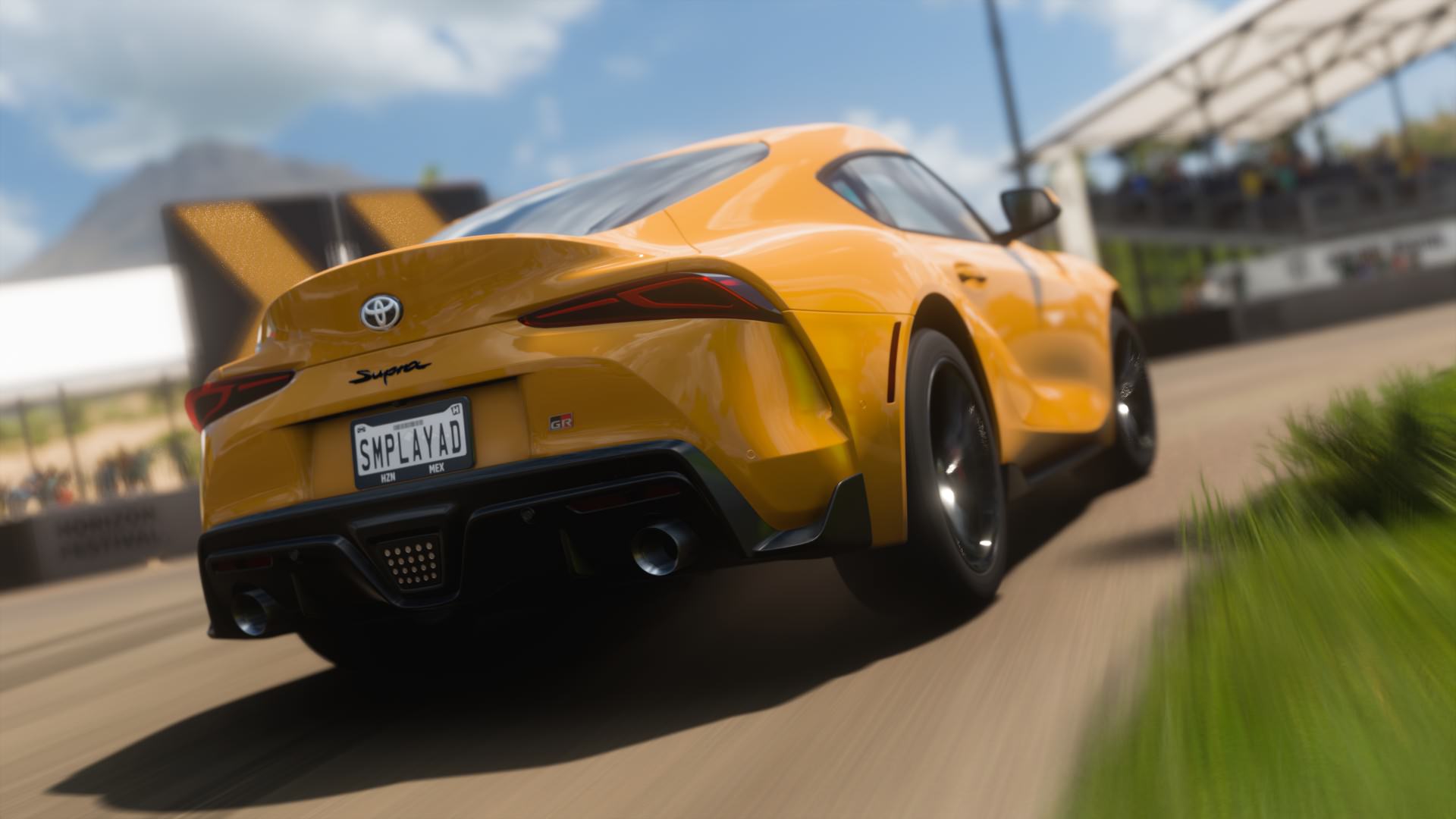 Even though it had a divisive opinion till the newer manual version came out a couple years ago, there's no way I can see the GR Supra as a complete failure. It did never click on me, so now's the time to see if it can.
-
Inside's
the first thing as per always. The Toyota comes with a left hand drive for Horizon, which is off putting since I drive these Toyotas usually by the right in that other game. That is a large screen to not be using, and I feel you're going to need more surface area to the tight speedometer if I'm going to give it more points. We're calculating points, right?
- Now, launch. It's solid enough for you to just put it down 100 percent. The car's got power, but not enough for it to be trouble when coming from a standstill. The shift point I like to hit is just before 7000 RPM, which is indicated quite nicely if you drive cockpit like I do.
- We might not be laps in, but the GR Supra's handling is pretty nice. Not slippy for a RWD car, and when you take a turn, it will stick nicely with a mild bit of oversteer. And when I mean mild, I mean molecular levels of mild. This is a far cry from the Lexus all the way back in week 3.
- This might be the 8 speed auto, but I'm glad a pedal shifter is handy for optimal racing shifts, and this is one Toyota that decides to have it. While this means there won't be much issues in shifting traction.. if that's the correct word for it, the gears on the whole feel a bit too long and cumbersome. Yes, even with all those gears. Imagine if it stuck with the usual 6 gears.. That could be bad.
- Traction overall is fine, except for one part: exit from tight corner, which will bring out the carelessness of drivers on certain portions of this week's track. This isn't a powerful car, so it's not going to spin you out.
- Brakes has always been a point to note out ever since the 1st week, and this car's brakes are good. Not super duper. But good enough. Even if you find yourself braking a bit late it won't lock hard to the rear that it'll end you. It does mean hard braking to a tight corner can put that rear out a bit: something to take advantage of.
- Now we see how the track goes. I like Emerald Circuit. The first portion after that.. uphill chicane to a downhill sweeper has me usually not braking with the Supra. This isn't the case usually with most cars. The Supra can sure turn. I'll observe these with the BMW later.
- Another point of interest is by the hotel, where we get another set of chicanes where the optimal car shouldn't brake after those tiny rocks of slowing you down. The Supra also passes this test.
- Barry R has been doing some work on the outside, so the cutting has to be done on the inside. And this is a track where the best line has to involve these insides. Could an off-roader do better?
- Final note on this Supra? It's a starter car, with just about everything about it being quite generous. Go ham with it. It wants you to so you too can feel the potential coming out of it. This car is a canvas for so many things, and even the game handing you one to begin with is a sign for this.
Usually I have a general opinion here. I'll put this aside until we get to the Z4 analysis.
I do have a best for the Supra:
54.914
. Not your usual pic? Yeah, for some reason I do have an A class time in this track.
Me trying to get under 55 seconds felt like a cruel joke. Guess I do have the last laugh, even if it is to myself, huh? Time to take a few extra steps and go German.
------------------------------------------------------------------------------------------------------​
And now it's time for the Z4. With a significant PI lead, I'm expecting better things than that of the Supra. And even though I like the older Z family BMWs, especially one Z8, I don't really have much feels for the Z4 family.
- Another open top car means another time I get to
admire the inside
of this week's nominee. I already give props to this car when it comes to this if I compare it to the Supra. There are a lot of things in similar places. Do they share the side mirrors too? The Z4's inside I feel is the kind of thing you'd expect in a BMW's interior: just an overall feeling of a much more smoother nature. Here's some post script: smooth will be a word I will be using quite a lot in negative ways for the drive later.
- Launch wise.. okay, the memes can be right, sometimes. It's super similar to the Supra, except that you will get rev bouncing. I don't see any other way to get it off the line quicker than just putting it all the way down. My shift point's, since it's the same engine, also just under 7000 RPM.
- To put it simply: the Z4 is like the Supra.. but give it a squirt of extra power. As a result, it isn't a forgiving car to drive. It's an unwieldy roadster with quite a bit of issue getting the car to stick sometimes. Analysis underneath will follow, but I'm giving you the general tone, as mentioned earlier.
- You heard of the phrase 'monkey see, monkey do'? It doesn't seem to apply for the Z4. Long sweeps will give the car quite a chunk of understeer, and I don't mean molecular levels of that. This does mean that the Supra, which can take the pre-hotel section without braking, can turn better than the Z4, which does need a small tap of them to even make it out alive.
- What is up with the handling? I mean, the Supra grips so nicely, while the Z4 maybe follows the dummies guide on how to corner without issue. The grip's just.. like a disappearing contradiction from a gruesome Phoenix Wright trial. Barry R's been handing out penalties left and right, something Phoenix Wright better not be piling up..
- There's gotta be some kind of good out of this car, right? There is. The gearing actually feels suitable. It's got that extra power, and I actually feel satisfied with the acceleration. It also has the same automatic gearbox, so the shifting's positives carries over.
- For a car who likes to shake that booty, it actually has much more manageable traction on corner exit. Something I feel and kind of notice is that the traction through acceleration isn't that bad an issue on the Z4 than that of the Supra.
- The brakes are actually similar to the Supra. They lock up the rear, but in the Z4, it locks up pretty nasty if you don't put in any power. I think we're starting to see something here..
- The Z4 might be the one with higher PI, but you gotta pay the fine for it. And that fine comes in the form of having less grip, more understeer, but also with a hint of power that stands out better than the Supra. The decision is yours, after all. I'm not forcing you to drive any car that's nominated.. maybe except that Corrado.
If the Supra was nice, I expected the Z4 to be just as. But nope. The only thing about it that makes it seem better is that it has more power, and thus get a better time. What's that look like, you wonder?
The Z4 bolts through the circuit to earn a best of
53.837
. That's odd, why's it 752? I double checked that this is a stock Z4.
And with this picture made, I actually beat my old time which was a bare 53.9. I need to high five someone. Where's that Racer XomePlayaDude?
Being a second ahead of your own clone is quite a feat, but I definitely agree that the Supra is the better car for the everyday driver... and I can vouch for that, 110 percent!
And what better way to say that last sentence with me giving the GR Supra the 10th
Mark of Zen
, and golly, it's such a simple, friendly and joyful to drive sort of machine, breaking the rules of a track touted to be complex. I had to stop myself from lapping with it, since I never can escape that trance of me shaving off a lot more time than the barely under 55 seconds it got.
------------------------------------------------------------------------------------------------------​
After weeks without, how about a Showcase?
This week's theme is... well, to follow the Z4 and the GR Supra's essence, it's just gonna be new cars on the top of A-class. So I will be limiting it to cars within a 5 year gap. If nobody's going to check, it's those born in 2017 or later.
Due to the amount of cars in it, how about.. another restriction, being: also parented by A-class? Now with these set in stone, I'll call this week's Showcase: The A-listers. And for the non-COTW additions: I'll just pick a car from a class I see.
New? No worries! Showcases usually involve me taking the track, be it the regular track or a provided EventLab, on the top of a given class.. usually without any form of conversion. And since PI is equal, I usually table these by the end. To add: the COTW nominee gets to be tiered, and I usually have this result weigh in where they stand.
This week, prepare to see some cars with.. a deep sense of questioning why they're in this class. Let's begin with I think the biggest one.
Dodge Challenger SRT Demon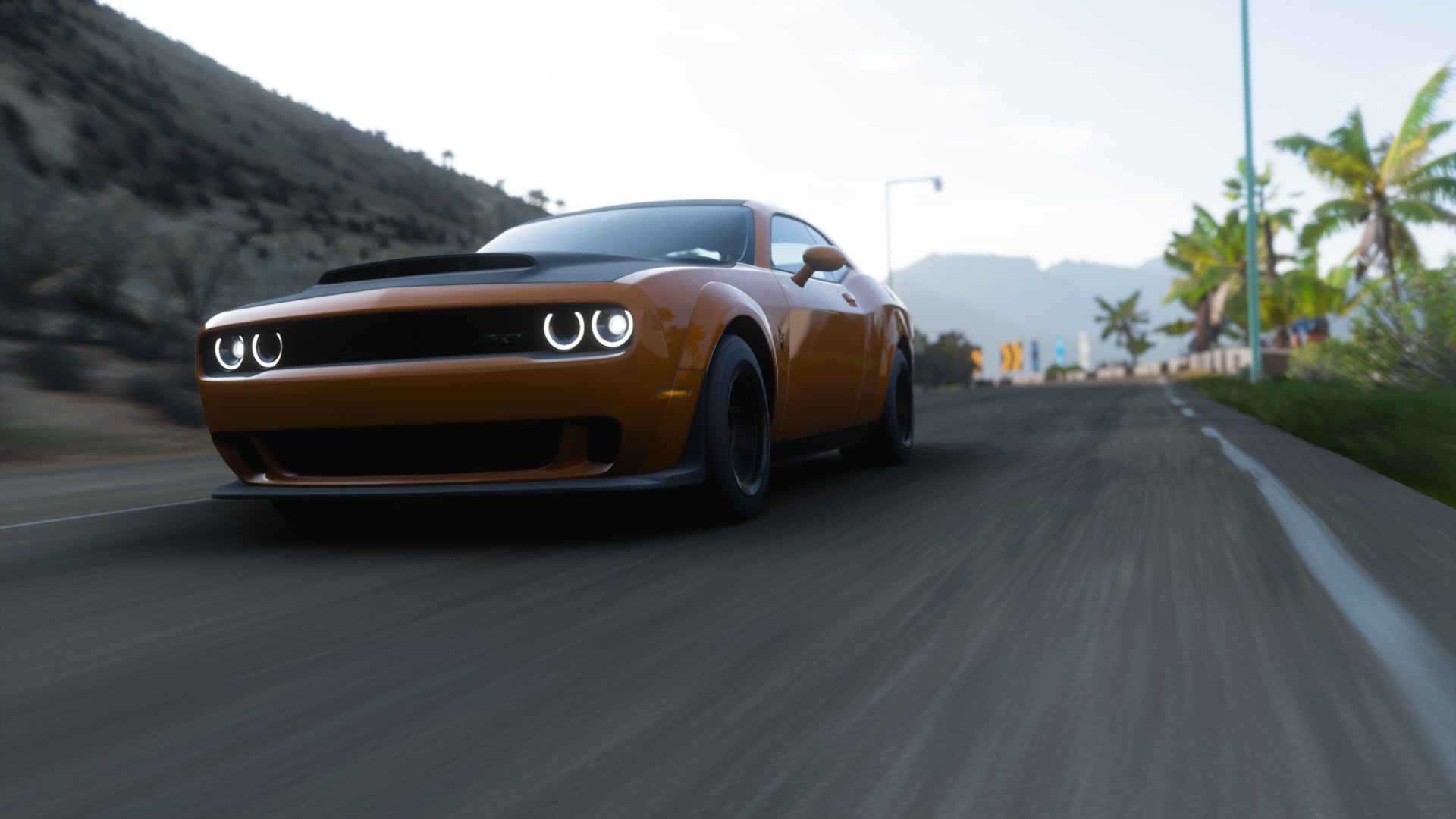 I'll just assume everywhere's a drag strip, and I'm sure it'll be fine.
You know, I had a look at the EventLab and arrived at the locale witH this car, and said NOPE, back to Emerald Circuit.
So, the SRT Demon: the dragster you can buy. It's suitable considering how else is someone going to buy a Challenger anyways? It's big hulking mass with a need for power other than 2 rear wheels. And with all this power, I wonder how it will do for a base time?
Surely a member of hell's army would be potent, but it somehow powered through these chicanes with a time of
53.731
.
This is just a millisecond ahead of the stock Z4. To say this is a terrible time is just putting it mildly.. molecular mildly? Nah. But it shows all the power isn't going to work at a track like this. And the car overall feels.. weird. Not the best start to a Showcase, amirite?
Honda Civic Type R FK8
Any fans out there ready to see what happens when we get a piece of VTEC on top of A?
Super Hot Hatches are possibly a class I have zero interest in until we got the likes of other Hot Hatches in COTW, that being the Corrado that's been a dominant Sleeper in more than one way, and the car that started it all in week 15 with the Escort RS Turbo. But with the new car restriction going on, the FWD represent this week will come in this Civic.
Years of the Type R badge has been backed up as this Civic stamps in a NEW best of
51.766
.
Like any proper tuned hatch, it's a nice drive hampered by a little understeer. But the car is peppy, and has great traction and control. Maybe solid top end too, but I didn't choose.. the EventLab..
Mercedes-AMG GT 4-Door Coupe
No doubt this week's executive choice of performance.
Next in my list is the GT 4 door coupe. And to be honest I don't quite see what's up with the naming. It's not a coupe. But what it is is a V8 powered monster with AWD and 2 turbos mated to 9 gears. All these numbers make me water in my mouth, so let's go before I realize SpongeBob has a million dollar hat I just sold him to.
A ride this exclusive should provide the kind of smooth time like this best of
53.278
.
So, what went wrong? It's obviously the size. It's big, and carries a good chunk of understeer all around. But it's not difficult, and the drive isn't bad. Emerald Circuit slowly leans towards the light and quick rather than the big but powerful, it seems so far.
Aston Martin DB11
For Queen and country.
Yet another swanky ride. But this time, it's a proper British made GT car from Aston Martin. The DB11 has been quite a car when it comes to how exposed I am to it. Let's not dilly dally and see what its wings truly are meant to carry.
The DB11 is a patriot through and through, proudly giving its best of
52.193
.
A chunk more power and a chunk more weight, the DB11 is a bit slippery, but it's multitude of gears gave it the traction and all around goodness of a GT car. I really enjoyed this car's drive, actually.
Jeep Grand Cherokee Trackhawk
So what happens if I combine the SRT Demon and the GT 4-Door Coupe? Probably something nasty like this.
So, it might not be the Demon, but I guess another SRT will have to step in this new A-class battle. I was going to get the Urus, but here's something a little.. more suitable, I guess. The Trackhawk stands as the top trim of Jeep's Grand Cherokee. Taking its powerplant from a Hellcat, how does this not usual family carrier carry along Emerald Circuit?
The Trackhawk is a hunter, preying away with a time of
52.740
.
Sure it might be heavy and cumbersome on the turns, but it's perfect everywhere else. The traction is there. The acceleration is fantastic. And maybe it might give a solid top end. Who knows? But this SUV isn't half bad.
The Nominees are up next, and thus it's time to set up the tiers. How else would I add or remove favor to the overall verdict?
GOD
- Beat the Civic, which is 51.7 seconds. Nuff said.
HIGH
- To satisfy this, the Supra/Z4 would need to get... something in the region of high 51, to low 52 at the least. So be at the pace of the DB11, which is about 52.4 seconds.
MID
- Just be at the range of 52.4 to 53 seconds. Shouldn't be hard, right?
LOW
- Can't even go under 53 seconds? I guess I'll have to book ya for getting better at being a beater.
COTW Nominees #33 - Toyota GR Supra J29, BMW Z4 G29
Both in one entry? That's a first.
I've already established the Supra to go first, anyways.
So, even though we have sort of the same car, it's body makes them both different. As seen with the Supra getting my Mark of Zen, and the Z4 maybe getting something worse if I have to make it. But this is the time they can shine. I've made adjustments to these cars, and the Supra retains its beautiful handling while getting it the power it needs. The BMW just gets a whole overhaul. How would you like to know that this Z4 was one of my A-class racers too?
Let's see how the handling holds up to more power. I expect good things from this little Toyota mashup thing.
I'm not joking when I say I overhauled it. After initial tests, it took me a good 10 minutes around Horizon Circuit to readjust everything, but I'm confident we got something to ride with.
And we have times. Up first: Supra.
The Toyota brings back the golden days, reflected with a best of
52.032.
An excellent performance lands it in the High tier. The car's issue with the brakes are gone. There's a sense of speed, and the only issue that remains is the traction, which got worse, but nothing a few adjustments can't dampen.
Now to the Z4, and would you believe it?
The Z4 failed to impress in stock form, but came to me saying it landed a NEW best of
51.601
, which gives this Z4 the top honors in the form of God tier.
It might be my tune that fixed it, but it convinced me that if it was born a loser in Horizon, it doesn't mean I can't make you a winner. And win it did. A completely unexpected turn of events.
How it won was simply because of the acceleration. It had it in there. All I did was fix the terrible fishtailing, and I can definitely do that with a bit of suspension adjustments. Another all rounder that proves it's more than just an average joe.
Here's our table..
Now let me go get the verdict down.
------------------------------------------------------------------------------------------------------​
I was expecting the Civic to take it, but the upgraded Z4 really pulled itself together from its stock form. Here's a reward for you: a quick run of this week's EventLab
So.. there's two of them, so like how it's been, first up the J29, then the G29.
What is the Toyota GR Supra? It is..
The revival of a Japanese legend, born with a German heart but carries a Japanese soul
Easy to see its a no nonsense
Sleeper.
This is a fine car just doomed to being the starter people drop. Or worse: straight up put the kit on and ignore it. It's the best example of a canvas one can use for just about anything Horizon. I wonder if anyone's gone and made a rally car out of it. That I want to see.
What is the BMW Z4? It is..
The machine we appreciate mostly as the transplant donor for a Japanese legend's comeback.
Getting it to God tier in the Showcase saved it from being a Beater.
Yes. That's right. I had hopes this car would be just as good as the Supra. It wasn't. It let me down hard. But that's before I took it to the Showcase, and became the best car there. It was a bad car, but it can be saved. And somewhere inside is the kind of car you can bring and race in Horizon Open, no doubt.
But I can't call it a Sleeper.
Neutral
sounds like the place it belongs. But you're a pretty fine Neutral. This is the first time I saved something from being called Beater, but you're free to say it is at stock form.
So, the choice between Supra and Z4 seemed obvious at first, then came my Showcase and that idea has been ruined. Well, I'm not saying I like them both, but it's not stopping anyone from having that opinion.