16,266
Boise, ID
GTP_EDK

WRS N200 LAN Style Pick and Mix
Loosely Based on GTS Week 124 and 125 Time Trials

:: Only Open to Qualified GTP_Registered Members ::



:: Members are not obligated to take part ::

4 Dates - Pick the one(s) that work for you. Run one, or run them all.

Saturday, April 11th, 2020

World Wide Time Slot



3:00 PM Eastern / 12:00 PM Pacific / 7:00 PM GMT / Check Local
Sunday, April 12th, 2020

World Wide Time Slot



3:00 PM Eastern / 12:00 PM Pacific / 7:00 PM GMT / Check Local
Saturday, April 18th, 2020

World Wide Time Slot



3:00 PM Eastern / 12:00 PM Pacific / 7:00 PM GMT / Check Local
Sunday, April 19th, 2020

World Wide Time Slot



3:00 PM Eastern / 12:00 PM Pacific / 7:00 PM GMT / Check Local

​
​
What is This? How Does it Work?
Check out all the details on our first Online LAN event here. We've been running Gr. 4 cars in online and TT for a couple weeks, and now we are moving over to N200 Road cars on short tracks.
For our second LAN event, we have picked out 6 N200 cars, and we will run them with the online BOP enabled. We are announcing 7 tracks that we may potentially use, and we will use only 6 of the 7 tracks.
The track order will be random, and will vary across the 4 planned event days. And if you don't like one of the cars, you can certainly take a break from one of the races, but you can't use the same car twice.
We are planning for this to be about a 2-2.5 hour event, with races of around 15 minutes on each track, and around a 5 minute break in between races. The races will be set with fuel burn and tire wear TBD, but settings will not force a pit stop for fuel.
We will hold only one qualifying - One out lap and 2 hot laps prior to the first race. All subsequent races will have the grid order set by previous race result.
Check out all the details in the thread below.

​
Eligibility
This WRS-Online event is open to GTP_WRS Registered members only. If you are not currently on the registry, join now by following the GTP_WRS Registration!
Once Registered with WRS, Simply hit reply on the newest version of the Race Sheet and add your PSN name to the day(s) you would like to participate on.
Registration
Post in the thread and let me know the event(s) you would like to attend.
Please post -
Registered PSN ID
Event Dates. You can pick the date or dates you want to run.
I will track registrations in the post I reserved after the OP.
Delaying or Restarting Race Start
Once the race countdown timer has started, the race will only be restarted in these cases:
Multiple drivers report a black screen/hang, instead of the 3-2-1 countdown.

One or more drivers get disconnected before race-pace has begun ("GO" for grid-starts, end of formation lap for rolling starts).

Steward realizes there is a condition that would lead to an unfair or poor race experience.
Once the race countdown timer has started, the race will explicitly NOT be restarted for:
Latecomers, even if you've registered

Driver realizes he picked the wrong car parts (ie, tires) or driving options (ie, Auto tranny)
Lobbies
-Lobbies will be open at least minutes before Qualifying starts for warm up/practice. I normally try for 1 hour.
-Qualifying will consist of 1 out lap followed by 2 hot laps, prior to the first race. Once your hot laps are completed please stay on the track and park your car somewhere in the 2nd sector and off the track while everyone else completes their qualifying. Leaving the track may cause you to lose your place on the grid. If you go off the track or crash in qualifying, please be sure that when you do re enter the track that it is safe to do so, never re enter the track when there is any type of oncoming traffic.
- After Qualifying has finished we will start the first race. The races will be about 15 minutes each, and about 2.5 hours total. Full Race Details are posted below.
- Subsequent races (races 2-6) will have the grid order set based on previous race result. We want to keep things moving.
Official Practice Times
GTP_WRS club: Open at all hours
Pre-Race: Lobby will be Open at least 30 min prior to Start Time for Practice/Warm Up.
Basic Settings
Room Mode: PR = Practice, Race
Room Title: GTP_WRS Members Only
Room Settings
Room Type: Race for Real
Lobby Privacy: Friends Only (You will need to be on my Friend's List to run)

Fixed Room Host: No
Max Number of Participants: 16 per lounge
Course Settings (We will use 6 of these on each event day)
Course: Brands Hatch - Indy Circuit
Course: Red Bull Ring - Short
Course: BB (BroadBean) Raceway
Qualification Procedures
Type: Live Online Qualifying
Length: Single out-lap and 2 timed hot-laps.
One qualifying session for the entire event, with races 2-6 featuring grid order based on previous race result.

Notes: Drivers not in the lounge by the time the last driver has entered the track after reset will not be allowed to qualify. They are welcome to join the race, but will start at the back of the grid. If we are running multiple qualification groups and the driver enters before the last group has entered track an exception will be made.
Race Settings
Start Type: Grid Start with False Start Check
Grid Order: Fastest First
Boost: No
Penalty: None
Flag Rules: On
Tire Wear: TBD (For all Tracks)
Fuel Consumption: TBD (For all Tracks)
Grip Reduction on Wet Track/Track Edge: Real
Minimum Number of Pit Stops: 0
Require Tire Type Change: Off
Race Finish Delay: 180 sec
Ghosting: OFF
Visible Damage: On
Mechanical Damage: Light
Slipstream Strength: Real
Car Selection Method
Car Selection Method: Garage - Cars will have BOP Enforced. Car list below.

Car Filters: None
BOP: ON

Tires:

Sports Hard (For all Cars/races)

Vehicle Tuning:

Tuning Prohibited: Power and weight are to be stock, using in game BOP.

Custom Paint, Wheels, Number:

Allowed

Brake Balance Adjustment:

Allowed
Cars (I am not listing BOP Power and Weight, You should practice with it on, and learn them yourself)
Alfa Romeo 4C '14

Audi TT Coupe 3.2 quattro '03

BMW M3 Sport Evolution '89

Honda Integra Type R (DC2) '98

Nissan 180SX Type X '96

Toyota MR2 GT-S '97
Limit Driving Options
Countersteer Assist:

Prohibited

Driving assist:

Prohibited

Active Stability Management (ASM):

Prohibited

Cones/Markers: Available / Optional
Traction Control: Available / Optional
ABS: Available / Optional

Handbrake : Prohibited
After the qualification time is complete, park your car in sector 2 and don't leave the track.
The system will place all drivers on the grid and begin the countdown timer.
Please be cautious and courteous in the first turn. Dive bombing will be penalized and will not be tolerated.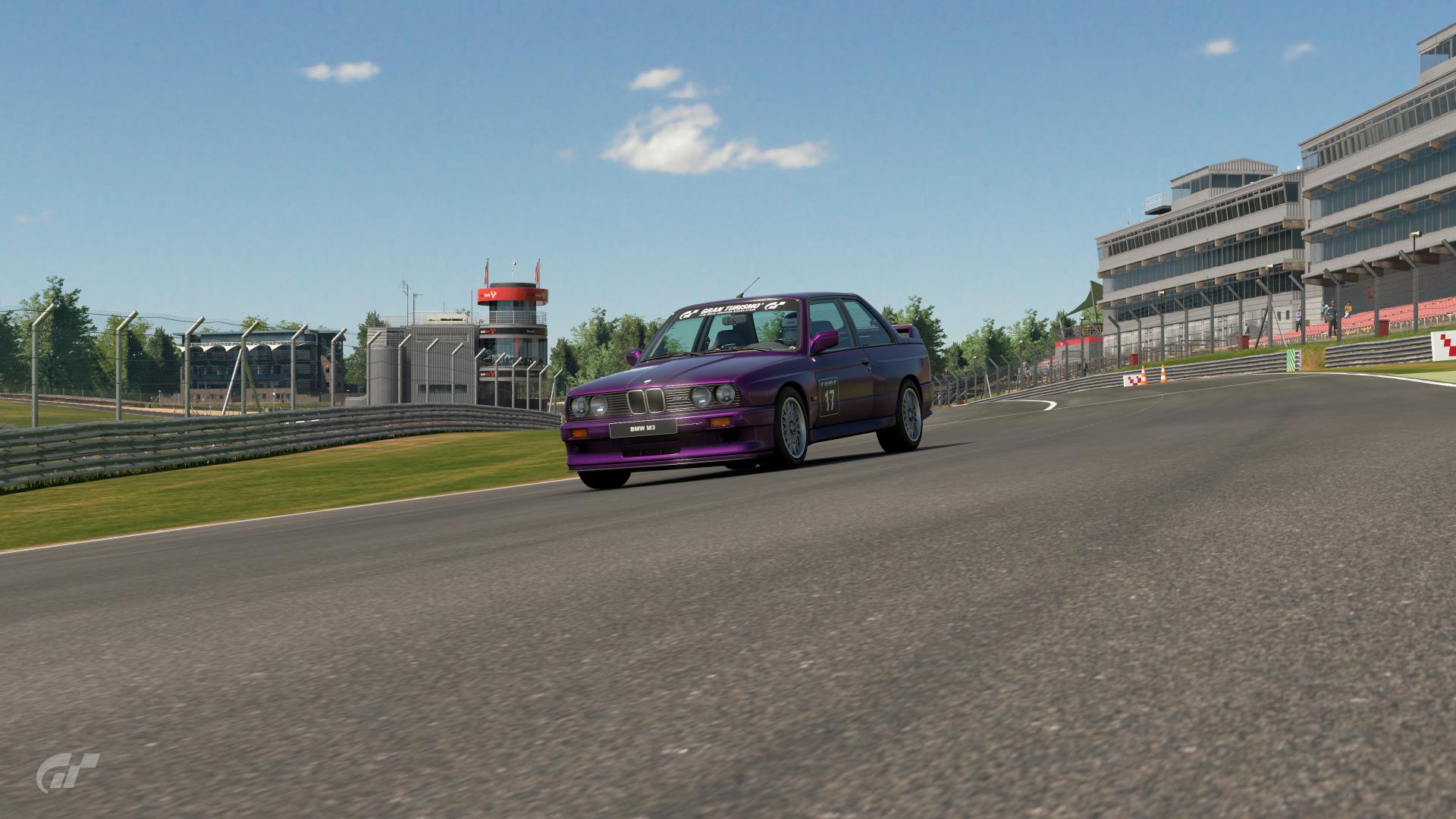 Track Boundary Guidelines
Drivers are expected to do their best to stay within track boundaries per the OLR. Mistakes happens over the course of a long race and the random off or two will be overlooked in most instances, but if a pattern of boundary abuse is observed penalties will be handed out which include 15 seconds for a "minor" pattern of abuse, 30 seconds for a "substantial" pattern of abuse, and a DQ for "complete disregard" of track boundaries. In cases where penalties may not impact the driver (e.g. DC), the penalty may be carried over to the next event and may be applied as a 5 (minor) or 10 (major) grid spot penalty.
It's up to the admins' discretion exactly what qualifies as "minor", "substantial" or "complete disregard". Going outside the rumble by a centimeter isn't as serious as a car length wide excursions into the run off area. Factors such as dirty air and traffic also come into play. If you find yourself going wide then the next lap you're expected to slow down a bit more to make sure you stay within boundaries. If you make the same mistake multiple times and you want to avoid a penalty you can always self-penalize during the race by lifting for a very brief period upon returning to the track. Continuing to hammer the throttle after repeated boundary overruns may very well end with a post race penalty.
General Guidelines:
Contact with walls should be avoided. Wall riding/bouncing to gain time will be penalized and/or can result in disqualification. This includes pit entry/exit.
Rumble/ripple strips are part of the track
Runoff areas are not part of the track.
If you overrun boundaries by accident, lift momentarily to make sure you don't gain any advantage.
Do not complete a pass that was made possible by going outside track boundaries.
Track Specific Guidelines:
Same track limits as the Time Trial.
Standard Clean OLR Rules Apply:
Unless otherwise specified, all rules from the original WRS event apply.
You are expected to drive clean at all times as if you are racing in the WRS. All participants are required to follow the GTPlanet Online Racing Rules & Guidelines.
Race Stewards (who are taking part in race, but will review the replay) reserve the right to kick out or invalidate the result of any driver from the Race Room for driving offensively. If you ignore any warnings from the stewards and are kicked out of the race room, you will not be allowed to participate in future events.
Contact with walls should be avoided. Wall riding/bouncing to gain time will be penalized and/or can result in disqualification.
Rumble/ripple strips are part of the track
Runoff areas are not part of the track including green painted concrete.
Limit your contact with walls or objects, visible or invisible
No hybrids
No cheating of any kind
Nothing that goes against the spirit of the rules
Passing and Blocking: Aggressive blocking is not permitted, but the driver in front has the right to choose his/her line and braking point and drivers behind should respect that line. Be especially careful when you are on older tires than the competition as the speed difference may be significant. These events are "for fun" so just play nice and take a conservative rather than an aggressive approach when possible.
Rules Addendum for Track Selection, Scoring, and Car Selection Rules

Track Selection
I will use a random number generator to select the first track, and each subsequent track.
I also will not use BB Raceway as the first track, due to the simplicity of the layout and inherent car advantages.

If BB is the first track generated, I will continue to generate new numbers until one of the other 6 tracks is selected.
Once the first track has been selected, each subsequent track will be chosen at random at the conclusion of each race.
Scoring
We will keep score for fun, there are no prizes.

I will take a screen shot of the results following each race, and will save the replay.
I will score the events using the standard Formula 1 Scoring Rules.
That means the top 10 finishers will receive points, of the following values.
25, 18, 15, 12, 10, 8, 6, 4, 2
Any remaining positions, as applicable, will not receive points.
Car Selection
As mentioned in the opening section, there are 6 cars, and you must use each car once.
We will use 6 of the 7 tracks listed.
Drivers are responsible to keep track of which cars they have used.
Select a method IN ADVANCE to keep track of this.
That could be as simple as writing the 6 cars down on a piece of paper and crossing them off as you go.
If you use the same car twice, the HIGHEST finish in that car will be disqualified.
Once you have qualified for the first race in a specific car, you must use that car.
At each subsequent track, you will be asked to select your car as soon as the track loads.
Race Start Procedure on Tracks 2-6
I will announce a track load time at the conclusion of the prior race, when announcing the next track.
You will typically have a 4-5 minute break.
If you are not there when the track loads and you miss a race, that's on you.

Grid order for races 2-6 will be based on last race finish, fastest first.

Practice laps are NOT allowed in races 2-6. Enter the pits, do not enter the track.
I will give a go on track signal once all racers are in the pits, we will drive to the first turn and await the race countdown timer.

As soon as all racers have made it to turn 1, the next race will begin.

You are expected to be ready and know these tracks. If you are not confident in a track, don't dive into turn 1 and hope for the best. Hang back and learn it behind others.
Good Luck, OLR Team
Signup List
Thursday 4/9 Warmup
GTP_EDK
GTP_Roamer

GTP_Sjaak
routergod24
GTP_Pokey
Hobie199
I__Like_Oranges
Pigpin13
GTP_RACECAR
Saturday 4/11
GTP_EDK
GTP_Roamer
GTP_Sjaak
GTP_PASM
routergod24
GTP_Pokey
Gnome_V8
GTP_RACECAR
GTP_RikWrx
GTP_TZRacer
I__Like_Oranges
Doc-SG
Pigpin13
GTP_gooners_17


Sunday 4/12
GTP_EDK
GTP_Roamer
GTP_Sjaak
GTP_PASM
GTP_RikWrx
I__Like_Oranges
GTP_billyjoebobx
TripleN81
GTP_gooners_17
mattcharter
GTP_Dutchy (P)
Saturday 4/18
GTP_EDK
GTP_Sjaak
GTP_PASM
GTP_Nuschel
Gnome_V8
GTP_RACECAR
Hobie199
GTP_TZRacer
I__Like_Oranges
GTP_Pokey
TripleN81
GTP_gooners_17
routergod24

mattcharter (P)
Doc-SG (P)
mysteron71 (P)
GTP_Dutchy (P)
Sunday 4/19
GTP_EDK
GTP_Roamer
Hobie199
I__Like_Oranges
TripleN81
mattcharter
GTP_billyjoebobx
GTP_gooners_17
Doc-SG
Last edited: