Not Hotdog
Staff Emeritus
9,742
Las Vegas UTC-8
Wardez
Wardez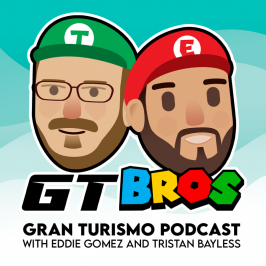 iTunes:
https://podcasts.apple.com/us/podcast/gran-turisbros-gt-sport-podcast/id1466627728
Spotify:
https://open.spotify.com/show/4xbCv1KEFpSHiUVqxaQyQZ
​
YouTube Playlist starting from episode 14 (dedicated GTB channel):
YouTube Playlist episode 1-13 (on Wardez's Channel):
Turisbros Podcast Mini-site:
http://cast.rocks/hosting/15536/feeds/AZ0EV.html
RSS URL:
http://cast.rocks/hosting/15536/feeds/AZ0EV.xml
Podcast Twitter:
https://twitter.com/granturisbros
Trying this again! Hi! I used to have a podcast
here on GTPlanet
back in the GT5/6 days called the Real Podcasting Simulator. We're not gonna be simulating anymore! Coming at you with authentic analogue podcasting love is the Gran Turisbros Podcast! I share hosting duties with the incredibly cool
@RoadBeef
! He went to FIA GTC America's Regional Finals with me where we became great friends. I think we make a great team and I hope you enjoy the show!
If you followed the link to the old RPS episodes on the GTP news blog, you'll notice that none of the episodes are hosted anymore, but don't worry, I've just uploaded all the old episodes
here for you to check out on Gdrive!
If you dig our content please help us out with a rating on iTunes and thumbs, comments, subscriptions etc, for you YT! Thanks!
Last edited: