StarLight Garage presents the historic classic and very rare Sunbeam Tiger from 1965.
The time of Rock and Roll !
And believe this car rocks and rolls too.

Enjoy this beauty from SLG Christmas Suggestions!
The Sunbeam Tiger is a classic British roadster with a fascinating history, it was the brainchild of Formula 1 legend Jack Brabham and none other than Carroll Shelby was tasked with building the first prototype. There's an obvious parallel between the Tiger and the Shelby Cobra – both were small British convertibles that Shelby took to California and fit with 260 cubic inch Ford V8s, and both quickly rose to icon status for their handling and power-to-weight ratios.
After Shelby had delivered the first prototype of the Sunbeam Tiger in 1963 (essentially a V8-engined Sunbeam Alpine) the management of Sunbeam chose to order engines from Ford directly and tasked British automaker Jensen with the job of building them. Shelby was understandably a little perturbed by the decision but an out of court agreement was reached to pay him a royalty for each car made.
Looking back on it now with the hindsight of history it seems like a major blunder on the part of Sunbeam's board of directors, especially when you consider that their primary target market was the USA and having the Shelby badge on the Tiger would have blown sales through the roof (to say nothing of modern day values on Shelby badged cars).
Each of the first generation Tigers were fitted with Ford's lightweight 164b hp 260 cubic inch OHV V8 with a 4-barrel carburettor, a 4-speed manual transmission, independent front suspension with coil springs, live axle rear suspension with semi-elliptic leaf springs, and stopping was achieved using the front disc and rear drum brakes.
The tintop Sunbeam Tiger you see here is an extremely rare piece of automotive history – in fact it's the only one ever built. It was created early in the history of the Tiger due to growing concerns that convertibles would be banned in the USA due to safety concerns (this was also the catalyst that led to the creation of the Targa version of the Porsche 911), the team at British coachbuilders Thomas Harrington Ltd. were assigned with the contract to build a fastback Le Mans Coupe body based on an early prototype of the model.
Harrington had built a number of Le Mans coupe bodies for the smaller engined Sunbeam Alpine so they knew the chassis well, the completed car is now known throughout the Sunbeam community as "Harry" and after a sympathetic 2-year restoration starting in 1989 it's now one of the most sought after vehicles ever produced by the English marque.
Milestones and facts:
The only Harrington Le Mans Coupe built on a Tiger chassis
Mechanical restoration by the legendary Doane Spencer
Pebble Beach Concours d'Elegance class award winner
The only "Shelby Daytona Coupe of Sunbeam Tigers"
Winner of numerous other concours prizes


Specifications
Engine: OHV V-8 with a four-barrel carburetor
Displacement: 4.3 L (260 cu. in.)
Power: 164 bhp
Gearbox: Four-speed manual
Front suspension: Independent front suspension with coil springs
Rear suspension: Live axle rear suspension with semi-elliptic leaf springs
Brakes front: Disc
Brakes rear: Drum hydraulic
Wheelbase: 2184 mm (86 inch)
OTHER CLASSIC CARS ARE HERE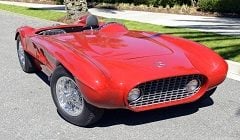 Last edited: