6,212
Fürstentum Lippe
GTP_Nuschel
COLOUR CRIMES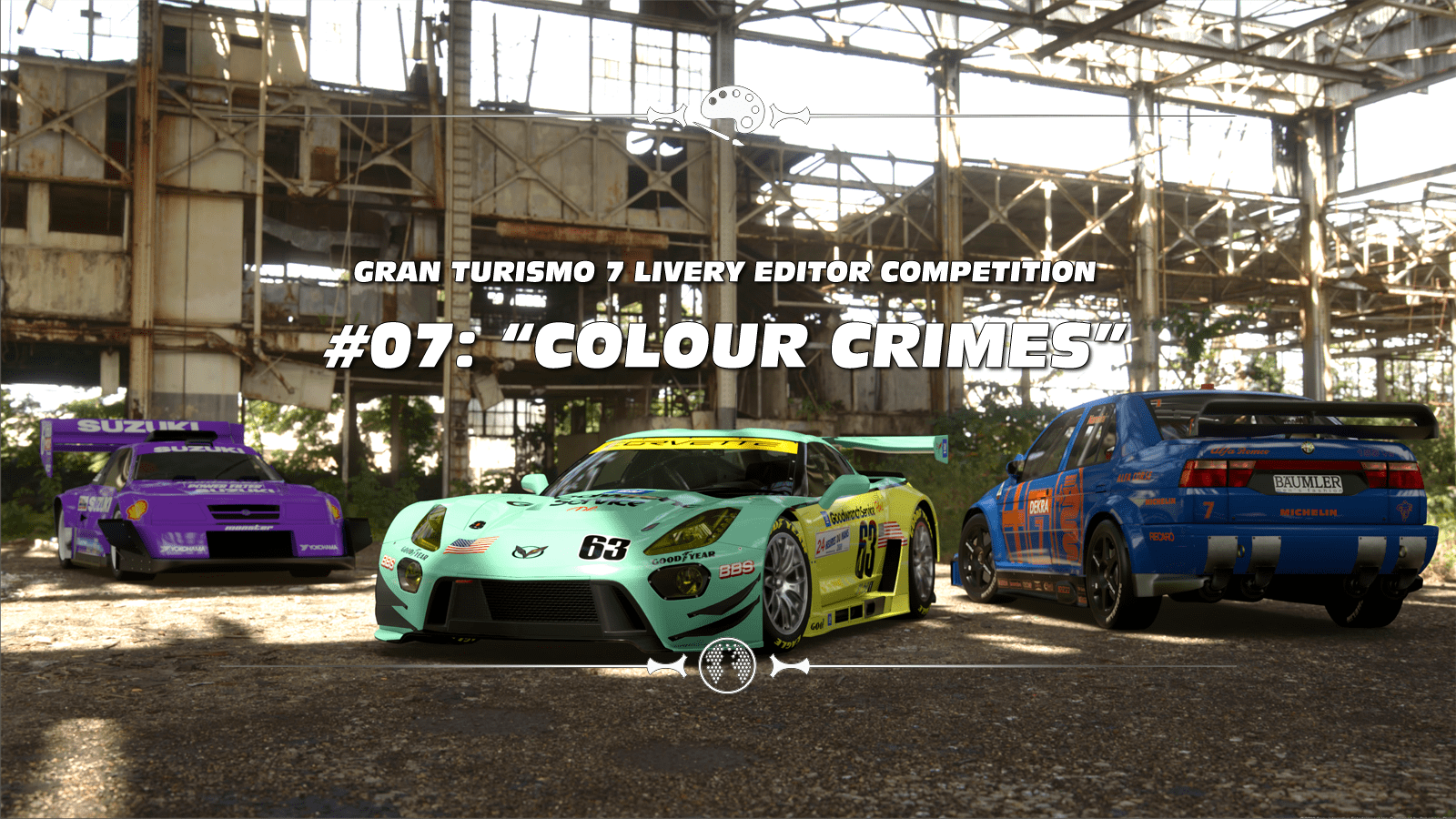 THIS MONTH'S THEME
This time we get ourselves into deep criminal trouble, because as the lab rat for the new theme selection procedure
@Raphaele
got to chose one of three sugestions made by the GTP LEC community drawn by
@MatskiMonk
. From those three themes he chose the theme "Colour Crimes", submitted by
@Nuschel01
. The crime to commit is taking a more or less iconic livery and completely mixing up its color scheme; but let's hear what exactly the submission is all about and why it was chosen:
"Another replica based competition this time, thought with a rather weird twist regarding those replicas. We all know the bright orange Jägermeister liveries, the iconic white, blue and red Martini wraps or bold pink BWT designs, but what if those companies had chosen different colors for their color schemes back when their corporate ID was first developed? Maybe Jägermeister would've taken on green, Martini might have embraced a more italian color scheme of red, green and white and BWT could've chosen something in the blue spectrum of colors? Either way, I want your liveries to be in different colors than what they're known for.
You can go for something that is actually good looking or, closer to the theme's name, is an absolute crime to the eyes. Of course you can take whatever you have already laying around in a drawer, but I'd personally like to see something I haven't seen from you here. So yeah, bring it on and get ready to face the court room!"
- Nuschel01
"This sounds like a funny theme; I'm just imagining a yellow-green Marlboro livery or Gulf in purple-golden in front of my eye. A lot of people could also easily jump onto this theme and without too much work change up the colors of designs they already made. I think there are a lot of surprises in the bag for us and that's really exiting. So go after the old GT5 PMC motto: Be creative and have fun!"
- Raphaele
Please
read the rules below to make sure you don't miss anything when you post your entry, as ignoring them can get you disqualified.
CARS:
BODY PARTS / WIDEBODY:
LIVERIES:
UNIQUE RESTRICTIONS:
Liveries cannot use their real world's color schemes
If you put older liveries on a modern car, please have it match the modern car's racing series number boards etc.
BONUS PICTURE SETTINGS:
Not mandatory, but a picture alongside the correct livery would be cool
USER MADE DECALS:

GENERAL COMPETITION RULES



ENTRY SUBMISSION
The only way you can take part is to be a member of the GTPlanet forums. If you haven't created your account yet, click here.
Mark your FINAL ENTRY clearly, with red text.
Unsure how to? Copy and paste the following: [COLOR=red][B]FINAL ENTRY[/B][/COLOR]
One entry per user. It must be your own work, and never previously used in a competition.
You may change your entry once. Do it clearly; edit out your previous entry, and either post the new one in a new reply, or in place of the original.
Do not post "Honourable Mentions" or outtakes - just your Final Entry, that's all.
Absolutely no entries which utilise edited/hacked file saves.
Winner gets to choose the following month's theme from a random selection of three themes suggested by the community.
The organisers may ask for the original image/livery and it must be submitted if so.
It's recommended to share the original livery online (in-game) to prove it's your work.
ENTRY PRESENTATION
All images shall have preview images which may not exceed 640 pixels in either direction (main and bonus pictures).
You have to post two main pictures of your entry using the mandatory location and settings as shown in the quote below.
You are allowed to post two bonus pictures in a spoiler ([SPOILER]...[/SPOILER]) with free location and settings (unless the unique restrictions of the week's theme specify something else).
You have to make one post with ONLY the set allowed number of pictures and the FINAL ENTRY (see above) mark. If you want to add precisions/background story/links, you are allowed to double-post under your entry, but please put all additional images in a spoiler. The best way to do it will be to "reply" to your own post.
It is recommended you host your image either here on GTPlanet (via the Media section), or on Flickr
Not sure how to submit your image? Here's a guide for both methods mentioned above.
Do not attach your phots directly to your entry post.
A preview image must be representative of the full-size image. Do not add effects to it.
Please use a clickable-preview to full-size, not a separate text link for it; it makes poll creation much easier!
No post-game editing of any entry image is allowed.
Mark your entry with which platform you're on and which mode you're using, whether it's taken on PS4 Base,

PS4 Pro

,

PS5 Raytracing

or

PS5 Framerate

.
MANDATORY PICTURES
You have to post a front and a rear quarter view of your car:

Mandatory Scape: S&Company East, Saitama, Japan (scape number 5)
Focal Length: ~80mm ±5mm
Aperture: f5.6 or f8.0
Shutter Speed: 1/1 Second
Exposure Correction: +0.5 to +1.0

Do not use any Filters or Effects at all and only the camera setting above within the allowed limits; the pictures are supposed to be as equal as possible for all entries and not give anyone who is a bit more savvy with the Scapes Camera an advantage! Try to stay as close as possible to how the video shows the shots to be taken!
NOTE:
if you have previously entered, just go to
Scapes
>
My Library
>
click your previous entry
>
Open Scapes
>
change car to the new entry
, refocus and snap a new photo. No need to reposition the camera/car unless its proportions are wildly different.
Please, ensure you read and understand all requirements for this competition. Failure to follow the rules may result in disqualification. If you have questions, start a convo with me, Matski or any other participant you feel comfortable with reaching out to.
SECOND NOTE:
Repeat offenders will be disqualified.
If your entry doesn't match the rules you will be made aware of it at least once, so please keep an eye out for any notifications reaching your profile.
DEADLINE :
August 31st, 2022 - 23:59 UTC