StarLight Garage suggests automobile gems to be included in the Gran Turismo Series.
The American, Troy Roadster from 1959 should be one of them.
This car is a
true piece of American history and a wonderful addition to any collection of sports cars.
The car doesn't only look stunning in appearance it's also extremely fast.
How fast I really don't know, could not find specifications yet.

Suggestion for this car made by CBarbosa.

Wally Troy was the first Jaguar dealer licensed in Illinois but his real passion was racing and his great dream was to design and build a road legal race car that could rub shoulders with the Formula 1 cars of the era.
And he was a gifted craftsman with a big dream. The dream was to build a street legal race car and he achieved this in 1959 with the remarkable Troy Roadster.
This car is a true one-off, the only car ever built. A fantastic design featuring a carefully handcrafted aluminum body. The car resembles clearly the European open wheel racers of the 50's with almost no overhang on the front or back.
The Troy Roadster is powered by a 350 Chevy V8 with 4-barrell
carburetors
, the drive-train is Chevy front to back but the chassis and body was built by hand, by Troy and his men. Wally elected to use aluminium for the body in order to keep weight down, each panel was hand-beaten and then tweaked to fit, the chassis is a tubular steel frame with a steel belly pan.
The design of the Roadster is open-wheeled perfection, I've often wished there was a car very much like this with all 4 wheels open, a hefty engine up front and function-first design aesthetic. It's a testament to what hot rods used to be and what they could have become, before looks and chrome became more highly valued that performance and cornering ability.
This extremely handsome car has been featured in the 1960 Hot Rod Magazine and also was also shown in a period Comic book.
The car was stored for almost 20 years before a full restoration was started, has been meticulously restored and has since been shown at the 2004 Amelia Island
Concours
as well as the Detroit Autorama.



OTHER CLASSIC CARS ARE HERE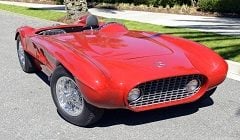 Last edited: