Presents another Pikes Peak car which can not be forgotten, the Pikes Peak Golf from 1987.
A car with great potential to win the hillclimb, a car with a bi-motor and he had nearly succeeded if there wasn't a thing called fate.
This suggestion is also a tribute to my late father-in-law, he was a VW Golf fan and mechanic as well.
In 1987, a Golf with two engines that worked independently of each other entered the legendary Pikes Peak mountain race in Colorado (USA) for the second time.
One engine at the front, another at the rear, it was possible to select front-wheel, rear-wheel,
or all-wheel drive.
Behind the wheel: Jochi Kleint. He finished in 4th place the year before, when the car had two
250 hp, 1.3-litre Polo engines.
This time Kleint entered with a version that had been further enhanced by the Austrian racing car constructor Kurt Bergmann: two turbocharged, 1.8-litre, 16-valve engines were capable of delivering 652 hp, taking the car from 0-100 km/h in just 3,4 seconds.
The incredible potency of the powerhouse, which tipped the scales at 1050 kilograms, was transferred to the mountain piste via 255/55 VR 16 tyres.
Jochi Kleint stormed up the mountain and was in first place after the first split time, but two turns before the finish line the front suspension buckled and he had to retire.
By way of small consolation, his Audi colleague Walter Rohrl won the race in the all-wheel-drive S1.
Specifications
Make: Volkswagen Motorsport
Engine: 4 cylinder, watercooled
Valvetrain: 4 valves/cylinder
Power: two 1,8 Liter 16-valve
Power: 479 kW/652 hp at 7.200 rpm
Max. speed: 184 km/h
THE OTHER VW'S ARE HERE: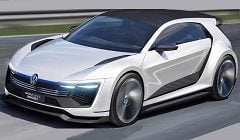 Last edited: