Christmas is officially just around the corner as Forza Horizon 4 signals the start of another Autumn season. While it may not be a White Christmas in the UK this week, there are still plenty of festive themed events and content to unwrap.
Reward cars are mostly rally themed, along with fresh prizes for 50% and 80% completion of the Autumn seasonal playlist.
The Fastest Presents
There's no cars to be won in the seasonal completion playlist, but you can get into the Christmas spirit with a Santa outfit for your avatar, as well as a fresh Horizon Backstage Pass to spend over at the festival.
The latest Photo Challenge sends you to the scenic village of Ambleside. #AmblesideAdvent simply asks you to snap any car you're driving anywhere within the village. Prizes for seasonal championships include the Holden Commodore Group A and the 1992 Toyota Celica.
One car to keep an eye out for is the 1974 Lancia Stratos. Often regarded as one of the greatest cars Lancia ever made, the Stratos was homologated for Group 4 regulations in the World Rally Championship. It would later go on to win the championship three consecutive times.
Under the beautiful Bertone body lies the same 2.4-liter V6 as the Ferrari Dino. Despite making just 190hp, the featherweight Stratos still has serious performance, as well as lively handling from its signature short wheelbase.
If you want the Stratos, you'll need to win the "Solstice Showdown" championship.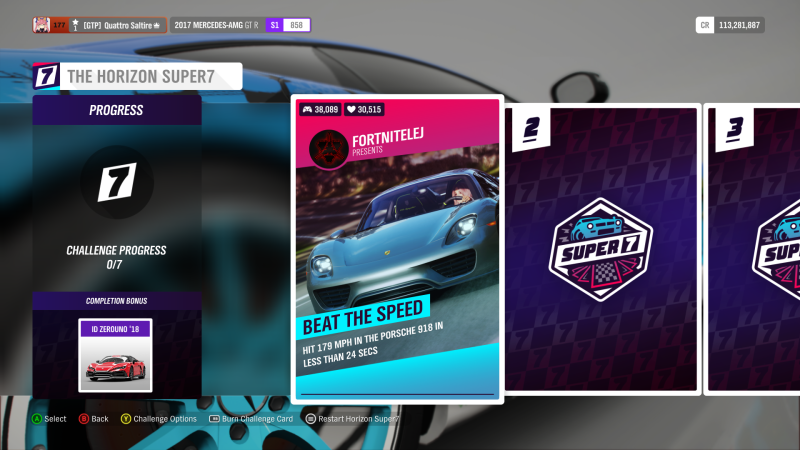 Super7 has a new set of challenges to take you through the Christmas season. Finish each of the seven cards and you'll get an Italdesign Zerouno delivered to your garage.
Events and prizes can be found below:
Rally Around The Christmas Tree
Series: Dirt Racing Series
Cars: Retro Rally
Restrictions: B Class, 700 PI
Prizes: 15,000 CR, 25,000 CR, 1992 Toyota Celica
Solstice Showdown
Series: Dirt Racing Series
Cars: Modern Rally
Restrictions: 100-800 PI
Prizes: 15,000 CR, 25,000 CR, Lancia Stratos
Honda Holiday
Series: Dirt Racing Series
Cars: Honda
Restrictions: A Class, 800 PI
Prizes: 15,000 CR, 25,000 CR, "Happy New Year!" quickchat
The Trial: Flex Your Muscle (Co-Op Championship)
Series: Road Racing Series
Cars: Modern Muscle
Restrictions: S1 Class, 900 PI
Prizes: Holden Commodore VL Group A
Autumn Games – Series 43
Series: Playground Games
Cars: French cars
Restrictions: B Class, 700 PI
Prizes: "Ho Ho Ho!" quickchat
Super7 – Autumn
Completion Prize – Italdesign Zerouno
Rannoch Shelf Danger Sign
Season Objective: 561.0 ft
Derwent Reservoir Speed Trap
Season Objective: 190 mph
Toft Speed Zone
Season Objective: 135 mph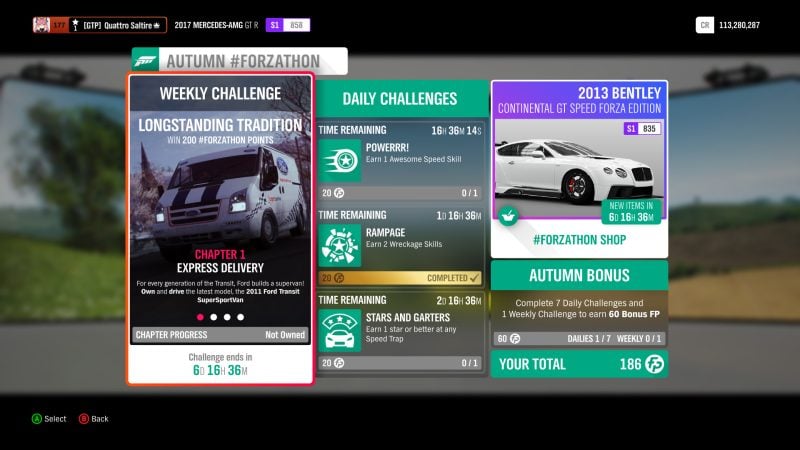 Forzathon Events
Forzathon wants to help Santa in delivering presents this year by putting the spotlight on a delivery workhorse, the 2011 Ford Transit SuperSportVan. Jump aboard in order to get things rolling.
Up next, show the Transit can hang with the best by winning 2 Road Racing Series sprint events. After that, head into town to cause chaos as you'll need to earn a total of 8 Binman Skills.
Finally, prove nobody will stop you from delivering presents by earning 10 Trading Paint Skills to close out Autumn's challenges.
Forzathon Shop
Old and new are showcased in the shop this week, with a special Bentley Continental GT Speed Forza Edition taking center stage.
The standard GT Speed showcases the hidden performance prowess of Crewe's bruising grand tourer. Underneath the acres of opulence is a car that can worry full-on supercars in a drag race. Despite many of its mechanicals coming from the Volkswagen Phaeton, the Continental is one of the fastest cars to wear the Flying B badge.
As standard the 6.0-liter, twin-turbocharged W12 pumps out 617hp, which is necessary in a car weighing well north of 5,000lb. The Forza Edition adds a bodykit inspired by the Continental GT3, a conversion to rear-wheel drive and a Clean Skills boost.
You have to fork out 599 Forzathon Points for the Bentley, but this will save you time against trying to win one in a Wheelspin.
Joining the big Bentley is the much more petite Renault Alpine A110 1600S.
This sports car was the first to win the World Rally Championship back in the early 1970s. Its diminutive size helped with handling the twisting stages on its way to six victories during the 1973 season. The road car is often seen as one of the most beautiful machines of its time.
Unlike its 2017 successor, the classic A110 features a rear-mounted 1.6-liter engine making 123hp. Along with weight being under 1,600lb, the A110 will be serious fun when you push it hard.
You'll need another 599 FP for the Alpine, but you'll get one of rallying's all-time greatest icons in return.
This week's clothing and novelty items are the Santa's Tash and The Planets – Jupiter horn.
See more articles on Forza Horizon 4 Season Change.