The UK is turning up the heat once more as Summer returns to the festival in Forza Horizon 4. We're now in the beginning of Series 64, meaning a fresh selection of events and rewards to be claimed over the next four weeks.
It's a mixed-up set of prizes to kick off the new series, along with updated goals for completing both the full and seasonal playlist to the 50% and 80% targets.
Barbequing Tires
The seasonal playlist has just one car up for grabs: the 1967 Mercedes 280 SL.
This is the second generation of Mercedes to use the SL name, following the legendary 300SL Gullwing, and took a very different approach. Instead of a radical aerodynamic body, the Pagoda SL went in a more conventional direction while retaining its roots as a grand tourer.
Under the squared-off body lies a 2.8-liter straight six making a respectable 180hp in a car where looking good matters more than going fast.
Those after cars that are more difficult to acquire from the playlist or the Autoshow can also pick a Horizon Backstage Pass.
Completing the full playlist will net you another backstage pass as well as a Mosler MT900S.
It's a simple start to a new series of Photo Challenges with #GoingOffroad. Your task is to simply snap any Offroad car in your possession. You can also jazz up your pictures by running through dirt trails or any hard terrain. Seasonal championships feature a classic and modern mix, including the Plymouth Fury and Maserati Levante.
One standout is the 2008 Lamborghini Reventon. This limited run machine caused a huge stir by abandoning simple design for very aggressive lines and angles. It also laid the styling foundations for the Aventador further down the line.
The inspiration for the Reventon came from the F-22 stealth fighter jet, with aircraft cues also shown on the digital dashboard. Its mechanicals are lifted from the Murcielago LP640, though the 6.5-liter V12 has been given slight tweaks to produce 641hp as well as a soulful roar.
To claim the Reventon, you'll need to win the "Forest Run" championship first.
Monthly Rivals goes back in time as you'll get to hustle the Mercedes W154 around Bamburgh Coast Circuit.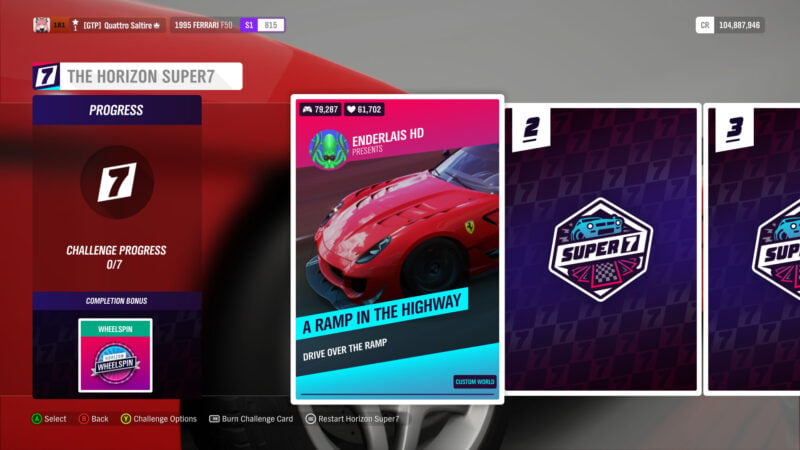 Super7 brings a new remix of community content to test your abilities in the new series. Complete all seven cards and you'll be rewarded a Wheelspin.
Events for Summer are below:
Commuter's Cup
Series: Road Racing Series
Cars: Bowler EXR S
Restrictions: 100-900 PI
Prizes: 15,000 CR, 25,000 CR, Maserati Levante
Racing Through The Years – 50s
Series: Cross Country Series
Cars: 1950s Collection
Restrictions: D Class, 500 PI
Prizes: 15,000 CR, 25,000 CR, Plymouth Fury
Forest Run
Series: Road Racing Series
Cars: Anything Goes
Restrictions: 100-900 PI
Prizes: 15,000 CR, 25,000 CR, Lamborghini Reventon
The Trial: Midsummer Mazdaness (Co-Op Championship)
Series: Dirt Racing Series
Cars: Mazda
Restrictions: B Class, 700 PI
Prizes: Trial Leather Jacket
Summer Games – Series 64
Series: Playground Games
Cars: Retro Rally
Restrictions: B Class, 700 PI
Prizes: Blue Aviators
Super7 – Summer
Completion Prize: Wheelspin
Northbridge Speed Trap
Swan Dive Danger Sign
Season Objective: 984.3ft
Sudmoss Speed Zone
Forzathon Events
Forzathon goes big this week by highlighting one of the fastest street cars ever made: the 2011 Bugatti Veyron SS. Fire up this engineering masterpiece to get rolling.
Up next, use all 1,200hp to full effect as you'll need to earn a total of 30 Ultimate Speed Skills. Following on from that, you'll need to keep that speed to earn a total of 12 stars from Speed Traps.
Finally, turn the Veyron into an unexpected gymkhana machine by earning four Ultimate Skill Chains.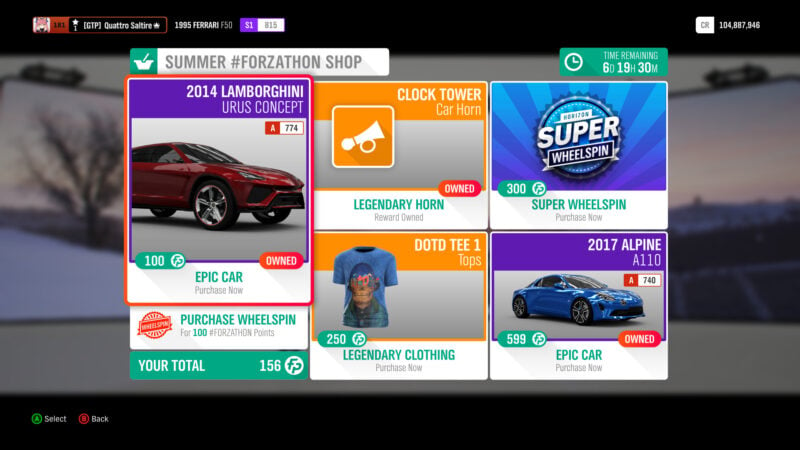 Forzathon Shop
Lamborghini and Alpine take up the mantle in the shop this week, with the raging bull leading the way with the 2014 Lamborghini Urus Concept.
When it was first revealed, the Urus was hugely controversial, with a supercar maker leaning towards the growing premium SUV market. However, Lambo already has SUV experience with the LM002, and the Urus aimed to bring the "Rambo Lambo" to new markets.
In concept form, the Urus features a 4.0-liter, twin-turbocharged V8 hybrid making 552hp. The production Urus would use the same engine but with 641hp.
You'll need just 100 Forzathon Points for the Urus concept, which will get a lot of people talking about you when you head for the trails.
Something much less controversial is the 2017 Alpine A110.
With sports cars becoming ever more technically complex and heavy, Renault took an approach that put driver involvement first when reviving the Alpine brand. Thanks to a weight-saving obsession, the new A110 weighs in at just over 2,400lb.
The 1.8-liter turbocharged engine may produce just 248hp, but the A110 can still worry the Porsche Cayman in acceleration. A switch to a mid-engined layout from the rear-engined original also brings a very delicately balanced car when it comes to handling.
You will need to stump up 599 FP for the A110, but this is proof that less power and less weight can yield just as good results as more complex engineering.
Novelty items and clothes for this week are the Clock Tower horn and the Day of the Dead T-shirt.
See more articles on Forza Horizon 4 Season Change.