Playground Games has officially revealed the first expansion for Forza Horizon 5, confirming a return to the celebrated Hot Wheels franchise following a leak on the game's Steam page earlier this week.
As we anticipated, players will get to explore an all-new map, known as the Horizon Hot Wheels Park, along with more than 125 miles of new roads. There will also be upgrades to the Hot Wheels tracks featuring magnet sections, ice, water flume and rumble tracks.
The map will also feature four new biomes to explore: Giant's Canyon, Ice Cauldron, Forest Falls, and the Horizon Nexus. That'll send you into areas with new conditions to deal with, including deep snow and bubbling lava, while the Nexus is where the main Hot Wheels festival will be based — suspended well above ground.
A new Horizon Story will take players through the history of Hot Wheels in a journey to becoming a Hot Wheels Legend. New Accolades, PR Stunts, collectibles and seasonal events will keep you very busy. If you're keen to run through the expansion with friends, you can now play together online from the very beginning when you arrive at the Hot Wheels festival.
Eventlab also gets a new Hot Wheels Creation kit with over 80 track and stunt pieces. Improvements to the Eventlab toolset will allow you to easily snap these pieces together, to create and share some of the wildest tracks your imagination can come up with.
Ten cars are also set to arrive with the new add-on, including four life-size variants of popular Hot Wheels cars from the Hot Wheels Garage. The car list is as follows:
2018 Hot Wheels Chevrolet COPO Camaro
2013 Hot Wheels Baja Bone Shaker
2012 Hot Wheels Bad to the Blade
2000 Hot Wheels Deora II
2021 Hennessey Venom F5
2020 Sierra Cars #23 Yokohama ALPHA
2019 Brabham BT62
2019 Italdesign DaVinci Concept
2018 Subaru WRX STI ARX Supercar
2006 Mosler MT900 GT3
However the eagle-eyed player will also spot some other cars in the video, including those from the Forza Horizon 4 Hot Wheels DLC pack. The Hot Wheels 2JetZ, Nash, and Ford F-5 Duelly all put in an appearance in the trailer.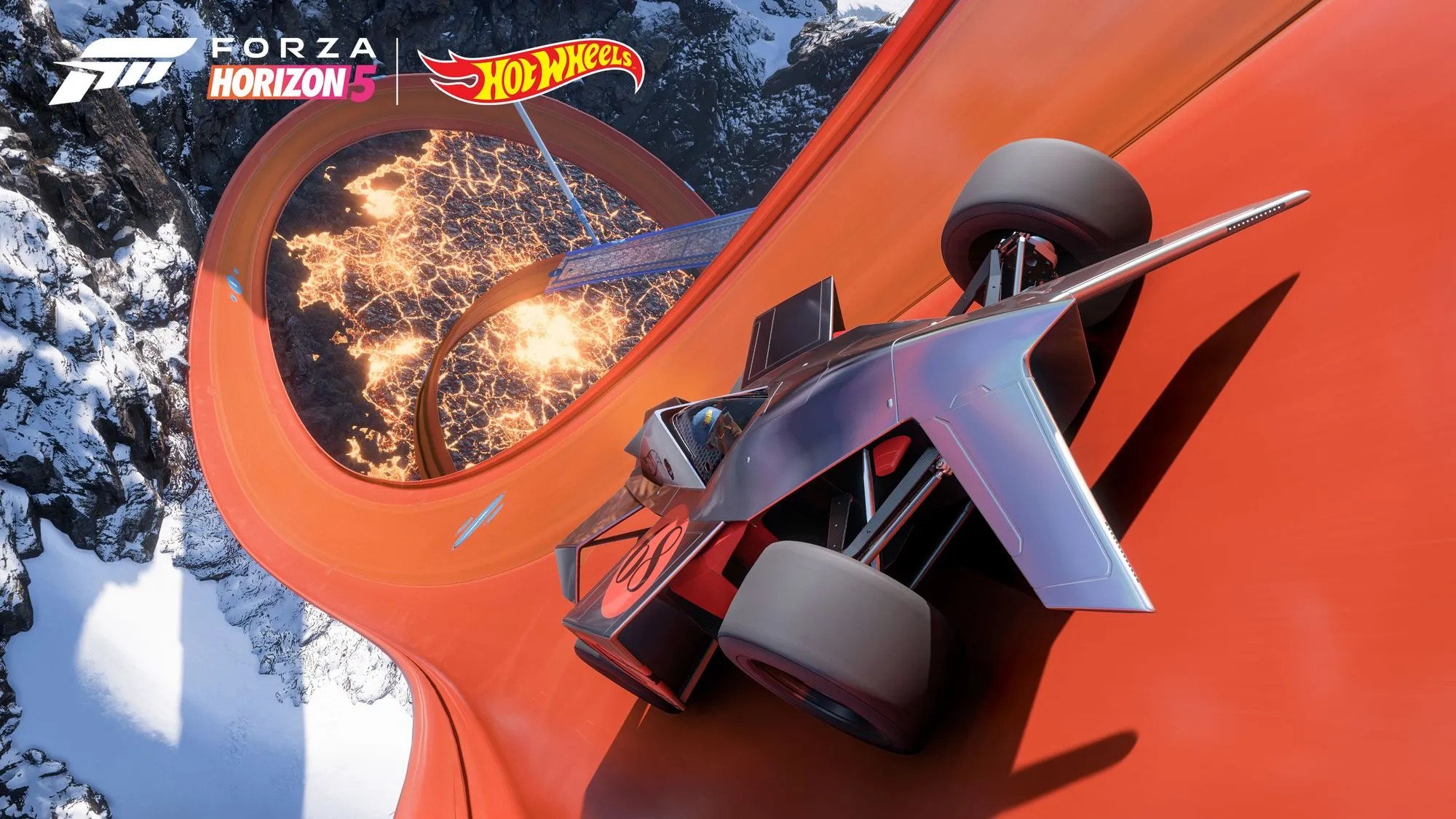 New players who purchase the expansion will need to complete the first 15 minutes of the main game before they can access the new map and content.
The Hot Wheels add-on arrives on July 19 and is included in the Forza Horizon 5 Premium Edition, Premium Add-ons Bundle, and the Expansions Bundle. It's also available for standalone purchase for $19.99.
See more articles on Forza Horizon 5 DLC, Forza Horizon 5 Game Updates, and Hot Wheels.