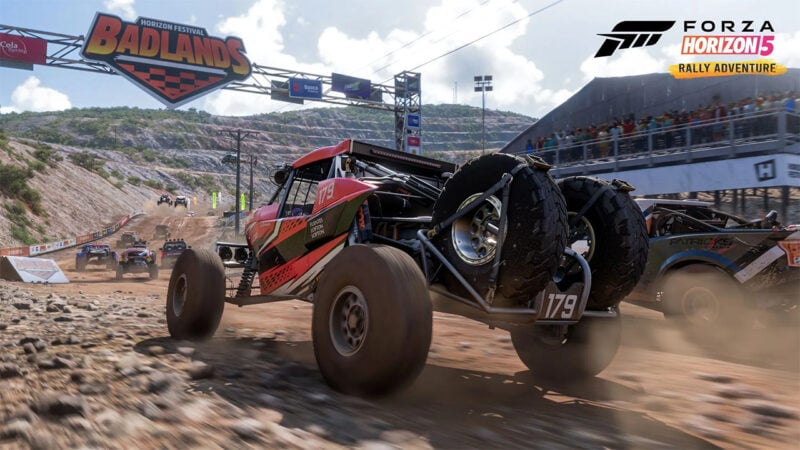 Just over a week since Playground Games revealed the second expansion for Forza Horizon 5 — Rally Adventure — we've got a first look at the map of the brand new area that will host the events.
PG was playing a little coy during the official expansion reveal steam last week, keeping the map under wraps and only stating that it would be revealed at a later date. However the official Twitter account has now spilled the beans, showing off the new game region in the Summer/Wet season:
Although there's no additional information at this time, what we see of the map does reveal a few things. Firstly, and probably expectedly, it seems that it will be affected by Horizon 5's seasonal changes — Wet, Storm, Dry, Hot — and we will probably see map reveals with the different conditions in the coming weeks.
It's difficult to determine the size of the map, but we're assuming that "Valle de Foreanos" ("Valley of Foreigners") is approximately the same size as the Dunas Blancas region given the spacing of the dune ridges. That would make it around one-sixth the size of the main map, and a little less when taking into account the road-free area on the west.
We can see a number of different regions including the "Orogrande" ("Big Gold") quarry, the town of Pueblo Artza, the Valley of Pools ("Valle de Pozas") and a waterfall that feeds it, and a large lake which appears to be called Reserve of Reeds. Notably, none of the names on the map directly correspond to real places in Mexico, unlike the main map.
There are perhaps fewer unpaved roads than you might think a rally expansion would feature, primarily centered on the river/mountain/pasture area at the north and the quarry, dunes, and "Joya Marron" ("Brown Jewel") area to the south. We can also see a "Bike Track" marking, which is curious for a game which features no usable bikes.
When Rally Adventure arrives on March 29, it'll bring ten new cars as well as the new map area, featuring 27 new driving missions and a new optional "rally" mode which will see you lose the driving line in favor of co-driver instructions shouted from a helicopter.
The expansion is included in the Premium Edition of the game, or the Premium Add-Ons or Expansions bundles. A standalone pack will also be available, which we expect to be priced to match the $/€19.99 of the Hot Wheels expansion.
See more articles on Forza Horizon 5 Game Updates.