We're in the closing stages of the first Series in Forza Horizon 5, as Spring has arrived with a new set of Festival Playlist challenges and events for players to get to grips with over the next seven days.
Although FH5 has sailed past ten million players — currently just over 11.5 million in fact — some might not be used to the new format for these seasonal events. Rather than scoring percentage completion as in FH4, you pick up points in FH5 — and points make prizes in this game.
This week will see players racing trucks, snapping vans, sliding about, and trying to find hidden treasure as they try to rack up a sufficient number of points to grab a pair of very hard to find cars.
Series 1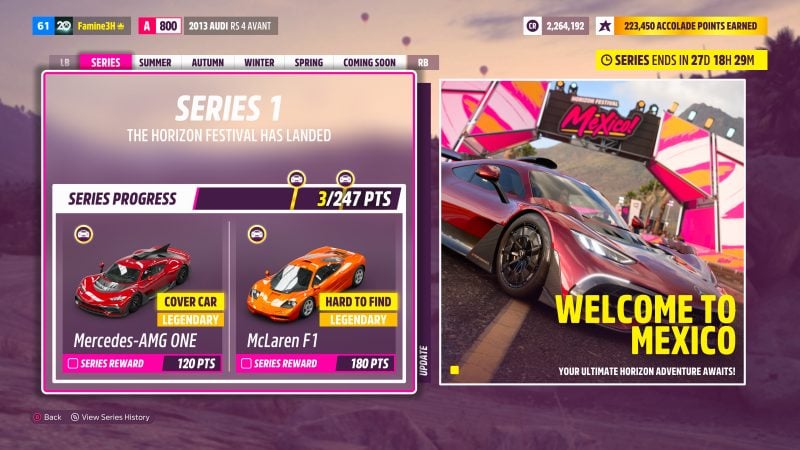 As we're still in Series 1, the two main prizes are still up for grabs unless you've already been active enough to score both.
Firstly, there's the Mercedes-AMG ONE, a car not yet available for public consumption — that'll be in 2022 at the earliest — and built around the legendary Mercedes 1.6-liter V6 W Power hybrid F1 engine. Needless to say, it's fast.
Faster still though is McLaren's F1. This 240mph supercar is no longer the fastest in the world, but is still the fastest naturally aspirated car and which many enthusiasts consider hasn't been beaten as a complete package. Indeed prodigious top speed was never the point, only a happy accident.
The two cars are available for a cumulative Series 1 score of 120pt and 180pt respectively, and with 61 points officially available this season that means there's still a chance to get both if you haven't so far.
All of the Spring (or Hot Season) challenges below will run through to 1430 UTC on Thursday December 9, when the Summer/Wet season starts again with Series 2.
Challenges
The newest challenge type makes a return this week, with a Treasure Hunt for players to embark upon. If you've played the Fortune Island expansion to FH4 it'll seem very familiar, but it's now part of the regular seasonal challenge rotation.
First of all you'll need to pick up a Ford Mustang of any kind, and score a cumulative ten stars from any kind of PR Stunt: Trailblazers, Speed Zones, Speed Traps, and Danger Signs. That will earn you a "clue" to the location of the treasure, which takes the form of a red circle on the map similar to the lilac circle you see with Barn Finds.
We won't spoil anything for you, but you'll want to look just north of the main motorway, near the east side of the Cordillera interchange. You'll pick up three points and 50,000cr as your reward
For your Photo Challenge, #ShoppingSpree, simply photograph any vehicle from the Vans & Utility class in Guanajuato. You'll likely find a lot of them hanging about the town this week as other players go for the challenge, but you can always take your own, with two points and a "Special Delivery" Forza LINK message for the prize.
Again The Eliminator shows up in the same slot, making it four from four and suggesting it's a regular thing. Simply take part in any Eliminator session and finish 30th or better for two points and the obligatory "La Cucuracha" vehicle horn.
Lastly there's a challenge for the drifters out there. You'll need to find a Horizon Open Drift session (marked by pink circles on the map with the word "Drift" in them), and just get busy sliding. Five Ultimate Drift skills, awarded for a particularly long-lived slide, awards 25,000cr and two points.
Photo Challenge: #ShoppingSpree
Cars: Vans & Utility
Location: Guanajuato
Challenge: Photograph any Vans & Utility vehicle in Guanajuato
Reward: 2 points, "Special Delivery" LINK
Horizon Open: Getting Sideways
Cars: Any
Location: Horizon Open Drift
Challenge: Perform 5 Ultimate Drift Skills in Horizon Open Drifting
Reward: 2 points, 25,000cr
The Eliminator: Battle Royale
Cars: Any
Location: The Eliminator
Challenge: Finish 30th or better
Reward: 2 points, La Cucuracha Horn
Treasure Hunt: Hold Your Horses
Cars: Ford Mustang (any)
Location: PR Stunts (any)
Challenge: Earn 10 stars from PR Stunts in any Mustang; locate Treasure Chest
Reward: 3 points, 50,000cr
Season Events
There's no EventLab challenge this week, as three PR Stunts, three championship races, Horizon Tour and Playground Games fill up the eight slots.
The Avenida Speed Trap requires you to hit 152mph in any S1 Class Nissan (up to 900PI) through the trap located in the eastern town of Playa Azul. For the Speed Zone you'll be going off-road in any A Class Modern Rally Car, to average 102mph on the dirt track beneath the Gran Puente suspension bridge.
Finally for the stunts, you'll need to take any S1 Class GT Car to a jump of over 300m (984ft) at the roundabout at Los Jardines. Luckily there's a large motorway beforehand to build up speed. Each stunt event earns you two points and a Wheelspin.
The three Seasonal Championships are worth 15 points between them, or five apiece, and have some unusual requirements this week.
High Noon will have you racing Retro Saloons from any class up to B700 — so you could enter a D100 car if you felt like it, for some reason — in three Dirt Races. Come out on top in the three races and you'll score the points and a Jaguar F-Type.
Holidays Are Comin' has a similarly broad range of 100-800 PI vehicles. Anything from the Truck class is eligible for the three Road Races, with a Jingle Bells horn alongside the points should you win. Well, it is December after all.
Finally, and more normally, Drop It Like It's Hot will put you in S1 Class Retro Supercars for a set of three Street Races, with a Super Wheelspin as the sweetener reward.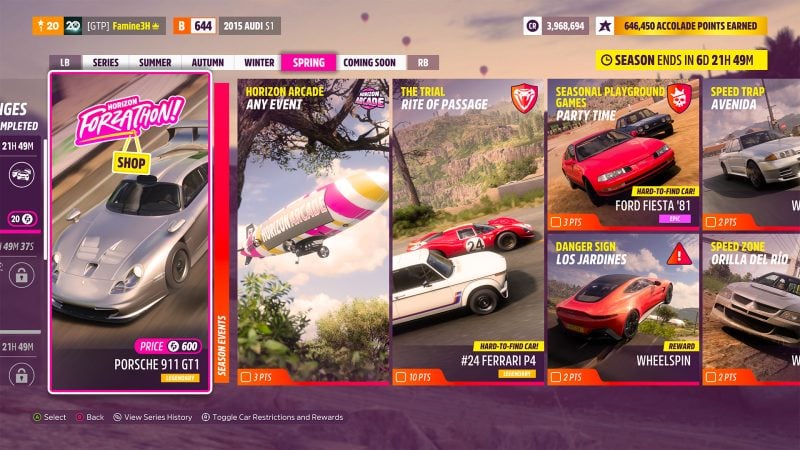 The final four events require either an active Xbox Gold subscription on your console, or to play through PC, as they are online multiplayer events.
Horizon Tour and Horizon Arcade take their usual spots. Each event is a co-op affair, working with other players to either beat the AI in a race (Tour) or to rack up high scores through a series of unusual challenges (Arcade).
While the first major patch for FH5 went some way to solving online play issues, it's still not quite there yet and it may be worth trying to organize specific times via the GTPlanet forums. It'll be worth saving your Arcade run until Monday December 6, as there's a relevant Daily Challenge.
The Trial is like Horizon Tour but with the AI buffed up to max. You'll need to work co-operatively with other players to beat a team of "Unbeatable" rank Drivatars, requiring team-mates who know that they need to assist you and batter the AI.
You can drive anything from the Classic Sports Cars class, with a PI range of 100-800, but quite why you'd pick anything other than an A800 tuned until it whistles escapes us. Beat the AI in a best-of-three and you'll take home 10 points and the ultra-cool Ferrari 330 P4.
That leaves Playground Games, which this week is over at the Baja Circuit near the west coast. Again you're allowed a PI range of 100-700 (which means B700 for everyone, no doubt) as you face a team of humans in a selection of team games. The most round wins out of five matches of Zombies, King, and Flag Rush wins the event, but you only need to take part until it finishes to earn the three points and a Ford Fiesta XR2.
Danger Sign: Los Jardines
Car: S1 Class, GT Cars
Location: Los Jardines
Challenge: 300m/984ft
Reward: 2 points, Wheelspin
Horizon Arcade
Car: Any
Location: Horizon Arcade (any)
Challenge: Complete the Event
Reward: 3 points
Horizon Tour: Co-op Championships
Car: Any
Location: Horizon Tour
Challenge: Win the Championship
Reward: 3 points
Speed Trap: Avenida
Car: S1 Class, Nissan
Location: Playa Azul
Challenge: 152mph
Reward: 2 points, Wheelspin
Speed Zone: Orilla del Rio
Car: A Class, Modern Rally
Location: Gran Puente
Challenge: 102mph
Reward: 2 points, Wheelspin
Seasonal Championship: Drop It Like It's Hot
Car: S1 Class, Retro Supercars
Location: Cordillera
Challenge: Win the Championship
Reward: 5 points, Super Wheelspin
Seasonal Championship: High Noon
Car: PI 100-700, Retro Saloons
Location: Mulege
Challenge: Win the Championship
Reward: 5 points, Jaguar F-Type
Seasonal Championship: Holidays Are Comin'
Car: PI 100-800, Trucks
Location: Bahia de Plano
Challenge: Win the Championship
Reward: 5 points, Jingle Bells Horn
Seasonal Playground Games: Party Time
Car: PI 100-700, Retro Hot Hatch
Location: Baja Circuit
Challenge: Complete the Championship
Reward: 3 points, Ford Fiesta XR2
The Trial: Rite of Passage
Car: PI 100-700, Classic Sports Cars
Location: Horizon Rush Outpost
Challenge: Win the Championship
Reward: 10 points, Ferrari 330 P4 1967
Forzathon Events
This week's Forzathon Events set you up with a Ferrari 488 Pista. Buy and drive the car to get "New Benchmark" underway.
Stage two should be a breeze, as you'll need to score five Ultimate Speed skills. That means hitting 200mph in the Ferrari either five separate times or staying above 200mph for a long while; a run straight up Mexico's main highway should see this challenge completed.
Now you'll need to take the 488 to three Road Racing Series events (the blue race icons on your map) and win.
The final stage might be tricky given Mexico's mild lack of traffic, so you might want to switch to Horizon Solo mode to increase your chances. You'll need to score three Daredevil skills to complete the challenge, each of which requires you to pick up three successive Near Miss skills — either passing another car closely, or coming close to hitting one coming the other way. Finish that and you'll get five season points and 160FP.
The Daily Challenges are each worth one point, and rather than FH4's three-day window have seven days to complete them.
First up this week is Perk Up, requiring you to buy three Car Mastery Perks. To do this, go into your pause menu, pick Cars, and Car Mastery, and then use your accumulated Skill Points to buy any three perks, for any car.
Playing By The Rules unlocks Friday, and you'll need to score three Clean Racing skills in a Cross Country race. This should be easy enough — just avoid hitting any fixed objects.
Speed Thrills will be Saturday's challenge, with the goal of hitting three stars at any Speed Trap. You should have an S1 Class Ferrari 488 Pista by this point, so you probably can't miss it.
On Sunday you'll be able to access Racing Miles. The challenge is to drive 10 miles in Road Racing events, and again you can pair this up with the Ferrari 488's challenge. Hit the three wins requirement for that and you should complete this.
Monday brings Unlimited Prowess, which needs you to beat Round 3 of any Horizon Arcade Event. For Arcade you'll need to work with other players in a series of events to score points, with three rounds in total. Finish the third round together and you'll complete this challenge — and it pairs up with a Seasonal Challenge to do the same.
Hold Fast unlocks Tuesday, requiring you to stay above 150mph for 15 seconds in any car… like a Ferrari 488 Pista, for example…
The final Daily for the week is The DK, with the goal of scoring three stars in any one Drift Zone.
Rack up 24 points across any of the events this week and you'll unlock the RAESR Tachyon Speed, with the Toyota Sprinter Trueno available at 44 points.
The Forzathon Shop returns again with a new set of items. There's the regular offerings in the shape of a Wheelspin for 80 Forzathon points, and a Super Wheelspin for 300FP, with a Beautiful Morning musical horn and The Robot emote for your avatar at 75FP each.
On the vehicle front for this week are two German supercars from very different eras. The modern example is Audi's V10-engined R8 Plus, which saw a successful spell in GT3 racing as well as being part of Ingolstadt's showroom offerings.
By contrast, Porsche's 911 GT1 Strassenversion was a homologation special for the unique ruleset around top tier sports car racing in the 1990s, and you'd have needed very good connections and very deep pockets to get hold of one of the 20 ever made.
Thankfully it's not so limited in the FH5 world, and you can pick it up for 600FP, however it's also available in the Autoshow for 2.5m credits, so you may want to save your valuable Forzathon Points. The same applies to the 400FP Audi, although it's a good deal less expensive at 242,000cr.
Featured image courtesy of ImaRobot.
See more articles on Forza Horizon 5 Season Change.