A new selection of events is now available for the third week of Series 6 of Forza Horizon 5, with the weather moving into the dry spell of Winter.
The current theme of "Horizon Customs" continues, with events keyed to all the various ways you can modify the world around you. From custom cars to custom races with the game's powerful EventLab tool, S6 is a celebration of user-generated content.
In addition to all the modified creations, Drift Club returns to Horizon with S6. This new Horizon Story, which sees FH4's guru of grip loss Rob travel to Mexico to ignite tires, is part of the Monthly Challenge across the Series. That means you'll want to get it finished before Series 7 makes its debut, in order to score maximum points for your collection this month.
As always the Series also brings new cars, new collectibles, and new EventLab props to play with, while there's also a single new Evolving World Accolade for picking up all four of the Playlist cars this Series.
A slightly larger Playlist compared to recent Series sees 230 points now available across the four weeks. The reduced prize point requirements introduced in S4 will remain, along with the Exclusive cars being available for the lower value.
Series 6
As we're just passing the halfway point of the season the reward cars remain the same, but you should already have one of them in your garage and pick up the other during this season.
For 80 points across the Series, you'll win the Honda NSX-R GT. This homologation special model was based on the lightweight Honda NSX-R, but came with a slightly longer and wider body to allow the brand to run a Super GT car based on it.
You'll probably spot the huge snorkel, used to channel cold air into the race car's intake, but it doesn't function on the road car. There's also additional aero devices but, crucially, no extra power compared to the NSX-R.
Honda only ever made five, at an eye-watering $300,000 apiece, but you can drive the digital version for free — and with 115 points available on the Playlist before this season, it should already be part of your fleet.
With the additional points in this season you should also be scoring the higher-tier reward car, the Ford GT40 MkII.
This Le Mans-winning race car was the result of a program of spite. After a failed attempt to buy Ferrari, the jilted Ford set out to beat the brand in its most valued arena: the race track.
Ultimately a product of the unlikely automotive epicenter of Slough in the UK — more famous for its Mars factory than any motorsport ambitions — the GT did just that, locking out the podium in 1966 to start a four-year undefeated run at Le Mans.
The #2 car here is the one that won that first race, after Ford attempted to engineer a dead-heat between the Bruce McLaren/Chris Amon car and the #1 Ken Miles/Denny Hulme car; under endurance rules, the #2 car had covered a few more yards in the race due to starting behind the #1 and was declared the winner.
Neither car is a Playlist exclusive — the NSX is harder to find, as it doesn't appear in the Autoshow — but they are both very expensive machines, so well worth scraping the 160 points together.
Series 6 will run through to 1430 UTC on Thursday, April 28, with the Winter season lasting until the same time on Thursday, April 21.
Winter
Winter's Playlist offers up another pair of performance machines, both produced in vanishingly small numbers.
For 20 points you'll be able to pick up this week's Playlist-exclusive car, the ATS GT. Produced by the revived Automobili Turismo e Sport brand, the GT is considerably less Italian than you might think. It is, in fact, a McLaren 650S under the skin.
That means you get the same carbon fiber "MonoCell" tub, and 3.8-liter V8 twin turbocharged engine, with roughly the same power and weight as the 650S — although ATS would turn the wick up to almost 700hp at the customer's request.
Each of the 12 cars ATS built would set you back some $1,000,000 — or more, depending on how much you wanted to customize it — which is quite the premium over the $280,000 McLaren upon which it's based.
Porsche's 911 GT1 Street Version (or Strassenversion) is the 40-point car this week and, surprisingly for a late-90s Le Mans homologation special, it's actually the less rare of the two cars.
Built to win Le Mans, the 911 GT1 was pretty close to being a rebodied Porsche 962 but in order to be eligible to race in the LMGT1 class, Porsche had to make at least 25 roadgoing versions.
That is exactly what the brand did, eventually. While the original, class-winning race car had a 993-style front end, the 1997 update brought the fried-egg lights of the 996. Porsche produced exactly 25 examples of the '97 car, selling for $800,000 apiece, before the final '98 version of the GT1 successfully won Le Mans.
Although slightly detuned, for emissions, the Strassenversion still packs 544hp from the 3.2-liter flat six twin turbo, and is good for close to 200mph.
You can buy one for 2.5m credits direct from the Autoshow, so it's a decent saving if you can score 40 points across the week — but you will need access to online multiplayer to do so.
Forzathon Events
You'll be getting used to being the smallest car around this season, as the Weekly Challenge, Peelin It, centers on the tiny Peel P50. While the first stage of these challenges is usually easy — own and drive an example of the car — it's not quite so straightforward this week.
The P50 has only appeared one in the game, as an exclusive prize car for Horizon Secret Santa. Luckily though it's in the Forzathon Shop this week, at a steep 500FP, and there's always the Auction House too.
Once that's out of the way, you'll need to smash 10 pinatas in the P50. You can either do this in EventLab or in a Horizon Arcade Chaos if you don't fancy searching for the usual, easy-win custom levels.
Next up, tune your P50 into the A Class performance bracket (701-800 PI), and hit 110mph in the tiny three-wheeler. Don't forget the brave pills.
Finally you only need to snap the P50 to claim the reward: five season points and 80FP (doubled to 160FP if you own the La Casa Solariega player house).
The Daily Challenges are a straightforward bunch this week. Each day unlocks a new challenge, with seven days to complete each and one season point for doing so — with 10FP (again, doubled with the player house) as a sweetener.
Mega Evolution starts the season off. Grab any Unlimited Offroad category car, tune it up to S1 Class (901-998 PI) and win any Cross Country Racing Series event.
Show your generosity on Friday with A Little Something, by sending a Gift Drop to any player. You can do this at any Barn Find location, or directly through the pause menu; any gift sent to any player will complete the challenge.
Saturday's task will send you back to the main Horizon Festival. Simply take a photo of the cargo plane — you can't miss it, but it's also the Launch Control Danger Sign — to get the reward.
Splash Of Colour will require a trip to the paintshop. Paint the hood (or the "bonnet", as the task states) of any car and you'll complete this challenge.
Monday's task will need you to Bring Your A Game. Simply play any Event Blueprint in any A class (701-800 PI) vehicle; you can browse for suitable events in the pause menu under Online/EventLab, Event Blueprints.
First Love then sets you the challenge of winning any Street Racing Series event in an S1 class (801-900 PI) Hot Hatch vehicle.
Finally there's Holden On Tight. Just take a picture of any Holden vehicle — it doesn't even need to be your own — to tick this one off the list.
Season Events
There's a more even mix of online multiplayer and solo events this week, with EventLab again providing two of the activities for the season.
Jungle Vortex sends you to the Aerodromo en la Selva for a three-lap race against an AI grid. You can pick any car in the A Class (701-800 PI) and Rally Monsters category.
The event itself is like a giant Hot Wheels set in the sky, as you loop around tubes over the runway and hangars. Be careful not to fall off the inside — or ramp up and over the outside — although there is a major shortcut possible as there's only three checkpoints…
Complete the three laps at the head of the field and you'll win three points and a Volkswagen Type 2.
The other EventLab race is open to any car of any kind, but it's not really a race. As the name suggests, Photo Studio v3 is in fact a series of objects intended to provide a backdrop for your car to allow you to take awesome photos.
You only need to drive a largely straightforward path to the finish line to complete it, taking three points and a Photo Hoodie clothing item, but this one's all about the photo opportunities afterwards.
One PR Stunt awaits you, with the Cloverleaf Speed Trap near the main highway filling that spot. Take any B Class (601-700 PI) car from the Vintage Racers category to 175mph or more to win two points and a Super Wheelspin.
Finally there's the Seasonal Championship, A Whole New World. This is a three-race series against Highly Skilled AI Drivatars, this week taking the form of a Road Racing Series event.
It'll be a quick one, open to cars in the S1 class (801-900 PI) and the Super GT category. Top the points table after the three races and you'll score five season points and win a 2017 Bentley Continental GT.
EventLab: Jungle Vortex
Car: A Class, Rally Monsters
Location: Aerodromo en la Selva, Airfield Cross Country Circuit
Challenge: Win the Race
Reward: 3 points, Volkswagen Type 2
EventLab: Photo Studio v3
Car: Any
Location: Teotihuacan, Teotihuacan Drag Strip
Challenge: Finish the Race
Reward: 3 points, Photo Hoodie
Speed Trap: Cloverleaf
Car: B Class, Vintage Racers
Location: Teotihuacan, Cloverleaf Speed Trap
Challenge: 175mph
Reward: 2 points, Super Wheelspin
Seasonal Championship: A Whole New World
Car: S1 Class, Super GT
Location: Guanajuato, Bola Ocho Circuit
Challenge: Win the Championship
Reward: 5 points, Bentley Continental GT '17
Three single online multiplayer events await you this week, with The Trial being joined by Seasonal Playground Games and a Horizon Arcade event. As usual, you'll need to either play on PC or have an active Xbox Gold subscription to take part in it.
Horizon Arcade is its usual relatively straightforward event. Head to either of the pink Arcade zones on the map of any type — Air, Chaos, Drift, Speed, and Wreckage — and complete all three rounds within the ten-minute time limit to win three season points.
Seasonal Playground Games this week sends you to the Baja Circuit for Forward Thinking. That's a hint at the car's required: anything front-wheel drive, fitting into the C class (501-600 PI) performance bracket)
You'll compete with a team of up to five other players against a squad of six rival humans over a best-of-three set of Flag, Infected, and King games. Win, lose, or draw (if that's even possible), you'll take three season points and a 2016 Honda Civic Type R.
The Trial is usually the hardest event on any given Playlist. Part of that comes from the fact you're racing against six "Unbeatable" rank AI Drivatars, but often the difficulty is due to being paired with five human team-mates in a co-operative task.
Winning is about teamwork not individual glory. Each driver on each team gains 100pt for every opposing driver they beat, plus a 50pt bonus for a race win. That means streaking away and taking the maximum 650pt for winning is meaningless if the rest of your team isn't scoring well.
Often it's a better tactic to drop back to block one or more of the AI cars in order to help your team-mates pass them and gain points; each 100pt gained by a team-mate is a 200pt swing towards your team. Crashing out your team-mates is a surefire way to lose, so be careful not to trip over each other in the opening stages.
This week the championship features A class (701-800 PI) Sports Utility Heroes in a three-race Cross Country event. That should mean speeds are nice and low, so wild team-mates won't be as much of an issue, but the loose surface driving areas might make for a bit of chaos.
Beat those pesky 'bots over the three races and you'll score ten season points and win BMW X6 M. Don't worry, you don't have to look at it ever again.
Horizon Arcade: Mini Games
Car: Any
Location: Horizon Arcade (any)
Challenge: Complete three rounds of any Horizon Arcade
Reward: 3 points
Seasonal Playground Games: Forward Thinking
Car: C Class, Front-Wheel Drive
Location: Bahia de Plano, Baja Circuit
Challenge: Finish the Event
Reward: 3 points, Honda Civic Type R '16
The Trial: Cross Roads
Car: A Class, Sports Utility Heroes
Location: El Estadio Horizon, Estadio Cross Country Circuit
Challenge: Win the Championship
Reward: 10 points, BMW X6 M
Challenges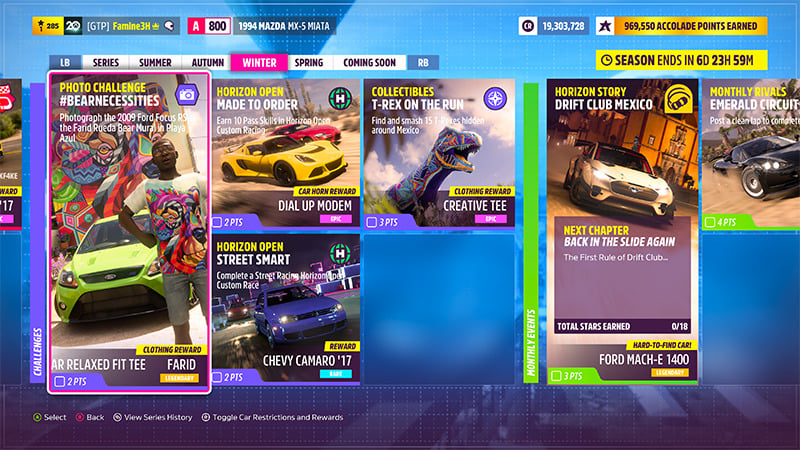 Four more Challenges await this week, and Horizon Open once again features heavily as the new levelling system and Custom Race options are highlighted. These two events will require an active Xbox Live Gold subscription, or playing on PC, to access.
In Made to Order you'll need to enter Horizon Open Custom Race (Online, Horizon Open, Custom Racing in the pause menu) in any category that you choose. Once you're racing, simply pass other players to earn ten Pass skills, during as many races as you like, to win two points and the Dial Up Modem horn.
You can double this up with Street Smart. Just enter and finish any race in Horizon Open Custom Race in the Street Racing category to take two points and the Chevrolet Camaro '17.
This week's Photo Challenge is another mural event. #BearNecessities will send you back to Playa Azul to photograph the Ford Focus RS '09 in front of Farid Rueda's Bear mural.
To save you hunting, the mural is located on the rear of a three-floor, open-roofed, yellow-and-white building just north of the Playa Azul Circuit Road Race start point. Snap the car and the bear to take two points and a "relaxed fit tee" clothing item for your avatar, with the very same bear on it.
Finally there's a Collectibles event, which will have you hunting the map for dinosaurs. T-Rex on the Run requires you to bash into 15 very colorful Tyrannosaurus objects located around Mexico.
These are hidden (despite being 30-foot tall dinosaurs) in all sorts of places, but hunting in the usual landmark spots will be pretty fruitful — you'll find a bunch playing football at Playa Azul. Hit 15 (or one, 15 times, with Rewind) to score three points and win a Creative Tee clothing item.
That leaves the two persistent Monthly Events, with the usual Monthly Rivals event joined by this month's new Horizon Story: Drift Club Mexico.
Drift Club Mexico brings back the Drift Club stories from Forza Horizon 4. Rob, host of the UK's Drift Clubs, has brough the society of slide to Mexico, and the six chapters of the Story form one of the Monthly Events.
You'll need to run through the full story, scoring all 18 stars, to complete the challenge. Do this at any point during the four-week Series and you'll get three points added to each season (12 in total), including previously expired seasons, and a Mustang Mach-E 1400 as a bonus prize.
Monthly Rivals also runs across all four weeks of the Series. Again, you can complete it at any time, gaining four points in each of the four seasons (16 in total).
The challenge for this month is a lap around the Emerald Circuit near the hotels at Palacio Azul del Oceano. You'll need to complete a clean lap in the provided Ascari KZ1R to win the points.
Horizon Open: Made to Order
Cars: Any
Location: Horizon Open Custom Race
Challenge: Earn 10 Pass Skills in Horizon Open Custom Race
Reward: 2 points, Dial Up Modem Horn
Horizon Open: Street Smart
Cars: Any
Location: Horizon Open Custom Race
Challenge: Complete a Street Racing Horizon Open Custom Race
Reward: 2 points, Chevrolet Camaro 2017
Photo Challenge: #BearNecessities
Cars: Ford Focus '09
Location: Playa Azul
Challenge: Photograph the Ford Focus '09 at the Farid Rueda Bear Mural in Playa Azul
Reward: 2 points, Farid Rueda Bear Relaxed Fit Tee
Horizon Story: Drift Club Mexico
Cars: Provided
Location: Horizon Festival
Challenge: Earn 18 Stars in Drift Club Mexico
Reward: 12 points (3 added to each season), Ford Mustang Mach-E 1400
Monthly Rivals: Emerald Circuit
Cars: Ascari KZ1R (Provided)
Location: Palacio Azul del Oceano, Emerald Circuit
Challenge: Post a Clean Lap
Reward: 16 points (4 added to each season)
Forzathon Shop
As usual the Forzathon Shop has refreshed for the week, with a very unlikely two-car garage on offer.
The first of those is the Peel P50. Previously only available as a community-wide gift for Series 2's Horizon Secret Santa, the tiny, three-wheel Peel is the world's smallest production car.
While originally cheap and cheerful at just £199 ($560), the P50 now changes hands for as much as $150,000 — but then there were only 50 ever made, of which just under 30 survive.
If you didn't already win the car back in January, you'll need to spend the 500FP on it as it's required for this season's Weekly Challenge.
Cheaper, but considerably higher on most people's dream garages, is the BMW M1. This mid-engined supercar was the first model of its type from BMW — and the first car ever produced by the fledgling BMW M brand.
Designed as a homologation model for a race car, the M1 features a tubular steel space frame chassis with a 3.5-liter straight six behind the driver's head.
As well as running a one-make series for two seasons — won by Niki Lauda and Nelson Piquet — the M1 raced at Le Mans and in the World Rally Championship as a Group B vehicle.
At 300FP it's not bad value, but the car is also available from the Autoshow for 585,000 credits.
Store items this week are the Wheelspin Win Horn and a Grey Suit outfit for your avatar, at 75FP each. The Wheelspin (80FP) and Super Wheelspin (300FP) are in their usual spots too.
See more articles on Forza Horizon 5 Season Change.