The latest round of Forza Horizon 5's Playlist is now available, bringing more events and challenges for players to get to grips with over the next week.
It's the third season in the four-week Series 11, which is running a special theme of "Rami's Racing History". This takes a look at the history of motoring and motorsport in the real Mexico, with special events in the game's fictional version.
Rami is of course the in-game NPC Ramiro Luiz Miron. You'll have spoken to Rami pretty regularly if you've been playing the game a lot, in both his regular form and two different masked characters. Spoiler alert!
Each week of the Series looks at a different era, and you'll be tackling events in cars appropriate to the time period. Along with that there's a new Horizon Story to play through called "Made in Mexico" which looks at the history of Mexican motoring.
Finally there's the regular new "Expanding World" Accolades available to go with the Series, covering all the new vehicles and the Story available this month.
Series 11: Rami's Racing History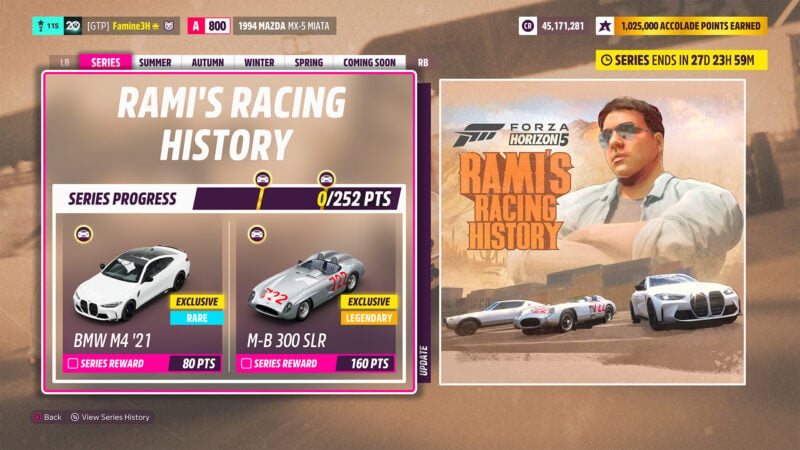 The prize vehicles in this month's Playlist reflect opposite ends of the "Rami's Racing History" timeline. One is a very modern vehicle, new to the series, while the other dates back much further but is considerably more expensive.
Picking up 80 points across the Series — which you should already have long-since done — and you'll win the new BMW M4.
It's a car that very much divides opinions, with the oddest implementation of BMW's kidney grilles yet. However you won't care that much while driving it, as the 504hp Competition model is the most powerful 3 Series derivative ever produced — and you'll need to score the points if you want it, as it's exclusive to the Playlist.
You should also pick up the second car this week and, all things considered, not doing so will be a very expensive mistake.
That's because, at 143m credits in the Autoshow, the Mercedes-Benz W196 300SLR is the priciest car ever to appear in any Forza title.
The price pays homage to the recent record $143m sale of a variant of the car, one of two "Uhlenhaut Coupe" specification models built from the nine W196 chassis. It's not this precise car, but then if it were to ever come up for sale it might break that record.
Win the #722 and you're getting a legendary vehicle, which set the all-time course record for the Mille Miglia at just over ten hours at the hands of Sir Stirling Moss. The time was so fast that Moss beat his team-mate — none other than world champion Juan Manuel Fangio — by more than half an hour.
Series 11 Winter/Dry Season
After visiting the pre-70s era and the 70s to 80s era, this week it's the turn of the 90s and 00s. The season reward cars reflect that with a supercar from the time everyone was making them, and a new-to-game vehicle.
That's the Subaru Legacy RS, which comes in at the lower, 20-point threshold this week. It's effectively a homologation model for the Group A rally car, which was the first Subaru campaigned by the Prodrive-led Subaru World Rally team.
After a couple of seasons with the Legacy, Subaru was able to develop the car into a more competitive machine and in the hands of Colin McRae it scored its first victory at the 1992 Rally New Zealand. Shortly after that it was replaced by the Impreza, which became one of the most successful rally cars ever — all made possible by the Legacy RS.
For 40 points you can win the Jaguar XJ220. The car came from an insane time of supercar development which saw maximum speeds increase almost weekly. Indeed the XJ220 was very briefly the fastest production car in the world at 212mph (close to the projected 220mph of its name), before McLaren moved the bar on.
It was also a very controversial vehicle. Jaguar had originally planned to produce it with a Le Mans-derived V12, but instead fitted a V6 turbo from the Metro 6R4 Group B rally car — resulting in legal dramas as customers tried to get their deposits back mid-recession. The V12 actually went into the XJR-15, being produced in the same TWR factory at the same time.
Winter will run through to 1430UTC on Thursday September 8, while Series 11 will continue on for another week until the same time on Thursday September 15.
Forzathon Events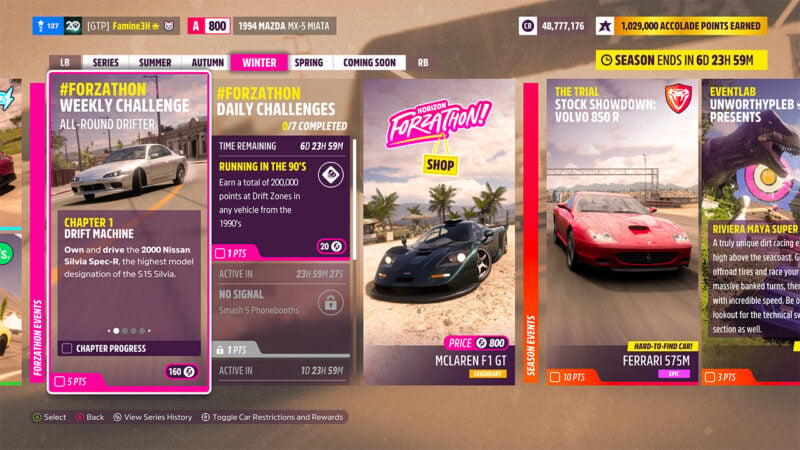 There's a wide variety of all-time greats in the Winter Playlist, but the Weekly Challenge will be looking at something a little more niche. All-Round Drifter centers on the S15 generation Nissan Silvia, so own and drive the Spec R '00 — it's a prize this week in The Eliminator — to get started.
It's all on a theme thereafter. First of all you'll need to win any Street Racing Series event in the Silvia, then pick up five Ultimate Drift skills — you'll need to initiate a drift and keep it going through Great and Awesome to reach Ultimate.
Finally go to any Drift Zones you can find and rack up scores equivalent to earning five stars to complete the challenge. Get through all four stages to earn five points and 160FP, doubled to 320FP if you own the La Casa Solariega player house.
Weekly Challenge: All-Round Drifter
Car: Nissan Silvia Spec R '00

Chapter 1: Own and drive the Nissan Silvia Spec R '00
Chapter 2: Win a Street Racing Series event in the Nissan Silvia Spec R '00
Chapter 3: Earn 5 Ultimate Drift Skills in the Nissan Silvia Spec R '00
Chapter 4: Earn 5 stars at Drift Zones in the Nissan Silvia Spec R '00

Reward: 5 points, 160FP
The Daily Challenges don't entirely stick to the theme this week, but there's plenty of variety. You'll be able to access a new challenge each day, with seven days to complete each for one point (and 20FP).
You'll be Running in the 90s to start with, by earning a total of 200,000 points at any Drift Zones using any vehicle from the 1990s.
Everyone's noughties nightmare will be realized when you smash five phonebooths on Friday to complete No Signal. You can find these in any built-up areas but you might need to scour the streets to reach five.
Completing a full set of Super7 cards on Saturday will earn you the Seven Wonders challenge point.
Head up to the volcano on Sunday and get sliding about while you're up there. Earning five Drift Skills of any grade is the requirement for Winter as in Ice.
The start of next week is an ideal time to be Taking Stock. Spend 50,000cr on any vehicle upgrades to complete.
For Shining Star you'll need to show off and quickly. Earn ten stars from PR Stunts within three minutes to earn this; your best bet is finding four stunts of similar types close to each other, such as the Speed Zone, Speed Trap, and Danger Sign from Baja California up towards the Festival site, and the Arid Hills Speed Trap to the north-east.
Finally you'll be taken back to your First Love, which is naturally an S1 Class (801-900PI) Hot Hatch. Win any Street Racing Series event in this type of car to complete it.
Daily Challenges
September 1 – Running in the 90s: Earn a total of 200,000pt at Drift Zones in any 1990s vehicle
September 2 – No Signal: Smash 5 Phonebooths
September 3 – Seven Wonders: Complete a Super7
September 4 – Winter As In Ice: Earn 5 Drift Skills at the top of La Gran Caldera
September 5 – Taking Stock: Spend 50,000cr on upgrades
September 6 – Shining Star: Earn 10 Stars from PR Stunts within three minutes
September 7 – First Love: Win a Street Race in any Hot Hatch vehicle upgraded to S1 Class
Season Events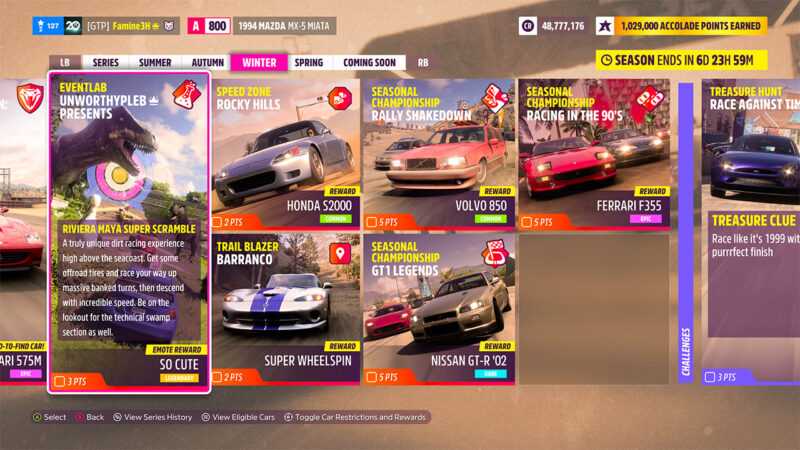 It's a slightly shorter list of Season Events this week, taking in three Championships, two PR Stunts, and an EventLab among the single-player offering.
That EventLab challenge, the Riviera Maya Super Scramble, is a solo run of a very complicated course laid out around and above the Riviera Maya location, starting at The Colossus. You'll need an S1 Class (801-900PI) Rally Monster to take part, with three points and a "So Cute" Emote on the table for reaching the finish line.
It's another twofer with the PR Stunts, as you can complete both in the same car if you wish. Both require an A Class (701-800PI) vehicle of any type from the 1990s or 2000s (the decade, not the century).
Neither are terribly difficult, but we would advise AWD as both are off-road events. The Barranco Trailblazer runs down the east slope of the volcano, with a target time of 32 seconds remaining, while the Rocky Hills Speed Zone is above Guanajuato to the south, with a 70mph target average speed. That's three-star goals in both cases, but there's plenty of wiggle room.
You'll score two points for each, with the regular Super Wheelspin prize for the Trailblazer and a Honda S2000 '99 for the Speed Zone.
As usual, the three Seasonal Championships all offer up five points and prize car appropriate to the decades. Each is a three-race championship against Highly Skilled AI drivatars, and you'll need to top the overall points table to win.
GT1 Legends is a Road Racing Series event for A Class (701-800PI) cars from the Retro Supercars category and the 1990s decade. A Nissan Skyline GT-R '02 is on offer for the win.
For more thrills, Racing in the 90s sends you to the streets — so watch out for NPC traffic! — in Retro Sports Cars. This time you'll need a B Class (601-700PI) car from the 1990s, with a Ferrari F355 for overall victory.
Finally there's some rough stuff in the Dirt Racing Series event Rally Shakedown. It's also a B Class (601-700PI) event, this time for Modern Rally cars from the 00s, and a Volvo 850 as a reward. You'll need that for the multiplayer event The Trial.
EventLab: Riviera Maya Super Scramble
Car: S1 Class, Rally Monsters
Location: Riviera Maya, The Colossus
Challenge: Finish the event
Reward: 3 points, So Cute Emote
Speed Zone: Rocky Hills
Car: A Class, 1990s/2000s
Location: Guanajuato, Rocky Hills Speed Zone
Challenge: 70mph
Reward: 2 points, Honda S2000
Trailblazer: Barranco
Car: A Class, 1990s/2000s
Location: La Gran Caldera, Barranco Trailblazer
Challenge: 32s
Reward: 2 points, Super Wheelspin
Seasonal Championship: GT1 Legends
Car: A Class, 1990s, Retro Supercars
Location: Playa Azul, Playa Azul Circuit
Challenge: Win the Championship
Reward: 5 points, Nissan Skyline GT-R '02
Seasonal Championship: Racing in the 90s
Car: B Class, 1990s, Retro Sports Cars
Location: Club de Opala de Fuego, Castillo del Mar
Challenge: Win the Championship
Reward: 5 points, Ferrari F355
Seasonal Championship: Rally Shakedown
Car: B Class, 2000s, Modern Rally
Location: La Gran Caldera, Montana Trail
Challenge: Win the Championship
Reward: 5 points, Volvo 850
For those who have the Hot Wheels DLC there's another two events that give you a chance to pick up points. Neither is required to score the Playlist rewards, or even 100% on the Series, but offer another seven points if you have any trouble with other events — like not having Xbox Live or a PC to play on for multiplayer, or just stupid team-mates in The Trial.
The Hot Wheels PR Stunt is the Rockslide Drift Zone in Forest Falls. You'll need an A Class (701-800PI) car from the 1990s or 2000s, with a score target of 180,000pt — above three stars but not significantly so, but watch out for the boost pad if you approach from the east. There's two points and a Super Wheelspin for completion.
Forest Falls also hosts the Seasonal Championship, See You Saloon. Like the regular seasonals, it's a three-race event against Highly Skilled AI, and you'll need to top the points table to win. To take part you'll need a B Class (601-700PI) Retro Saloon car, and there's five points and a 2006 Audi RS4 for victory.
Hot Wheels Drift Zone: Rockslide
Car: A Class, 1990s/2000s
Location: Hot Wheels Park Forest Falls, Rockslide Drift Zone
Challenge: 180,000pt
Reward: 2 points, Super Wheelspin
Hot Wheels Seasonal Championship: See You Saloon
Car: B Class, Retro Saloons
Location: Hot Wheels Park Forest Falls, Forest Falls Hazard Sprint
Challenge: Win the Championship
Reward: 5 points, Audi RS4 '06
There's just The Trial on the multiplayer events list this week, requiring an Xbox Live Gold subscription on console or to switch over to a PC to take part.
It's another "Stock Showdown" event, only permitting mechanically standard vehicles. You can paint them if you like, but any tuning upgrades will disqualify the car. As noted above, you'll need a Volvo 850 for the event this week, which comes in at 511PI (C Class) as standard and can be won in a Seasonal Championship this week.
If you're not familiar with The Trial, it's a three-round team championship against six "Unbeatable" AI drivatars. Each driver on each team gains 100 points for every opponent they beat to the finish, so while winning is good it's not entirely necessary; it's better to help each other out and hinder the AI where necessary.
The low pace and firm surface of the Road Racing Series should make that a doddle this week, but the Volvo is a bit of a brick and prone to both understeer and a one (front) tire fire, so take care around your team-mates for best results.
Win overall as a team and you'll pick up 10 points and a Ferrari 575M.
The Trial: Stock Showdown Volvo 850
Car: C Class, Volvo 850R '97
Location: Horizon Festival, Horizon Mexico Circuit
Challenge: Win the Championship
Reward: 10 points, Ferrari 575M
Challenges
We're back up to three Challenges this week, with the Photo Challenge being joined by a Treasure Hunt and The Eliminator.
You'll again need access to online multiplayer for The Eliminator — Xbox Live Gold, or playing on a PC — but it's the usual simple requirement of finishing 30th or better. Just surviving for a few minutes should be enough, and you'll win two points and the Nissan Silvia Spec R needed for the Weekly Challenge.
For the Photo Challenge, #MakeAnEntrance, you'll need to grab a 1997 Mitsubishi GTO and head to Mulege. Snap the car on the section of road which passes beneath the Arch of Mulege (you don't need to be physically beneath it, just between the two junctions) to take two points and a Car Meow vehicle horn.
That leaves the Treasure Hunt, the clue for which this week is "Race like it's 1999 with a purrrfect finish". The clue and the associated image somewhat give away the fact you'll need to win any Road Racing Series event in the 1999 Ford Racing Puma to earn the map hint.
You'll find that at the forest airport — Aerodromo en la Selva — this week, in open ground between the plane/ramp, air traffic control tower, and one of the many deserted hangars. Smash it for three points and 100FP.
Photo Challenge: #MakeAnEntrance
Cars: Mitsubishi GTO '97
Location: Mulege
Challenge: Photograph the Mitsubishi GTO at the Arch of Mulege
Reward: 2 points, Cat Meow Horn
Treasure Hunt: Race Against Time
Cars: Ford Racing Puma '99
Location: Road Racing Series (any)
Challenge: Win any Road Racing event in the Ford Racing Puma, find and smash the Treasure Chest
Reward: 3 points, 100FP
The Eliminator: Battle Royale
Cars: Any (provided)
Location: Valle de las Ranas, The Eliminator
Challenge: Finish 30th or better in The Eliminator
Reward: 2 points, Nissan Silvia Spec R '00
There's still two weeks to complete the three monthly events, consisting of the original Monthly Rivals, the Forza EV monthly and, just for this Series, the new Horizon Story Made in Mexico.
In order to pick up the 12 points — three for each season — for the Story you'll need to complete all nine chapters with three stars apiece. You can do this whenever you like in the Series, with the points awarded retroactively to past seasons within the Series.
Both the other events are Rivals laps. In each case you'll need to register a clean time in the event, regardless of how fast (or slow) it is, so take care and pick your way round the track to avoid contact with the more immovable bits of decoration.
Monthly Rivals heads over to the Bahia de Plano Circuit on the west coast, for a clean lap using the BMW M4 provided. Forza EV meanwhile is near the opposite side at the Los Jardines Circuit, with the new, electric XPeng P7 as the vehicle loaned for the purpose.
In each case you'll earn four points, with one added to each season, for meeting the clean lap time requirements.
Horizon Story: Made in Mexico
Cars: Provided
Location: Cordillera
Challenge: Earn 27 Stars in the Horizon Story
Reward: 12 points (3 added to each season), Meyers Manx Forza Edition
Forza EV: Los Jardines Circuit
Cars: Xpeng P7 (provided)
Location: Los Jardines, Los Jardines Circuit
Challenge: Post a Clean Lap
Reward: 4 points (1 added to each season)
Monthly Rivals: Bahia de Plano Circuit
Cars: BMW M4 '21 (Provided)
Location: Bahia de Plano, Bahia de Plano Circuit
Challenge: Post a Clean Lap
Reward: 4 points (1 added to each season)
Forzathon Shop
There's more high performance in the Forzathon Shop this week, with one of the all-time greats sitting right at the front.
That's the McLaren F1 GT, an ultra rare roadgoing version of a race car converted from another race car, based on the world's fastest road car… if you can keep up with that.
McLaren built the F1 GT as a homologation model for the F1 GTR Long Tail raced in the 1997 GT1 season. The LT itself was a response to a new breed of GT1 car coming through from Porsche and Mercedes, and based on the Le Mans-winning F1 GTR which was a barely altered version of the 241mph McLaren F1 road car.
It's the rarest F1, and that's reflected both in the in-game price of 15,000,000cr and the Forzathon Shop price this week at 800FP. Spending the points seems to be the better way to go.
At 200FP the Porsche 911 GT2 is a good deal cheaper, but then it's also 550,000cr in the Autoshow. However — alongside being the ultimate incarnation of the roadgoing 993 — it does have a novel feature in FH5: the car's Mastery tree contains the Hoonigan RWB Porsche 911.
Store items this week are the Farid Rueda Bear Jumper Jacket and the UK Race Gloves at 75FP each. The Wheelspin (60FP) and Super Wheelspin (150FP) remain in their usual spots.
As with all four weeks this Series, these items will be replaced on the final day of the season as, for 24 hours, the Forzathon Shop will become home to cheap classic cars in the "Tommy Bargains" event.
See more articles on Forza Horizon 5 Season Change.