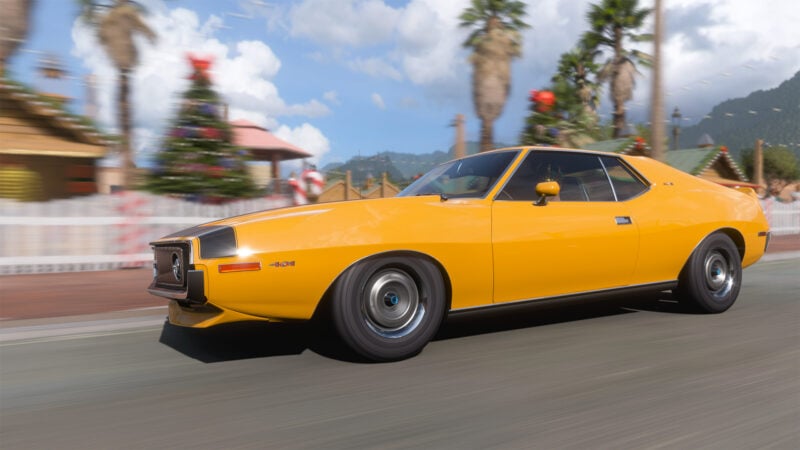 A new Series starts today in Forza Horizon 5, with new events to cover the next four weeks and a special gift available that depends on player generosity.
Series 15, Horizon Holidays, harks back to Series 2 available 12 months ago. The world of Horizon's Mexico has been redecorated to reflect the fact that Christmas will soon be upon us, with trees, candy canes, and snowmen littering the populated areas of the map.
There's two special areas on the map this Series too, with the Horizon Stadium transformed into a very large ice rink with an oversized car ice hockey pitch in the middle. Horizon Wonderland also returns to the town of Mulege.
That forms the centerpiece of Horizon Secret Santa, a four-week gift-a-thon which will see the community rewarded for its generosity.
Each day you'll be able to buy a car from the Forzathon Shop there, and send it to another player as a gift. Every time anyone does this, or sends any other Gift Drop, the gift counter fills up and once it meets certain thresholds it will trigger community-wide rewards.
These are the Holiday Tree outfit for 50% and a "mystery" car which looks surprisingly like a Lamborghini Sian Roadster for reaching the 100% target — and they'll be awarded whether you participate in the giving or not.
New Accolades also pop up this Series, for collecting the new cars available — starting with one of this week's Playlist rewards.
Series 15: Horizon Holidays Rewards
There's no new-to-game rewards on this month's Playlist, but you will have another chance to score two cars you cannot get through ordinary means.
At 80 points across the Series — and therefore not available until next week — you'll pick up one of the Extreme E machines.
First added to the game in Series 10, the Extreme E cars are a set of ten largely identical machines in differing team colors. This month's prize is the Jenson Button team JBXE #22 car.
The car is actually a French-made Spark Odyssey 21, featuring a niobium-steel spaceframe chassis, a body made of sustainable flax, and a 400kW (536hp) electric drivetrain. It's designed to race in the Extreme E offroad series, which highlights global climate and ecosystem challenges.
Rack up 160 points and you'll win a considerably less environmentally friendly car, Ferrari's California T.
A development of the original 2008 California, the T reworks almost every aspect of the car to create a much nicer vehicle to drive and, for the first time since the Ferrari F40, turbo power.
It actually comes with a smaller, 3.9-liter V8 than the first-generation California — a rare case of Ferrari downsizing — but the twin-turbo setup helps it hit 100hp more than the original at 553hp.
Series 15 Summer/Wet Season Rewards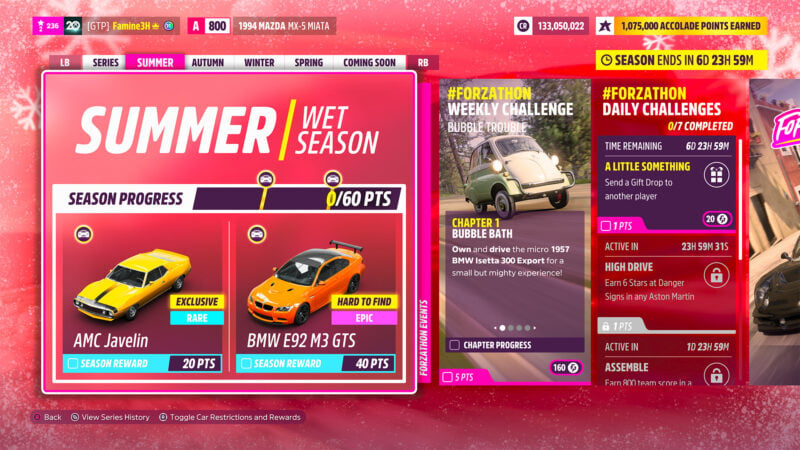 There's two rear-wheel drive performance cars, separated by 40 years, in this week's Playlist rewards.
First up is a new-to-game vehicle, the AMC Javelin AMX. An ever-present in the Horizon series now it's in FH5 too, the Javelin is a lesser-known pony car outside the USA.
AMC — the American Motors Corporation — is itself not particularly well-known beyond these shores, outside of a fleeting appearance in The Man With the Golden Gun and one of the James Bond series' greatest ever car stunts. However it came about from a merger of Hudson and Nash, and produced some really rather interesting cars over the years.
The Javelin is one such vehicle. Originally a relatively conservative shape, the Javelin evolved into the bulging second-generation car after some success on the race track. The new design was essentially a platform for a race car, with the elongated nose made to house a 6.6-liter V8 and those huge arches intended for fat racing tires.
Fast-forwarding four decades lands you on the BMW M3 GTS, a vehicle of very similar intent.
Designed as a road-legal track car, the M3 GTS saw the four-liter V8 bored out to 4.4 liters, good for a very alliterative 444hp. A crash diet, new brakes, and model-specific aero and suspension meant this 135-car limited run M3 was one of the quickest ways around a track in a family car.
Neither car is available in the Autoshow, so it's well worth racking up the 20 and 40 points required respectively.
Summer will conclude at 1430UTC on Thursday December 15. Series 15 will continue on for another three weeks until the same time on Thursday January 5.
Series 15 Summer Playlist: Forzathon Events
This week's Weekly Challenge is a bubbly one as you'll be driving the BMW Isetta 300. Pick up the little bubble car and drive it to start Bubble Trouble.
Keep it stock for the next bit, as you'll need to run at 55mph+ through any Speed Trap in a standard version of the car — this is very close to the car's top speed, so we'd recommend a trap that you can run past downhill like Autopista. Once completed you can beat it with the tuning stick to first earn four stars at any PR Stunts, then two stars at any Danger Signs to finish off.
Complete the challenges to earn you five points and 80FP, with the Forzathon Points doubled if you own the La Casa Solariega player house near Teotihuacan.
Weekly Challenge: Bubble Trouble
Car: BMW Isetta 300

Chapter 1: Own and drive the BMW Isetta 300
Chapter 2: Reach 55mph at any Speed Trap in a standard BMW Isetta 300
Chapter 3: Earn four stars at PR Stunts in the BMW Isetta 300
Chapter 4: Earn two stars at Danger Signs in the BMW Isetta 300

Reward: 5 points, 80FP
The Daily Challenges come at their usual one-a-day rate, at 1430UTC each day, with seven days to complete for one point and 10FP per challenge completed.
You'll be getting the gifting spirit off to a quick start with A Little Something. Just send a Gift Drop to any other player to complete.
It's a High Drive next, as you need to earn six stars at any Danger Signs in an Aston Martin. You could pair that with this week's Treasure Hunt if you feel the need for efficiency.
Teamwork makes the dream work in Assemble. Just earn 800 points as a team during any one Horizon Tour race.
Be the star of your own Short Story starting on Sunday, by hitting 140mph in any Horizon Story Chapter. This is possible in almost any Story, so just take your pick.
A Splash of Color is up next; paint the bonnet (or hood, if you're on the left side of the Atlantic) of any car to earn the point.
Get yourself ranked among the Skill Masters next, by banking 100,000 Skill Score in any BMW. Just earn up to 100,000 Skill Score (including multiplier) by speeding, drifting, and smashing, then make sure it gets banked.
Finally earn ten "Smactus" Skills by smashing into cactuses for the Spiky! challenge. There's plenty in Mexico, but you'll find the largest concentration just east of the Horizon Festival.
Daily Challenges
December 8 – A Little Something: Send a Gift Drop to another player
December 9 – High Drive: Earn six stars at Danger Signs in any Aston Martin
December 10 – Assemble: Earn a team score of 800 in a single Horizon Tour race
December 11 – Short Story: Reach 140mph in any Horizon Story Chapter
December 12 – Splash of Color: Paint your vehicle's bonnet
December 13 – Skill Masters: Bank 100,000 Skill Score in any BMW
December 14 – Spiky!: Earn ten Smactus Skills
Series 15 Summer Playlist: Season Events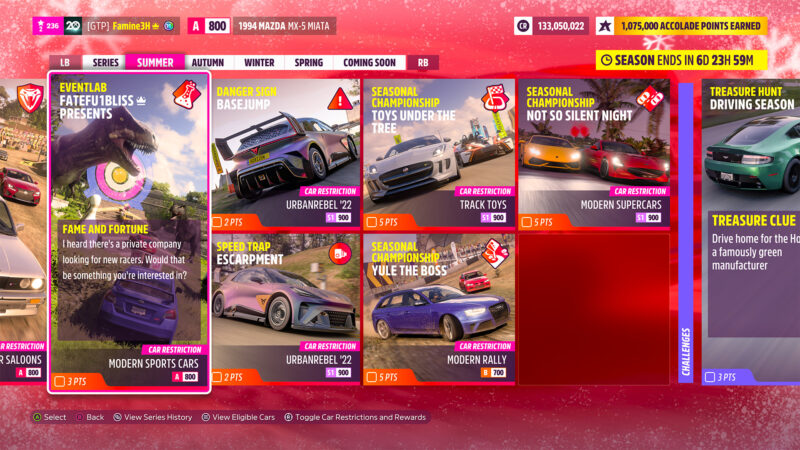 Six solo events make up the Season Events this week, with two PR Stunts and an EventLab joining the three usual Seasonal Championships.
EventLab consists of a three-lap run around a short custom circuit laid out at Los Jardines. Just complete the three laps in any A Class (701-800PI) Modern Sports Car to take two points and, unusually, a Super Wheelspin.
Super Wheelspins are also on offer for both PR Stunts this week, of which you should make very short work. You will however need the new Cupra UrbanRebel — which should be delivered to all players who take part in the Playlist this month but ours hasn't landed yet; if you can't wait, it's also available in the Autoshow at two million credits.
You can tune the car to the top of S1 Class (801-900PI) and you can actually chain the Stunts in one run. Blast through the Escarpment Speed Trap at 160mph+ and keep your foot in through the Rush Outpost to the Base Jump Danger Sign. You need to hit a 450m distance, but really it's just the landing zone that's tricky.
The three Seasonal Championships are three-race series against Highly Skilled AI, which you'll need to top the final points table to win five points to your season total for each.
Yule the Boss is a Dirt Racing Series challenge for B Class (601-700PI) Modern Rally cars. Win the event to earn a 2013 model Audi RS4 Avant.
Toys Under the Tree is a Road Racing Series event, requiring S1 Class (801-900PI) Track Toys, with a Janguar F-Type R available as a prize.
Finally you'll be taking to the streets for another S1 Class (801-900PI) event, this time for Modern Supercars in Not So Silent Night. There's a TVR Griffith available if you win.
Danger Sign: Base Jump
Car: S1 Class, Cupra UrbanRebel
Location: Horizon Rush Outpost, Base Jump Danger Sign
Challenge: 450m
Reward: 2 points, Super Wheelspin
Speed Trap: Escarpment
Car: S1 Class, Cupra UrbanRebel
Location: Horizon Rush Outpost, Escarpment Speed Trap
Challenge: 160mph
Reward: 2 points, Super Wheelspin
EventLab: Fame and Fortune
Car: A Class, Modern Sports Cars
Location: Los Jardines, Los Jardines Circuit
Challenge: Complete the Event
Reward: 2 points, Super Wheelspin
Seasonal Championship: Not So Silent Night
Car: S1 Class, Modern Supercars
Location: Tierra Prospera, Coast Run
Challenge: Win the Championship
Reward: 5 points, TVR Griffith
Seasonal Championship: Toys Under the Tree
Car: S1 Class, Track Toys
Location: Bahia de Plano, Bahia de Plano Circuit
Challenge: Win the Championship
Reward: 5 points, Jaguar F-Type R Coupe
Seasonal Championship: Yule the Boss
Car: B Class, Modern Rally
Location: Gran Caldera, Montana Trail
Challenge: Win the Championship
Reward: 5 points, Audi RS4 Avant 2013
Two bonus events await for Hot Wheels DLC owners. You don't need these for 100% completion of the Playlist, but they're an extra option if you don't fancy (or can't access) multiplayer events.
The PR Stunt this week is Frozen Rush, an ice-covered Speed Zone in the Ice Cauldron. Keep an average of 190mph+ in any S2 Class (901-998PI) car to earn two points and another Super Wheelspin.
Ice Cauldron also hosts the start point for the Melting the Ice Seasonal Championship. It's a three-race event against Highly Skilled AI for any S1 Class (801-900PI) Modern Muscle cars. There's five points and a Porsche 944 for victory.
Hot Wheels Speed Zone: Frozen Rush
Car: S2 Class
Location: Hot Wheels Park Ice Cauldron, Frozen Rush Speed Zone
Challenge: 190mph
Reward: 2 points, Super Wheelspin
Hot Wheels Seasonal Championship: Melting the Ice
Car: S1 Class, Modern Muscle
Location: Hot Wheels Park Ice Cauldron, Ice Loop Hazard Sprint
Challenge: Win the Championship
Reward: 5 points, Porsche 944 Turbo
We're back down to a single multiplayer event this week, with Xbox Live Gold required — unless you play on PC — to access.
That is, of course, The Trial, which this week puts you into A Class (701-800PI) Super Saloons for the best-of-three team race series.
You and up to five fellow humans will be racing against a squad of six "Unbeatable" level AI Drivatars. Each player on each team earns 100 points for each opponent they beat, but there's no reward for beating team-mates. That means you should aim to help out your team-mates and hinder your rivals.
Not that this will stop try-hards who think second place is first loser, but you'd hope that after more than a year of this they'd have picked up on it by now.
It's loose-surface racing in the Dirt Racing Series this week, which often makes for a bigger challenge through team-mates who can't drive, but the low PI requirement should rein in their dimness.
Win as a team and you'll earn ten points and an E30 BMW M3
The Trial: Make it Rein
Car: A Class, Super Saloons
Location: Tierra Prospera, Tapalpa Trail
Challenge: Win the Championship
Reward: 10 points, BMW M3 1991
Series 15 Summer Playlist: Challenges
There's three Challenges this week, with the regular Photo Challenge joined by a Treasure Hunt and a Horizon Open event.
You'll need access to online multiplayer — free on PC or through Xbox Live Gold on console — for that last one, but it's not a tricky challenge to complete. Just earn three "Clean Start" Skills, which require you to start a race and not hit anything solid for a couple of checkpoints to earn one; that means you'll need to race at least three times in Horizon Open Racing, and you'll earn two points and a Holiday Sweater for completion.
For this week's Photo Challenge, #HideandSeek, you'll need to track down an elusive snowman. Snowpeople are part of the wintry world makeover, but you have to photograph a specific one. He'll be hiding on a balcony at the Casa Bella Player House in Mulege — although he's clearly visible if you're to the north of the house. Snap him to earn two points and a Sleigh Bells horn.
Finally there's the return of Treasure Hunt, and this week's clue is "Drive home for the Holidays in a famously green manufacturer". While it's clear you'll need an Aston Martin, it's not entirely obvious what you need to do. However you just need to rack up five miles of driving in the Aston.
Complete that and you'll earn the Treasure Hint map marker — a zone in which you'll find the Treasure Chest. This week that's in Playa Azul, with the chest itself in the town's central square by the concrete concert dome; smash the chest to earn three points and 100FP.
Photo Challenge: #HideAndSeek
Cars: Any
Location: Mulege, Casa Bella Player House
Challenge: Photograph the snowman at the Casa Bella Player House in Mulege
Reward: 2 points, Sleigh Bells Horn
Treasure Hunt: Driving Season
Cars: Aston Martin (any)
Location: Any Player House
Challenge: Drive five miles in any Aston Martin; find and smash the Treasure Chest
Reward: 3 points, 100FP
Horizon Open: Season's Greetings
Cars: Any
Location: Horizon Open Racing (any)
Challenge: Earn three Clean Start Skills in Horizon Open Racing
Reward: 2 points, Holiday Sweater
Forza EV and Monthly Rivals are in their regular spots too with new events for the Series. In each case you'll need to set a clean lap time at the specified circuits in the cars provided to you to take the reward.
That's four points for each event, with one added to each season across the four-week Series. It doesn't matter when you complete it, as it backdates to completed seasons too.
For Forza EV you'll be lapping the Arch of Mulege Circuit in the potent new Cupra UrbanRebel. There's a couple of tight corners where keeping it clean is a matter of getting your braking right, but it ought not to be too tricky.
Monthly Rivals is a bit of a tricky one as not only are there plenty of places to lose the clean lap but you're in a car not famed for its snappy handling. Good luck navigating the Cadillac XTS Limousive around the Estadio Circuit at the stadium…
Forza EV: Arch of Mulege Circuit
Cars: Cupra UrbanRebel (provided)
Location: Mulege, Arch of Mulege Circuit
Challenge: Post a Clean Lap
Reward: 4 points (1 added to each season)
Monthly Rivals: Estadio Circuit
Cars: Cadillac XTS Limousine (Provided)
Location: Estadio Horizon, Estadio Circuit
Challenge: Post a Clean Lap
Reward: 4 points (1 added to each season)
Series 15 Summer Forzathon Shop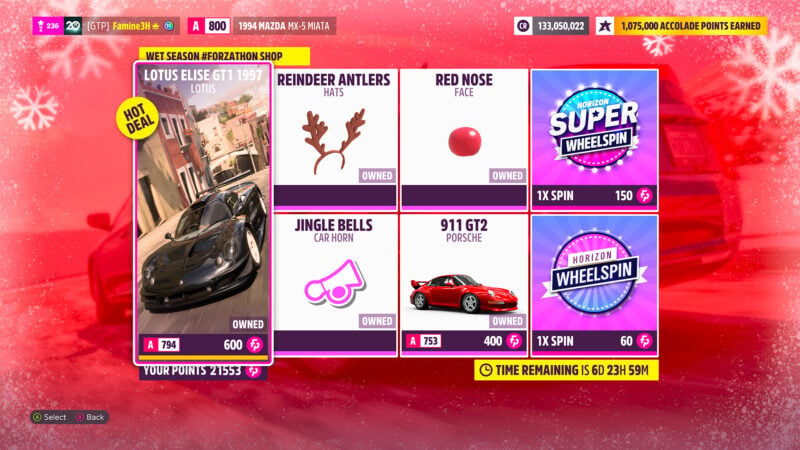 Two classic 1990s cars pop up in the Forzathon Shop this week, each with some serious motorsport connections. You can also buy one car a day as a gift for other players during this season as part of the Secret Santa event.
At the front of the shop is the Lotus Elise GT1, one of many cars developed for the GT1 series in the late 1990s only to become hopelessly uncompetitive (or sidelined by a change in regulations) compared to purpose-built prototypes.
The Elise was an attempt by Lotus to compete against the McLaren F1, Porsche 911 GT1, and Mercedes CLK-GTR. Lotus used an aluminum tub from the regular Elise in heavily modified form, with a version of the Lotus 3.5-liter twin-turbo V8 in place of the Rover straight four.
It didn't work terribly well, and was replaced with a Corvette V8 for racing, but the Elise was off the pace and unreliable — managing a single points finish in the entire season across all six cars — and was cancelled.
However the one road car made remains intact and you can score it for 600FP this week. As it's 1.8 million credits in the Autoshow, it's up to you which is better value.
You'll also be able to pick up the Porsche 911 GT2, for 400FP. This twin-turbo beast, based on the 993-generation 911, stuffs all of Porsche's race-track knowledge into a high-performance road car. The GT2 name is, in each generation, the pinnacle of Porsche's road offerings in 911 form.
In FH5 the GT2 is also two cars in one. The Hoonigan RWB 911 is hidden inside the GT2's Car Mastery tree, so with a few spare Skill Points you can pick up a second car for your outlay (although at 550,000cr you might like to save the points).
Store items this week are the Reindeer Antlers, Red Nose, and Jingle Bells Horn, at 100FP each. The Wheelspin (60FP) and Super Wheelspin (150FP) remain in their usual spots.
See more articles on Forza Horizon 5 Season Change.