The latest season in Forza Horizon 5 starts today, bringing a new set of events for the week as well as some very stormy weather as players look to celebrate the upcoming festive period.
In fact that's the theme of the current series. Series 15 is called Horizon Holidays and it's all about this most wonderful time of the year.
Just as in Series 2, 12 months ago, Horizon's Mexico has been redecorated with some festive cheer. There's Christmas trees, candy canes, and snowmen everywhere, and even your player homes are wrapped up in a bow.
Along with this general world makeover, there's two additional special areas on the map. Horizon Wonderland returns to the town of Mulege, bringing with it the gift of giving, while the Horizon Stadium is now an ice rink (which makes for some fun position glitches if you do a race that ends in the stadium).
Horizon Secret Santa is also back. Over the next four weeks there's a counter which slowly fills up as players send gifts to one another — through the regular Gift Drop feature or from the Forzathon Shop in the Wonderland.
Once it meets certain threshold values it will trigger community-wide rewards, with all players receiving the Holiday Tree outfit for 50% of the target and a "mystery" car for the full bar. That looks surprisingly like a Lamborghini Sian Roadster, which is available this Series for an as-yet unstated challenge…
Series 15: Horizon Holidays Rewards
Although there's no new-to-game rewards on this month's Playlist, it's a good chance to pick up two money-can't-buy cars in case you've previously missed out.
Hit the lower 80-point target, which you should do this week, and you'll earn the #22 Jenson Button JBXE Extreme E race car.
One of the ten largely identical cars added back in Series 10, the Extreme E machines are in fact the French-made Spark Odyssey 21. This SUV-bodied vehicle uses a sustainable, flax-based composite for the bodywork, draped over a super-tough, niobium-steel alloy spaceframe chassis.
It packs a 400kW (536hp) all-elecrtic drive train, and is specifically designed to get over some of the worst terrain imaginable as part of the Extreme E race series. That means it's right at home in Horizon's version of Mexico.
For the higher, 160-point target — which you'll be aiming for next week at the earliest — and you'll earn a Ferrari California T, with slightly less robust environmental credentials.
That said, the T in the name represents "turbo" — the first turbo Ferrari since the F40 — as this development of the original 2008 California features a downsized engine. Even so, the smaller, 3.9-liter V8 kicks out 100hp more than the first-generation car.
Series 15 Autumn/Storm Season Rewards
It's a classic, rear-wheel drive American car week this week, although one of the vehicles is infamous.
That's not due to any particular real-life issues, but because it's the star of the novel and movie Christine in which the Plymouth Fury is a possessed, self-repairing machine intent on murder.
In reality the Fury was a hot model based on the Plymouth Belvedere, only available as a two-door with either a 290hp V8 sourced from the Dodge Coronet or a "Golden Commando" V8 with 305hp. The cars were also exclusively finished in Buckskin Beige, with only Christine coming in the custom bright red finish.
You can draw your own conclusions as to what the car in FH5 is, but you can win it for 20 points this season, if you dare.
Score 40 points and you'll have another chance to pick up the Dodge Super Bee.
Whereas the Fury borrows its engine from the Coronet, the Super Bee borrows the entire platform as a sporty version of the coupe.
It comes with a big-block Hemi V8 producing 425hp from seven liters — almost 1hp per cubic inch — and despite being a staple of the Forza Motorsport series, FH5 is its first Horizon game. Previously only available as part of the Series 9 playlist, it's one to play for this week.
Autumn will conclude at 1430UTC on Thursday December 22. Series 15 will continue on for another two weeks until the same time on Thursday January 5.
Series 15 Autumn Playlist: Forzathon Events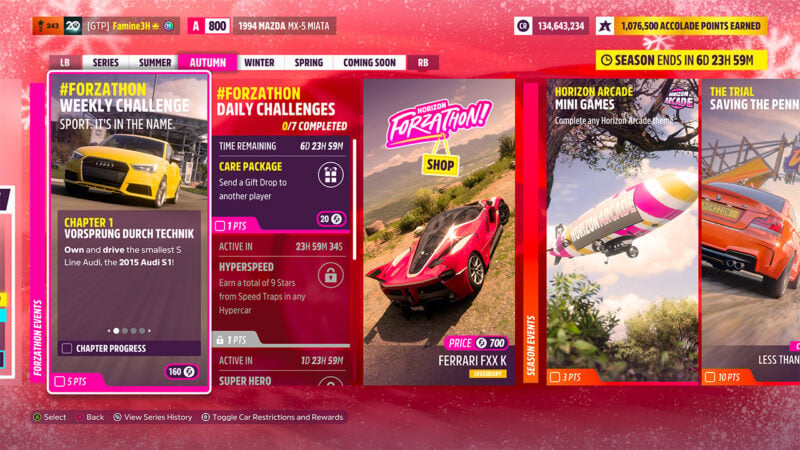 You'll be driving the littlest Audi in the Weekly Challenge this week. Get hold of the 2015 Audi S1 to get Sport. It's in the Name started.
There's two performance challenges up next. First earn ten stars at any PR Stunts in the car, then keep up a speed of 150mph or more for ten seconds. Your best bet here is to tune it up and hit the Speed Traps, Speed Zones, and Danger Sign on the main highway before spinning it to face the other way for a long blast.
Finally you'll need to win four Dirt Scramble events in the Audi. These are the circuit-based Dirt Racing Series (orange) events, rather than the point-to-points.
Complete that to earn five points and 80FP, with the Forzathon Points doubled if you own the La Casa Solariega player house near Teotihuacan.
Weekly Challenge: Sport. It's in the Name
Car: Audi S1 2015

Chapter 1: Own and drive the Audi S1 2015
Chapter 2: Earn ten stars at PR Stunts in the Audi S1 2015
Chapter 3: Maintain a speed of 150mph for ten seconds in the Audi S1 2015
Chapter 4: Win four Dirt Scramble events in the Audi S1 2015

Reward: 5 points, 80FP
There's another set of seven new Daily Challenges, coming along at the rate of one a day rate, with seven days to complete for one point and 10FP per challenge completed.
The first challenge is the same as last week, but with a different name. Provide a Care Package by sending a Gift Drop to any other player.
Engage Hyperspeed after that, hitting high enough speeds to earn the equivalent of nine stars at any Speed Traps in any Hypercar class vehicle.
Prove you're a Super Hero next, by picking up 20 Wreckage Skills — for destroying destructible objects — in any Sports Utility Hero category car from Germany.
Head over to the Watering Hole and take a photo of the waterfalls at Cascadas de Agua Azul to complete Sunday's challenge.
There's No Wings Required next, as you'll be jumping a total of 1829m at Danger Signs. This is actually achieveable by using the Rewind function to do the same, shorter jump repeatedly if you fancy ticking it off quickly.
Remind yourself of your First Love by winning any Street Racing Series event in a Hot Hatch tuned to the S1 Class (801-900PI) performance bracket.
Finish off the week by being the Ultimate Talent. Earn an Ultimate Skill Chain — a score of 20,000+ before the points multiplier — and bank it to complete the challenge.
Daily Challenges
December 15 – Care Package: Send a Gift Drop to another player
December 16 – Hyperspeed: Earn nine stars at Speed Traps in any Hypercar
December 17 – Super Hero: Earn 20 Wreckage Skills in any German Sports Utility Hero
December 18 – Watering Hole: Take a picture of the Cascadas de Agua Azul
December 19 – No Wings Required: Jump a total of 1829m at Danger Signs
December 20 – First Love: Win a Street Race in any S1 Class (801-900PI) Hot Hatch
December 21 – Ultimate Talent: Earn and bank an Ultimate Skill Chain
Series 15 Autumn Playlist: Season Events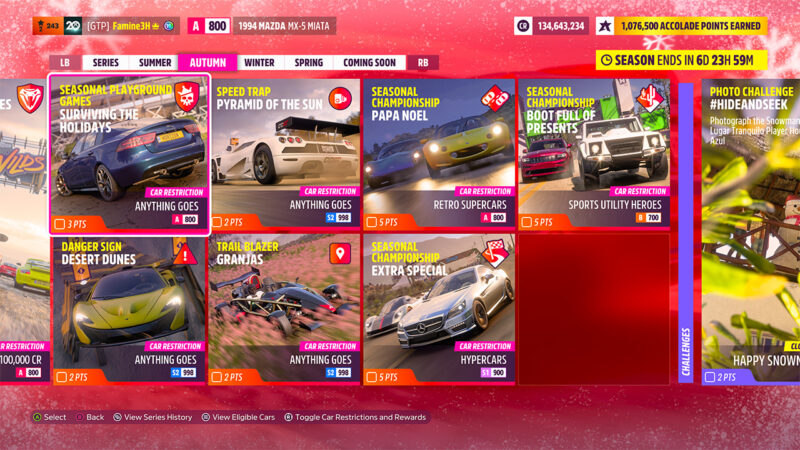 It's another six-shooter this week for the Season Events, with three PR Stunts and three Seasonal Championships — and Horizon Arcade which can be completed solo or in a group.
As usual, the three PR Stunts are open-category for S2 Class (901-998PI) cars, and award two points and a Super Wheelspin. That means you can use the same car for all three if you like, and all three require significant off-road capability — and are by no means easy.
Naturally that starts with the Trailblazer at Granjas, which has a challenging 32-second target — well above the 25-second three-star time. The Desert Dunes Danger Sign also requires a leap beyond the three-star target, at 460 meters. Finally there's the Pyramid of the Sun Speed Trap at Teotihuacan, best tackled with a long cross-county blast if you want to hit the 190mph marker.
The three Seasonal Championships are three-race series against Highly Skilled AI, which you'll need to top the final points table to win five points to your season total for each.
Extra Special is a Road Racing Series event for S1 Class (801-900PI) Hypercars, offering a Mercedes-Benz SLK55 for victory. Papa Noel takes you Street Racing in A Class (701-800PI) Retro Supercars for a 1999 Lotus Elise as a prize. That leaves the Cross Country-based Boot Full of Presents, an event for B Class (601-700PI) Sports Utility Heroes, with the ferocious Lamborghini LM002 going to the winner.
Horizon Arcade can be completed on your own or in Horizon Life as a group as the target scores scale depending on how many people are in the event. Regardless of which type you choose — Air, Chaos, Drift, Speed, or Wreckage — just complete three rounds to earn three points.
Danger Sign: Desert Dunes
Car: S2 Class
Location: Dunas Blancas, Desert Dunes Danger Sign
Challenge: 460m
Reward: 2 points, Super Wheelspin
Speed Trap: Pyramid of the Sun
Car: S2 Class
Location: Teotihuacan, Pyramid of the Sun Speed Trap
Challenge: 190mph
Reward: 2 points, Super Wheelspin
Trailblazer: Granjas
Car: S2 Class
Location: San Juan, Granjas Trailblazer
Challenge: 32s
Reward: 2 points, Super Wheelspin
Horizon Arcade: Mini Games
Car: Any
Location: Horizon Arcade (any)
Challenge: Complete Horizon Arcade
Reward: 3 points
Seasonal Championship: Boot Full of Presents
Car: B Class, Sports Utility Heroes
Location: Horizon Rush, Copper Canyon Cross Country
Challenge: Win the Championship
Reward: 5 points, Lamborghini LM002
Seasonal Championship: Extra Special
Car: S1 Class, Hypercars
Location: Costa Rocosa, Descansar Dorado
Challenge: Win the Championship
Reward: 5 points, Mercedes-Benz SLK55
Seasonal Championship: Papa Noel
Car: A Class, Retro Supercars
Location: Bahia de Plano, Ruta Norte
Challenge: Win the Championship
Reward: 5 points, Lotus Elise 1999
The two usual bonus events await for Hot Wheels DLC owners. They're not required for 100% completion of the Playlist, but they're an extra option if you don't want to do (or can't access) multiplayer events.
This week's PR Stunt is a relatively easy Drift Zone, Rockslide in Forest Falls. Although the target is above three stars, at 180,000pt, it's not too much of a challenge to hit in any S2 Class (901-998PI) car. You'll earn two points and another Super Wheelspin.
Forest Falls also hosts the start point for the Nexus of Speed Seasonal Championship. It's a three-race event against Highly Skilled AI for any S1 Class (801-900PI) Modern Supercars, but watch out for those waterslides. There's five points and a Porsche 718 for victory.
Hot Wheels Drift Zone: Rockslide
Car: S2 Class
Location: Hot Wheels Forest Falls, Rockslide Drift Zone
Challenge: 180,000pt
Reward: 2 points, Super Wheelspin
Hot Wheels Seasonal Championship: The Nexus of Speed
Car: S1 Class, Modern Supercars
Location: Hot Wheels Park Forest Falls, Waterslide Speed Circuit
Challenge: Win the Championship
Reward: 5 points, Porsche 718 GTS
There's two multiplayer events this week, with Xbox Live Gold required — unless you play on PC — to access both.
Seasonal Playground Games returns this week, and you'll need to complete a set of Survival events to complete Surviving the Holidays.
In this mode, one set of players are "Infected" (green) and the other are "Survivors" (purple). The Infected team's task is to infect all the Survivors while the Survivors need to avoid that and run down the clock. Tagged Survivors turn orange and can be cured by tagging a purple team-mate.
After one game you'll switch teams, and the team that infected the other the fastest or had the most survivors at the end wins that round. However winning isn't necessary; complete three rounds — or, if you're lucky, you can get into a match in the final round — to earn three points and a Jaguar XE-S.
The Trial is the other ever-present. This team game pits you and up to five fellow humans against a squad of six "Unbeatable" level AI Drivatars.
Each player on each team earns 100 points for each opponent they beat, but there's no reward for beating team-mates. That means you should aim to help out your team-mates and hinder your rivals.
Unfortunately it's a Dirt Racing Series event this week, and the loose-surface racing often makes for out-of-control humans — but also poorly driven AI cars. The A Class (701-800PI) requirements should make things easier, and you'll need to use a car that cost less than 100,000cr "as-new".
Win as a team, which you should do in two races, and you'll earn ten points and a BMW 1M.
Seasonal Playground Games: Surviving the Holidays
Car: A Class
Location: El Estadio Horizon
Challenge: Complete Seasonal Playground Games
Reward: 3 points, Jaguar XE-S
The Trial: Saving the Pennies
Car: A Class, Less than 100,000cr
Location: Gran Caldera, Caldera Scramble
Challenge: Win the Championship
Reward: 10 points, BMW 1M
Series 15 Autumn Playlist: Challenges
We're down to a solitary Challenge this week, and naturally that's the ever-present Photo Challenge.
It'll seem familiar to players who completed the event last week, as the name and basic task remain. You'l need to photograph a snowman to complete #HideandSeek.
However it's a specific snowman required. This week he's hiding in the Lugar Tranquillo player house in Playa Azul, in what appears to be a rooftop bar. Snap him to earn two points and a Happy Snowman Head clothing item.
Photo Challenge: #HideAndSeek
Cars: Any
Location: Playa Azul, Lugar Tranquilo Player House
Challenge: Photograph the snowman at the Lugar Tranquilo Player House in Playa Azul
Reward: 2 points, Happy Snowman Head
With one week down and three to go, there's still plenty of time to tackle Forza EV and Monthly Rivals. There's four points available for each event, evenly spread over the four seasons, backdating to completed weeks where necessary.
In each case you'll need to set a clean lap time at the specified circuits in the cars provided to you to take the reward. Pace isn't a requirement, only cleanliness is, so keep it off the walls.
That'll be a challenge in Monthly Rivals, as you're in a big car on a small track. You'll need to thread the Cadillac XTS Limousive around the Estadio Circuit at the stadium to earn your points.
Forza EV won't be much easier, as the new Cupra UrbanRebel is quick off the mark and not great on the brakes. Still, avoid the nastier bits of the Arch of Mulege Circuit and you should be fine.
Forza EV: Arch of Mulege Circuit
Cars: Cupra UrbanRebel (provided)
Location: Mulege, Arch of Mulege Circuit
Challenge: Post a Clean Lap
Reward: 4 points (1 added to each season)
Monthly Rivals: Estadio Circuit
Cars: Cadillac XTS Limousine (Provided)
Location: Estadio Horizon, Estadio Circuit
Challenge: Post a Clean Lap
Reward: 4 points (1 added to each season)
Series 15 Autumn Forzathon Shop
It's a Ferrari week in the Forzathon Shop this week, although there's two vastly different cars on offer.
At the front of the store is the FXX K, a track-focused development of the Ferrari La Ferrari with the rather risque name.
The car took up the mantle of the Enzo-based FXX as Ferrari's track-car offering. Where the FXX was a pure ICE car though, the FXX K turns up the heat on both the V12 engine and the hybrid system of the La Ferrari to over 1000hp.
There's a lot of weight-saving going on too, as well as the obligatory massive aerodynamic aids, and the FXX K also sports the electronic differential from the 2014 F14T, Ferrari's F1 car.
At 700FP it's not cheap, but then neither is the 2.7 million credit Autoshow price for the car.
Coming in at the other end of the Forza Ferrari scale is the considerably classier 365 GTB/4. This sleek grand tourer is a classic piece of Ferrari design, also sporting a V12 but with a more relaxed 347hp.
That's still plenty in a car from 1968 and the 365 GTB/4 — sometimes called the Daytona, if unofficially — was one of the fastest cars in the world in its day. 174mph isn't to be sniffed at these days either. You can part with 400FP for the car, or spend the 600,000cr in the Autoshow.
In each case you can buy the car in the Shop and choose to gift it to another player, once per day.
Store items this week are the Elf Outfit, Elf Hat, and Deck the Halls Horn, at 100FP each. The Wheelspin (60FP) and Super Wheelspin (150FP) remain in their usual spots.
See more articles on Forza Horizon 5 Season Change.