A new season sweeps in across Forza Horizon 5's Mexico today, with more new events and challenges to cover the festive period — and to give you an excuse to avoid any irritating relatives.
We're mid-way through the current series, which itself has a theme that Yule love if you enjoy Christmas. It's called Horizon Holidays, and it brings about some world changes along with the driving mayhem.
Players who've been with FH5 since the beginning will recognize the changes brought in for Series 15, as a similar seasonal change took place in Series 2 Last Christmas. The world now sports (oh) Christmas trees and candy canes, with snowmen everywhere and player homes decorated like presents under the tree.
There's also two new areas of the map, consisting of a reworked Stadium that's now a supersized ice rink, and a special gifting outpost in Mulege. This Winter Wonderland allows you to buy cars from the Forzathon Shop and send them to other players as gifts.
Indeed gifting is a major theme this month, with Horizon Secret Santa returning. Every gift sent between players — as Gift Drops or in the Wonderland — is logged, and as players invoke the spirit of giving they'll fill up a special counter. When this hits the targets, the entire community will receive gifts.
The first of these has already gone out, with a Holiday Tree now available to all. By the looks of the bar, players will meet the second and final target this week, with the "mystery" car going to all players. There's something of a clue what that is at the top of this page…
Series 15: Horizon Holidays Rewards
Two cars that are ordinarily unavailable in the game pop up on this month's Playlist rewards. Neither is new to the game, but it's well worth picking them up (if only to flip on the Auction House if they're duplicates).
The lower 80-point target car should already be in your collection from the activites thus far. It's the #22 Jenson Button JBXE Extreme E race car, one of the ten largely identical vehicles added back in Series 10.
Built by French electric car specialist Spark, the Extreme E buggy is officially known as the Odyssey 21. It combines a niobium-steel alloy spaceframe chassis with a sustainable, flax-based composite SUV-style body.
With a rally raid buggy suspension and a 400kW (536hp) all-electric drive train, the Odyssey is intend to race on some of the nastiest surfaces around. That's ideal for Horizon's version of Mexico.
You should also aim to hit the higher, 160-point target this week, given the total available points of 180. That will win you the Ferrari California T, which isn't quite as environmentally friendly.
An evolution of the original Ferrari California, Ferrari has reworked the T in almost every conceivable area to make the car better at everything from cruising to outright performance.
Part of that is the "T", which stands for "turbo". The first turbocharged Ferrari since the F40, the California T sports a downsized version of the V8 — now 3.9 liters — that puts out 100hp more than the original car.
Series 15 Winter/Dry Season Rewards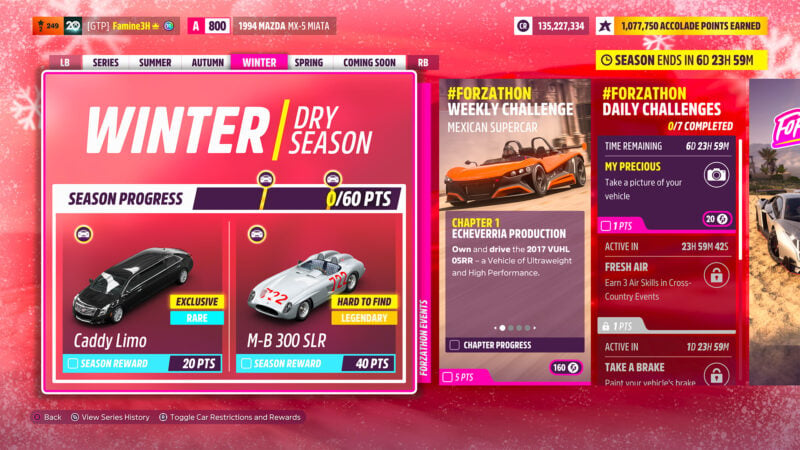 This week is a big one for the season rewards. A really big one.
First you'll be aiming to pick up one of the largest cars in the game, in the shape of the Cadillac XTS Limousine, with a 20-point target score.
This converted, elongated Cadillac XTS is one of the longest, heaviest vehicles in the game (outside the race trucks and Unimog), and while not quite the President of the United States' official "Beast" limo it's more than close enough.
Coming with a mere 300hp from its 3.6-liter V6, the Limo is also front-wheel drive. That means that, outside of some serious upgrades, it's not going to fast anywhere — and the ludicrous length makes the handling somewhat iffy too.
Hit 40 points and you'll win the most expensive car in Forza history. Priced at some 143 million credits, the Mercedes-Benz 300 SLR represents a piece of automotive history.
This particular 300 SLR won the Mille Miglia at the hands of Sir Stirling Moss, in a record course time of close to ten hours which stands to this day; he beat team-mate Juan Manuel Fangio — yes, that Fangio — by half an hour.
As a piece of automotive history it's close to priceless, but PG has set the value to reflect the 300 SLR's sibling chassis and world's most expensive car, the Uhlenhaut Coupe. This converted car, one of two made, sold for $143m in 2021.
Winter will conclude at 1430UTC on Thursday December 29. Series 15 will remain in place for one more week after that, until the same time on Thursday January 5.
Series 15 Winter Playlist: Forzathon Events
Despite FH5 being set in Mexico, there's only one truly Mexican car in the game and it's the subject of the Weekly Challenge this week. Own and drive the Vuhl 05RR to get Mexican Supercar underway.
For the second stage, take the Vuhl to victory in any Road Racing event. Handily there's an entire Seasonal Championship for Track Toys like the Vuhl this week, if you have the Hot Wheels expansion.
After that, keep the Vuhl's top speed of 170mph up for 15 seconds; you might like to wave the tuning wand over it first, and head to the highway in Horizon Life for best results.
Finally hit a three-star distance at any Danger Sign in the Vuhl. The Boardwalk sign is the easiest to hit the distance on, so long as the car isn't slowed too much by the water.
Complete that to earn five points and 80FP, with the Forzathon Points doubled if you own the La Casa Solariega player house near Teotihuacan.
Weekly Challenge: Mexican Supercar
Car: Vuhl 05RR 2017

Chapter 1: Own and drive the Vuhl 05RR
Chapter 2: Win any Road Racing event in the Vuhl 05RR
Chapter 3: Maintain a speed of 170mph for 15 seconds in the Vuhl 05RR
Chapter 4: Earn three stars on any Danger Sign in the Vuhl 05RR

Reward: 5 points, 80FP
There's another set of seven new Daily Challenges, coming along at the rate of one a day rate, with seven days to complete for one point and 10FP per challenge completed.
You'll be celebrating your own vehicle in My Precious. Just take a photograph of any car you're driving to complete — and double up with this week's Photo Challenge for a twofer.
Get some Fresh Air next, by earning three Air Skills — all four (or three, or six) wheels off the floor and safely landing again — during any Cross Country event. This should be a breeze, but there's a Cross Country seasonal championship this week too if you want to double-up.
Take a Break on Christmas Eve. Just paint the brake calipers of any vehicle to earn the point.
Next, give the gift of giving on Christmas Day. Send a Gift Drop to any player and say Happy Holidays.
Prove you're In The Groove next, by heading to Copper Canyon and earning eight Drift Skills.
Grab any German vehicle and stay over 150mph for 15 seconds — the highway being the ideal place — to complete Schnell! on Tuesday.
The week ends a Quarter Mile At A Time. Just win any Drag Race, and it doesn't matter whether it's by an inch or a mile.
Daily Challenges
December 22 – My Precious: Take a picture of your vehicle
December 23 – Fresh Air: Earn three Air Skills in Cross Country events
December 24 – Take a Break: Paint your vehicle's brake calipers
🎄 December 25 🎄 – Happy Holidays: Send a Gift Drop to another player
December 26 – In The Groove: Earn eight Drift Skills in the Copper Canyon
December 27 – Schnell!: Drive above 150mph for 15 seconds in any German vehicle
December 28 – Quarter Mile At A Time: Win a Drag Race
Series 15 Winter Playlist: Season Events
There's a mix of three Seasonal Championships, two PR Stunts, and an EventLab for the solo events this week.
The PR Stunts remain an open-category event for S2 Class (901-998PI) cars, each with two points and a Super Wheelspin available. You'll need the speed of S2 this week too, with two very difficult stunts with targets well above three-star scores.
Both are on dirt, and your best bet is a lot of line-of-sight cross country driving to reach the high speeds required. There's the Sendero Speed Trap, with a 160mph target, and the Punto de Vista Speed Zone that requires a particularly difficult 100mph average.
The three Seasonal Championships are three-race series against Highly Skilled AI, which you'll need to top the final points table to win five points to your season total for each.
Candlelight Parade is a Road Racing Series event for C Class (501-600PI) Retro Sports Cars, offering a BMW Z4 for victory. All the Trimmings heads to the dirt tracks for an event for A Class (701-800PI) Rally Monsters and an Exomotive Exocet as reward. Finally there's Oh, Deer, which gives a Class 5 Volkswagen Beetle for beating the Cross Country challenge in A Class (701-800PI) Unlimited Offroad cars.
The EventLab challenge, Noches de Neon, isn't a particularly difficult event (watch out for the bounce pad near the end of the lap!), so you only need to complete two laps of the 1980s music video-style course in any A Class (701-800PI) car to earn the points and the Porter Robinson track Language for Horizon Mixtape.
Speed Trap: Sendero
Car: S2 Class
Location: Tierra Prospera, Sendero Speed Trap
Challenge: 160mph
Reward: 2 points, Super Wheelspin
Speed Zone: Punto de Vista
Car: S2 Class
Location: Guanajuato, Punto de Vista Speed Zone
Challenge: 100mph
Reward: 2 points, Super Wheelspin
EventLab: Noches de Neon
Car: A Class
Location: Horizon Festival, Festival Drag Strip
Challenge: Complete the event
Reward: 3 points, Porter Robinson – Language Song
Seasonal Championship: All the Trimmings
Car: A Class, Rally Monsters
Location: Los Jardines, Bajio Trail
Challenge: Win the Championship
Reward: 5 points, Exomotive Exocet
Seasonal Championship: Candlelight Parade
Car: C Class, Retro Sports Cars
Location: Horizon Festival, Horizon Mexico Circuit
Challenge: Win the Championship
Reward: 5 points, BMW Z4 2019
Seasonal Championship: Oh, Deer
Car: A Class, Unlimited Offroad
Location: Hotel Mirador, Foto Final Cross Country
Challenge: Win the Championship
Reward: 5 points, Volkswagen Beetle Class 5
Two usual bonus events are available for Hot Wheels DLC owners. They're not required for 100% completion of the Playlist, but they're an extra option for seven more points.
It's an easy Speed Trap for this week's PR Stunt, with the Horizon Nexus hosting. Just use any S2 Class car (901-998PI) on the main north-south drag to the Nexus to hit the 260mph target. You'll earn two points and another Super Wheelspin.
Giant's Canyon hosts the start point for the Canyon and On Seasonal Championship. It's a three-race event against Highly Skilled AI for any S1 Class (801-900PI) Track Toys. There's five points and a Porsche Cayman for victory.
Hot Wheels Speed Trap: Horizon Nexus
Car: S2 Class
Location: Hot Wheels Horizon Nexus, Nexus Speed Trap
Challenge: 260mph
Reward: 2 points, Super Wheelspin
Hot Wheels Seasonal Championship: Canyon and On
Car: S1 Class, Track Toys
Location: Hot Wheels Giant's Canyon, Canyon Racer Speed Sprint
Challenge: Win the Championship
Reward: 5 points, Porsche Cayman
There's just one multiplayer event this week, with Xbox Live Gold required — unless you play on PC — to access both.
Naturally that's The Trial. This team game pits you and up to five fellow humans against a squad of six "Unbeatable" level AI Drivatars.
Each player on each team earns 100 points for each opponent they beat, but there's no reward for beating team-mates. That means you should aim to help out your team-mates and hinder your rivals, although somehow people still haven't learned this after over a year…
It's a Road Racing Series event this week for B Class (601-700PI) Retro Saloons, which should keep speeds down and control up, but the tight nature of the circuits will lead to some wall-eating and a missed checkpoint or two.
However it's easily doable in two races, even if you have two idiots on your team, and you'll earn ten points and a Holden Monaro for the win.
The Trial: Santamental Feelings
Car: B Class, Retro Saloons
Location: Palacio Azul, Emerald Circuit
Challenge: Win the Championship
Reward: 10 points, Holden Monaro
Series 15 Winter Playlist: Challenges
There's three challenges again this week, with a Collectibles event joining the ever-present Photo Challenge, and the multiplayer Eliminator event.
The Photo Challenge is a familiar one for this season, with the requirement of photographing a snowman to complete #HideandSeek.
You'll need to locate a specific anthropomorphized fluffy frozen water statue though. This week he's hiding in the Buenas Vistas player house on the south-west corner near Cabo San Lucas, although he's clearly visible from the road. Take the shot — get your car in frame too for a Daily Challenge point — to earn two points and a Merry Christmas Horn.
For the Collectibles event, Let It Snow, you'll need to visit the high ground of the Gran Caldera. Smash into 20 snowmen up there — and there's plenty scattered about but you can also use rewind to make one count several times — to take three points and a Snowman Outfit.
That leaves The Eliminator, with its usual challenge. Just finish 30th or better, which is often a case of surviving a couple of minutes, for the two points and a Gingerbread Outfit.
Collectibles: Let It Snow
Cars: Any
Location: Gran Caldera
Challenge: Smash 20 Snowmen at the top of the Gran Caldera
Reward: 3 points, Snowman Outfit
Photo Challenge: #HideAndSeek
Cars: Any
Location: Cabo San Lucas, Buenas Vistas Player House
Challenge: Photograph the snowman at the Buenas Vistas Player House in Cabo San Lucas
Reward: 2 points, Merry Christmas Horn
The Eliminator: Battle Royale
Cars: Any (provided)
Location: Valle de las Ranas, The Eliminator
Challenge: Finish 30th or better in The Eliminator
Reward: 2 points, Gingerbread Outfit
The Series is only halfway through, so the Forza EV and Monthly Rivals remain unchanged. Each offers four points, evenly spread over the four seasons — including points backdated to completed weeks where necessary.
In each case you'll need to set a clean lap time at the specified circuits in the cars provided to you to take the reward. Pace isn't a requirement, only cleanliness is, so keep it off the walls.
Forza EV puts you into the rapid Cupra UrbanRebel EV at the compact Arch of Mulege Circuit. There's only a couple of places to worry about the walls, so keep it tidy and you should be fine.
For Monthly Rivals you'll be placed in the enormous Cadillac XTS Limousive, around the very tight Estadio Circuit at the stadium. Good luck with that.
Forza EV: Arch of Mulege Circuit
Cars: Cupra UrbanRebel (provided)
Location: Mulege, Arch of Mulege Circuit
Challenge: Post a Clean Lap
Reward: 4 points (1 added to each season)
Monthly Rivals: Estadio Circuit
Cars: Cadillac XTS Limousine (Provided)
Location: Estadio Horizon, Estadio Circuit
Challenge: Post a Clean Lap
Reward: 4 points (1 added to each season)
Series 15 Winter Forzathon Shop
The Forzathon Shop holds two very different machines this week, and don't forget that even if you already have the car yourself you can buy one and choose to gift it to another player for the Secret Santa goal.
Sitting at the front of the store is Lamborghini's limited edition Veneno, for 800FP. Lamborghini made this heavily reworked Aventador as a 50th birthday present to itself, and it's suitably wild as a result.
Intended to be an interpretation of a roadgoing homologation special, the Veneno is covered in vents, ducts, strakes, and wings. Everything is designed to reduce lift or increase downforce, while a 740hp version of the 6.5-liter V12 provides the power.
You can pick up the Veneno in the Autoshow for 3 million credits if you don't fancy splashing out the hard-earned FP.
The much more understated Aston Martin DB5 fills the other slot, at 400FP — again, available in the Autoshow for a more reasonable 800,000cr.
Perhaps best known as James Bond's car of choice for almost 60 years, the DB5 is an effortlessly cool 1960s grand tourer. With up to 325hp available from its four-liter straight six, it still isn't slow today's standards, so just imagine what it was like in 1964.
Store items this week are the Santa Outfit, Santa Hat, and Ho Ho Ho Horn, at 100FP each. The Wheelspin (60FP) and Super Wheelspin (150FP) remain in their usual spots.
See more articles on Forza Horizon 5 Season Change.