Forza Horizon 5's Series 18 moves into its third week, with a fresh set of events and challenges for players all based around the roads less traveled in Mexico.
The Series is officially called "Horizon Wilds Takeover", named for the game's dirt racing hub. That's somewhat of a hint towards what the theme of the Series is: dirt racing.
Acting as a taster for the upcoming second expansion, Rally Adventure — coming on March 29 — it's all about driving off-road cars on off-road circuits. In almost all cases across the four-week series, you'll be tackling the unpaved, marked roads in cars across the rally genre as well as receiving similar vehicles as rewards.
In among the selection are seven new vehicles, with two new to the entire Forza franchise and five returning from previous titles. There is of course the regular Evolving World Accolade for owning all of them.
There's a selection of other new Accolades too, all centering on Hoonigan vehicles to mark the life of Ken Block.
Naturally the Horizon Wilds outpost itself gets a bit of a makeover this month, as it serves as a centerpiece, but there's also the return of the Horizon Stunt Park within the Horizon Stadium for plenty of high-flying action.
Series 18: Horizon Wilds Takeover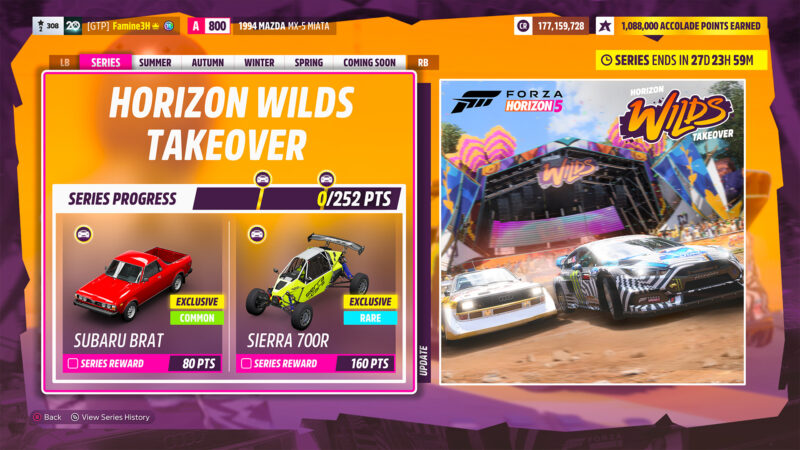 Both of this month's reward vehicles are new to the game, with one returning to Horizon and another that's technically entirely new but is a version of a car already in the game.
Hit 80 points across the Series — which should already be in your rear-view mirror — and you'll pick up the returning Subaru BRAT.
It's a car with an identity crisis as it's classed as a car while clearly being a small pickup truck. That's because Subaru wanted to sidestep the higher tax rate for importing light trucks, so fitted a pair of rear-facing plastic seats in the load bay area to make it a car.
To be fair, it is largely a regular car underneath. Subaru used the existing two-door Leone and cut the back out of the roof to sculpt the pickup. That means it sports the same standard all-wheel drive and the same 1.6-liter boxer four engine (later cars got the 1.8) as the Leone.
You'll need 160 points to pick up the new-to-franchise car, the Sierra Cars 700R, which should be in your sights this week.
It joins its sibling from the small Utah buggy manufacturer, the RX3, and though the vehicles are physically very similar there's one pretty major difference.
That's the engine, which in the 700R is a single-cylinder lump from a Yamaha Raptor 700 quad bike — hence the name. Despite only having 45hp, it's plenty on a car that weighs both halves of nothing at all.
While it's a bit of a climbdown from the RX3's 200hp, 1.3-liter Suzuki Hayabusa engine (and the turbocharged model in the Hot Wheels DLC Alpha), it should be slightly easier to live with on the game's lumpy dirt tracks.
Series 18 Winter/Dry Season Rewards
Two specialized off-roaders appear on this week's playlist, with another new-but-variant vehicle and a car that you could previously only win from a playlist almost a year back.
Your starter, for 20 points, is the Polaris RZR Pro XP Ultimate. This 2021 model is an updated version of the existing RZR XP 1000 already in the game, and — like the Sierras — has quite a few shared characteristics.
That starts with the one-liter, two-cylinder engine, although it's been kicked up somewhat to over 150hp courtesy of a new turbocharger. It still drives a Polaris-branded CVT system, so get used to the unchanging engine speed as you accelerate across the landscape.
Much of the work that's gone into the updated RZR is in developing its electronics, with new systems to control the suspension and cabin instruments — so you'll need to drive in cockpit cam to really appreciate the changes.
Coming in at 40 points is another of the Extreme E vehicles, this week taking the form of the #42 Xite Racing car.
One of the ten identical Extreme E machines in the game — nine of which you cannot buy from the Autoshow — the vehicle is actually a Spark Odyssey SUV, constructed by the French electric race car specialist (which also makes Formula E cars) for the Extreme E race series.
The championship is intended to raise environmental awareness in the locations it chooses for races, and the car is designed to be as sustainable as possible. It uses two electric motors — of course — which each drive an axle to deliver a combined 500hp.
They're crammed into a special niobium-steel alloy spaceframe chassis, which is itself wrapped in a flax-based composite that's kinder to the environment than carbonfiber or fiberglass.
Winter will run through to 1430UTC on Thursday March 23, with Series 18 continuing for one more week until the same time on Thursday March 30.
Series 18 Winter Playlist: Forzathon Events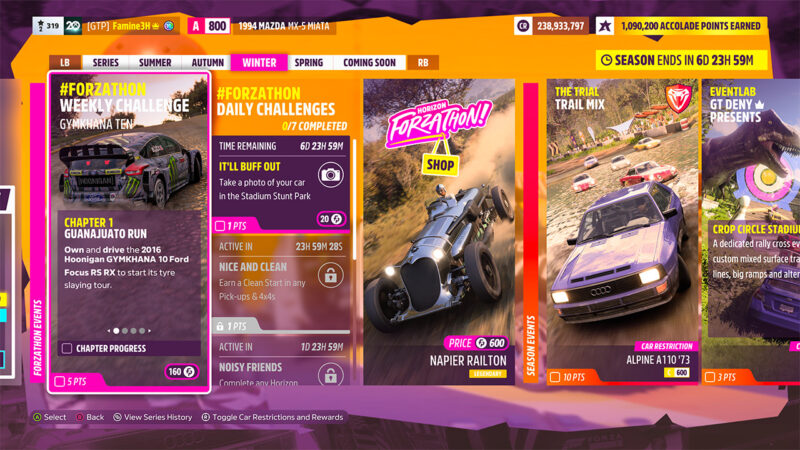 It's another Hoonigan Weekly Challenges this week, with the Gymkhana 10 Ford Focus RS RX the subject of the event. Own and drive the car — you can win it from an EventLab race this week — to get Gymkhana Ten underway.
You'll be spending a lot of time in Guanajuato with the car, as all subsequent challenges require you to be in the town. Firstly, you'll need to win the Guanajuato Tunnel Run Street Race using the Focus.
The next step could be tricky, as you'll need to smash a donkey pinata in Guanajuato. You may need to hunt, but if you don't fancy that there's a small one hiding right by the City Escape Trailblazer start gates.
Finally earn a single Ultimate Drift or E-Drift Skill — get the car sliding either by sliding it or yanking the handbrake, and power through it as long as you can — to finish the event. You'll earn five points and 80FP, with the Forzathon Points doubled if you own the La Casa Solariega player house near Teotihuacan.
Weekly Challenge: Ready to Hoon
Car: Hoonigan Gymkhana 10 Focus RS RX

Chapter 1: Own and drive the Hoonigan Gymkhana 10 Focus RS RX
Chapter 2: Win the Guanajuato Tunnel Run Street Race in the Hoonigan Gymkhana 10 Focus RS RX
Chapter 3: Smash a donkey pinata in Guanajuato in the Hoonigan Gymkhana 10 Focus RS RX
Chapter 4: Earn an Ultimate Drift/E-Drift Skills in Guanajuato in the Hoonigan Gymkhana 10 Focus RS RX

Reward: 5 points, 80FP
The seven Daily Challenges land at their usual one-a-day rate, at 1430UTC each day, giving you seven days to complete each (including running into next season) for one point and 10FP apiece.
You'll need to take a picture of your car at the Stadium Stunt Park to pass It'll Buff Out — although as you'll be heading there at the end of the week too we wouldn't make a special effort for it just yet.
Another one you can leave until later in the week is Nice and Clean. You'll need to earn a Clean Start Skill — which is essentially starting any race cleanly without hitting anything — while using a Pickups & 4x4s vehicle to pass.
Complete any Horizon Arcade event of any theme — Air, Chaos, Drift, Speed, Wreckage — in a Modern Rally Car for Noisy Friends. You don't need to do this with other players though; solo is fine.
Be in the best 4×4 By Far next, by jumping over 100m (330ft) in any Pickups & 4x4s vehicle. It's likely you can do this cumulatively in a race, so combine it with Friday's challenge if you can.
Annoy the Ants at a Picnic on Monday, by smashing any picnic table. If you need a good location, there's a rest stop just south of the Las Ranas Cross Country/Puerta Petrea Trailblazer with several.
Be Like the Wind next, and earn five Speed Skills while in Playa Azul.
Finally finish the week's challenges with a C-C-Combo, and bank 100,000 Skill Score — anything over 100k with a multiplier will do — inside the Stadium Stunt Park.
Daily Challenges
March 16 – It'll Buff Out: Take a photo of your car in the Stadium Stunt Park
March 17 – Nice and Clean: Earn a Clean Start Skill in any Pickups & 4x4s vehicle
March 18 – Noisy Friends: Complete any Horizon Arcade in a Modern Rally Car
March 19 – 4×4 By Far: Jump over 100m (330ft) in any Pickups & 4x4s vehicle
March 20 – Ants at a Picnic: Smash a Picnic Table
March 21 – Like the Wind: Earn five Speed Skills in Playa Azul
March 22 – C-C-Combo: Bank 100,000 Skill Score in the Stadium Stunt Park
Series 18 Winter Playlist: Season Events
There's more dirt action to get through this week, with almost all of the events again running on the rough stuff. It's a slightly smaller list, with one fewer Seasonal Championship, but three PR Stunts and two EventLabs remains.
As we've seen recently, the PR Stunts are open-class events, with S2 Class (901-998PI) limits — though you can also use lower category vehicles — and each gives two points and a Super Wheelspin.
This week, they're all close to (or inside) the stadium, with the Stadium Jump Danger Sign, the Rocky Hills Speed Zone, and the Quebrada Trailblazer.
Again we're looking at targets beyond the three-star requirements for each, but they're doable in a couple of tries. For Quebrada you can either go high or low to hit the 33-second target — beware of trees in the valley and an awkward jump if you head up — while 85mph at Rocky Hills is a case of just sticking to the path.
Getting 400m at Stadium Jump will be a pain with regards to the landing zone as the stadium is full of ramps and jumps, but there's a few clear spots. Rewind will come in handy!
The two Seasonal Championships — each a three-race series against Highly Skilled AI — consist of one Dirt Racing event and one Road Racing event. In each case you'll need to top the final points table to win five points to your season total.
For Rally to Rumble you'll need a B Class (601-700PI) Modern Rally car, and there's an Opel Manta 400 for victory. Sprint Finish is a little odder, with a specific car list called "Homologation Heroes"; you'll need a B Class (601-700PI) example of any eligible vehicle, and you can win a BMW M3-GTR.
For EventLab this week you have a pair of two-lap solo races for three points each. Crop Circle Stadium Rally is a stadium rallycross-type course laid out on the De Otro Mundo irrigation circles, for S1 Class (801-900PI) Hoonigan vehicles with the Gymkhana 10 Focus (for this week's Forzathon) for completion.
River Rush is a multiple-choice track consisting of Hot Wheels pieces up the Copper Canyon river, for A Class (701-800PI) Unlimited Offroad cars, and a Super Wheelspin reward.
EventLab: Crop Circle Stadium Rally
Car: S1 Class, Hoonigan
Location: De Otro Mundo, Ribera Rocosa Cross Country
Challenge: Finish the race
Reward: 3 points, Hoonigan Gymkhana 10 Focus
EventLab: River Rush
Car: A Class, Unlimited Offroad
Location: Copper Canyon, Barranca Trail
Challenge: Finish the race
Reward: 3 points, Super Wheelspin
Danger Sign: Stadium Jump
Car: S2 Class
Location: Estadio Horizon, Stadium Jump Danger Sign
Challenge: 400m
Reward: 2 points, Super Wheelspin
Speed Zone: Rocky Hills
Car: S2 Class
Location: Guanajuato, Rocky Hills Speed Zone
Challenge: 85mph
Reward: 2 points, Super Wheelspin
Trailblazer: Quebrada
Car: S2 Class
Location: Cordillera, Quebrada Trailblazer
Challenge: 33s
Reward: 2 points, Super Wheelspin
Seasonal Championship: Rally to Rumble
Car: B Class, Modern Rally
Location: Guanajuato, El Pipila Scramble
Challenge: Win the Championship
Reward: 5 points, Opel Manta 400
Seasonal Championship: Sprint Finish
Car: B Class, Homologation Heroes
Location: Gran Caldera, Volcan Sprint
Challenge: Win the Championship
Reward: 5 points, BMW M3-GTR
Hot Wheels DLC owners have access to two bonus events for extra points. You don't require them for 100% Playlist completion, but they can come in handy on multiplayer-heavy weeks.
This week's PR Stunt is the Ice Cauldron Drift Zone in the biome of the same name. The target is 175,000pt, which is a breeze; just grab your preferred drift car, so long as it doesn't break out of the S2 Class (901-998PI), for two points and a Super Wheelspin.
The Seasonal Championship, again a three-race championship against the Highly Skilled AI, is for A Class (701-800PI) vehicles in the Sports Utility Heroes category. We'd recommend something that will deal with the hazard track, so you go from Zero to Hero and win an Ultima 1020 as well as five points — rather than the other way round.
Hot Wheels Drift Zone: Ice Cauldron
Car: S2 Class
Location: Hot Wheels Ice Cauldron, Ice Cauldron Drift Zone
Challenge: 175,000pt
Reward: 2 points, Super Wheelspin
Hot Wheels Seasonal Championship: Zero to Hero
Car: A Class, Sports Utility Heroes
Location: Hot Wheels Forest Falls, Forest Falls Hazard Sprint
Challenge: Win the Championship
Reward: 5 points, Ultima 1020
There's two multiplayer events this week, for which you'll need an Xbox Live Gold subscription — unless you play on PC — in order to access.
The ever-present event is The Trial, a best-of-three-race championship for a team of up to six humans against six "Unbeatable" AI.
Each player on each team earns 100 points for each opponent they beat, but there's no reward for beating team-mates. That means you'll need to help each other out as much as possible while hindering the 'bots.
It's a Dirt Racing event this week, for C Class (501-600PI) Alpine A110s — the original car from the 1970s, rather than the reimagined modern vehicle. Despite the slippery surface, the low speeds should keep major incidents to a minimum and make for an easy two-race win. There's ten points and an Audi Quattro '83 for victory.
You've also got a Seasonal Playground Games event, returning to the multi-game format with the games rotating between Flag Rush, Infected/Survival, and King. Complete three rounds — winning isn't necessary — using any A-Class (701-800PI) AWD car to win the three points and a Jeep Gladiator.
Seasonal Playground Games: On My First Whistle
Car: A Class, AWD
Location: Baja Circuit
Challenge: Complete three rounds of Seasonal Playground Games
Reward: 3 points, Jeep Gladiator
The Trial: Trail Mix
Car: C Class, Alpine A110 '73
Location: Tierra Prospera, Tapalpa Trail
Challenge: Win the Championship
Reward: 10 points, Audi Quattro '83
Series 18 Winter Playlist: Challenges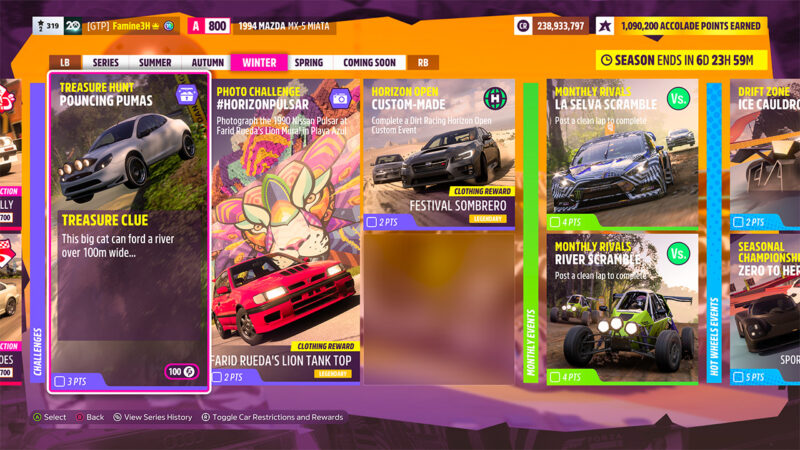 We're back to three Challenges this week, with the regular Photo Challenge joined by a Treasure Hunt and a Horizon Open event. You will need access to multiplayer — via PC or with Xbox Live Gold on console — for that last item..
The Photo Challenge, #HorizonPulsar, will send you to Playa Azul's lion mural. Simply take a photograph of the Nissan Pulsar GTI-R there — it's a little way south from the player house, on a building that fronts the main sea front street — to earn two points and a tank top clothing item from the mural's designer Farid Rueda.
For the Treasure Hunt your clue is "This big cat can ford a river 100m wide…", and along with the picture and the name Pouncing Pumas it should be readily apparent that you'll need to jump a Ford Racing Puma — the image shows the FE car, but we got it to work with the regular one — at least 100 meters at the Cascadas Danger Sign.
That will reveal the hint, which is a red, circular zone drawn on the map to show you where the treasure is approximately. This week it's in the middle of the southernmost irrigation circle at De Otro Mundo.
For Horizon Open you'll simply need to complete any Horizon Open Custom Event in the Dirt Racing category. Just select an appropriate car for the event, finish out the races, and earn two points and a Festival Sombrero.
Horizon Open: Custom-Made
Cars: Any
Location: Horizon Open Custom Event
Challenge: Complete a Dirt Racing Horizon Open Custom Event
Reward: 2 points, Festival Sombrero
Photo Challenge: #HorizonPulsar
Cars: Nissan Pulsar GTI-R
Location: Playa Azul
Challenge: Photograph the Nissan Pulsar GTI-R at Farid Rueda's Lion Mural in Playa Azul
Reward: 2 points, Farid Rueda's Lion Tank Top
Treasure Hunt: Pouncing Pumas
Cars: Ford Racing Puma (any)
Location: Cascadas Danger Sign
Challenge: Jump over 100m (330ft) in any Ford Racing Puma at the Cascadas Danger Sign; Find and smash the Treasure Chest
Reward: 3 points, 100FP
Your Rivals challenges remain available if you haven't already completed them, and will until the Series ends. Each offers four points for completion — with one point distributed to each of the four seasons in the series regardless of when in the Series you complete them.
For both you'll need a clean laptime at the tracks indicated, using the vehicles provided to you, and while they're as Rivals events you don't need speed to win. There's a switch away from the recent format, with both events being regular Rivals challenges and no Forza EV.
In each case the event is a loose-surface challenge, so keeping the laps clean — the only requirement — will be a challenge. La Selva Scramble uses the Hoonigan Gymkhana 9 Focus RS RX, while River Scramble employs the new Sierra Cars 700R.
Monthly Rivals: La Selva Scramble
Cars: Hoonigan Gymkhana 9 Focus RS RX (Provided)
Location: Atlantes de Tula, La Selva Scramble
Challenge: Post a Clean Lap
Reward: 4 points (1 added to each season)
Monthly Rivals: River Scramble
Cars: Sierra Cars 700R (Provided)
Location: La Selva, River Scramble
Challenge: Post a Clean Lap
Reward: 4 points (1 added to each season)
Series 18 Winter Forzathon Shop
Two monster cars with enormous engines appear in the Forzathon Shop this week, with a car you'd not necessarily associate with off-roading right at the front.
That's the Napier Railton, a classic piece of pre-war engineering where some bright spark — Reid Railton — slapped an aero engine into a chassis and called it a car.
In fact the 24-liter, W12 Napier engine was plenty of car, with over 500hp on tap and a streamlined aluminum body that allowed it to set the lap record at the first purpose-built race track in the world: Brooklands.
That 143mph average lap still stands as Brooklands was taken over by the Royal Air Force for military purposes during World War 2, and never saw races again. Most of the circuit no longer exists.
At 600FP it isn't cheap, and you can pick it up for 1.5m credits in the autoshow.
Almost matching the Napier for power, but several steps up the ladder for hideousness, is the Mercedes-Benz G63 AMG 6×6.
Based on a regular G-Class, if there is such a thing, the 6×6 adds an extra axle out back to give six-wheel drive to the enormous pickup. That could prove useful on the Mexican landscape, particularly as you don't have to care about its dreadful fuel economy in FH5, with the twin-turbo, 5.5-liter V8 chucking it away for fun.
It's available for 300FP, or you can save the points and spend 525,000cr on it instead.
Store items this week are the Duck Quack Horn and the Navy Plaid Hoodie, at 75FP each. The Wheelspin (60FP) and Super Wheelspin (150FP) remain in their usual spots.
See more articles on Forza Horizon 5 Season Change.