The latest Forza Monthly stream has revealed the full breadth of the Series 21 update to Forza Horizon 5, which lands tomorrow ahead of the start of the series on Thursday May 25.
Officially called "Explore the Horizon", the core of the Series is overlanding. This specific motoring discipline is based on large, offroad vehicles that can carry everything you need to survive a trek into the wilds — including camping and cooking equipment — as well as having the ability to get there.
To that end there'll be a range of special overlanding modifications to 16 trucks, off-roaders, and pick-ups coming this series. That covers 12 existing vehicles and all four of the new vehicles available during the month.
In addition there's some specific overlanding challenges during the Series, landing on the Playlist and as Evolving World Accolades. You'll need to complete three "Pathfinder" routes, each of which explores different areas of the map, during each Season to earn a Treasure Chest. However only the start of the first one is marked each week, and you'll need to solve the clues to find the others…
This month's Playlist will also include eight returning temporary PR Stunts — four Speed Traps and four Trailblazers — as well as a Showcase Remix "Splash of the Titans", based on the "Flood, Sweat and Gears" remix but using the new DeBerti truck noted below. Each Photomode challenge also features a camp site you'll need to discover, as well as a new smashable item.
Forza Horizon 5 Series 21: New Cars
There'll be a total of six new vehicles added to the game this month, and you will barely need to lift a finger to earn two of them.
That's the Cupra Formentor VZ5 and the Cupra Tavascan Concept, which are available for free to anyone who plays the game during Series 21. You'll just need to redeem them in your Messages, although you'll also be able to buy them from the Autoshow too.
The Formentor is a significant car for Cupra, as it's the first clean-sheet Cupra design rather than a modified and upgraded model from the SEAT range. In VZ5 guise it sports an Audi-sourced, 400hp, 2.5-liter straight five engine, so it's pretty rapid too.
Although not yet in production, the Tavascan is the Formentor's electric sibling. It's based on the Volkswagen Group MEB architecture, and shares its 335hp two-motor set-up with the Volkswagen ID.5.
Meanwhile the chosen cover car for the Series is the Hummer EV, a four-ton behemoth that's equipped with an outrageous 246.8kWh battery pack which accounts for a third of that. With a 1000hp, triple-motor setup, the Hummer's range is a surprisingly short 330 miles — not that this will be an issue in Horizon.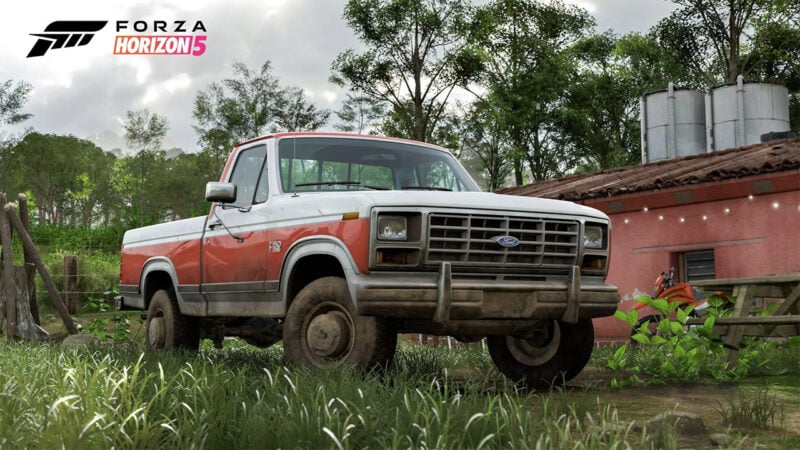 You'll be able to pick up the Hummer for 20 points in the Playlist for the final, Spring season of the Series, while the other three vehicles all come along for the same score in the other seasons.
Summer's prize is a custom Ford F-250 from DeBerti, sporting a 6.7-liter diesel engine — pumped up to 850hp, of course — and a unique rear section which lifts to reveal the truck's custom-made storage compartments and gives it the nickname "Transformer".
Autumn and Winter will reward your 20 points with more workhorse-like classic trucks, in the shape of a 1972 Chevrolet K-10 and a 1986 Ford F-150. Both have modest power, in the region of 180hp from their V8s, but will fit right in to the Mexican landscape.
Forza Horizon 5 Series 21: Photo Mode Upgrade
The series update will also bring along a new set of controls for the game's photomode, allowing more variety in the mode — including player avatars.
You'll no longer need to wait for the right time of day to take your photos, or even the right season, as both can be directly input whenever you wish. There's eight time presets from dawn through to night, and weather from clear to heavy rain and fog.
Players can position their avatars in a number of preset positions — including all interior seats — although for shots with the avatar outside the car it must not be moving at the time. All unlocked character emotes are also available.
There's also a number of different presets, which players can save and load, as well as guidelines, and a portrait mode toggle. As with the Pathfinder events, there's new Evolving World Accolades for photomode too.
New EventLab props are also available for yet more photomode action, with five props that allow you to build a photo studio among the other new items. These also include the pieces you'll need to build your own oval speedway wherever you like.
Forza Horizon 5 Series 22
The PG team also cast an eye ahead to next month's Series 22, set to begin on Thursday June 22.
That's set to be called "Upgrade Heroes", and the preview tab notes a special Horizon Test Track location as well as new cars, new wheel rims and new badges.
As an interesting sign-off, the team seemed to be teasing more Donut Media-related content, with specific mention of the "HiLow" vehicles. No doubt we'll hear more in the June Forza Monthly…
See more articles on Forza Horizon 5 Game Updates.