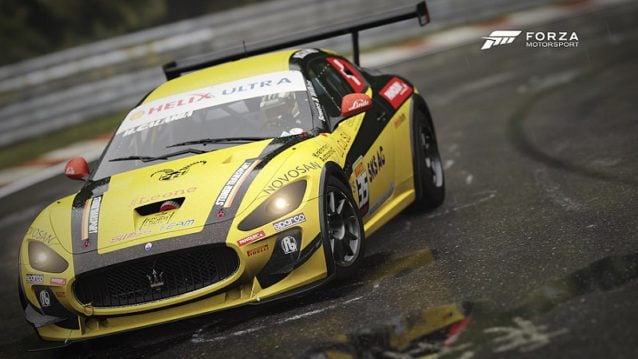 The news of a seventh entry in the Forza Motorsport franchise — expected to release within the next year — is unlikely to come as a surprise to anyone. What is surprising is the first mention of the team's next project doesn't come from Turn 10 itself, but has been outed by Fanatec CEO Thomas Jackermeier.
Thomas revealed on the Fanatec forum that he was due for a meeting with Turn 10 to discuss a number of things that could be done for the next title in the series. "If you would like to add something, please let me know," Jackermeier posted, "Please tell me any wheel/pedal/shifter related issues you have in FM6 and let us know what new features you would like to see supported in FM7."
Wasting little time or effort, the community responded with a number of suggestions, and with handbrake support, automatic steering ratio adjustments depending on the car, and improved force feedback being among the many features requested, Thomas checked back in with a promising update:
"I had a very good meeting with them and I am happy to report that there is a good chance that a lot of things will change for the better in upcoming FM titles. There is a new person who is responsible for physics and force feedback and this is a "wheel guy". He is a real world racer with car engineering background and very familiar with PC simracing.

The PC market seems very important for them and they are aware that this market is dominated by wheel users. Therefore we will intensify our co-operation and get the best out of the games for wheel users.

I cannot confirm at this point what features can be implemented but the interest to do so is very high."
There's little denying the good news for all involved, whether it be Xbox One or PC players (as all Forza titles will now release on both platforms). While Fanatec is likely to benefit from these adjustments the most, all wheel users are likely to benefit.
In what little time we've spent using a wheel with both Forza Horizon 3 and FM6: Apex, the force feedback isn't as defined as Assetto Corsa, or even Gran Turismo 6. We're definitely interested in seeing what improvements are brought to the table.
For the original discussion be sure to stop by the Fanatec forum, though an account is required to participate. Stay tuned to GTPlanet for more on Forza Motorsport 7 as it becomes available.
A tip of the hat to PzR Slim for bringing the news to our attention in the forums.
See more articles on Fanatec and Steering Wheels.